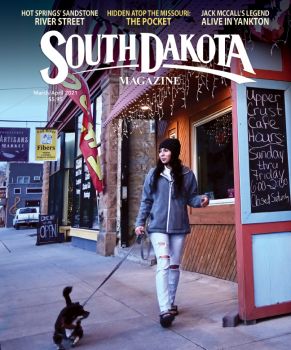 Subscriptions to South Dakota Magazine make great gifts!
Subscribe today — 1 year (6 issues) is just $25!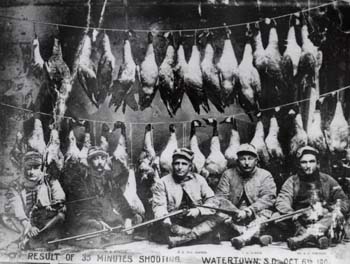 Meat or Vegetables?
Apr 12, 2012
This picture has been floating around our magazine office for years. It shows early-day Watertown area hunters with their bounty from a 35-minute hunt. I like the photo because it illustrates the outdoor heritage that we all love. But it hardly speaks to sustainability. Fortunately, we've established some common sense limits on hunting and fishing in the decades since and sportsmen now fully support those limits and restrictions.
Dakota Dunes meat-packer BPI became embroiled in a national debate over food labeling this month. Five or six governors rushed to defend the beef product, along with national agriculture leaders. But even as the governors were chomping on burgers at the press conference, they and everybody watching must have been wondering where this is likely to lead.
Americans once were a lot closer to their food and their food processors. Most of us grew up in families that either butchered on the farm or bought beef, pork and poultry from a little grocery store with a butcher in the back.
But food production and processing has been consolidated, and we might actually need to start educating children on where milk and eggs and hot dogs come from. There's a bill in the Nebraska legislature this year to mandate such schooling.
Meanwhile, more and more people are becoming vegetarians or variations thereof. I was having lunch with a few young people from Sioux Falls last week when one gentleman explained that he was no longer eating meat. So he ordered a salad special. It came, to his surprise, with grilled chicken. He did a double-take, and then decided he could eat it. He's only been a vegetarian for a week, so what the heck.
He represents American. Conflicted. Curious. Rooted in a nation rich in farm, fishing and filet mignon. But thinking that some changes lie ahead.
He's re-thinking what he eats, along with many of his generation. It would be a monumental mistake for our farm state to ignore the issue and pretend that everyone will still want to eat hamburgers and hot dogs in 2050. Or that they'll faithfully eat whatever the food processors churn out.
Anyone interested in having this converstaion may want to hear Dr. James McWilliams, associate professor of history at Texas State University and author of the award-winning book Just Food: Where Locavores Get It Wrong and How We Can Truly Eat Responsibly. He will speak on "Animals, Plants and Food: Eating Sustainably in the Twenty-First Century (and Beyond)" at 7 p.m. on Saturday, April 14, in Augustana's Gilbert Science Center Auditorium, room 100. The event is free and open to the public.
According to an Augustana College media release, McWilliams' talk will explore the idea that the primary problem with "sustainable agriculture" and "the food movement" is our failure to come to terms with the economic, environmental and ethical dimensions of animal production and consumption. The only way food can be sustainable in a world of more than 7 billion people, he argues, is to do something as radical as it is common-sensical: Grow plants for people.

"One of the things sorely lacking in our public discourse is the ability to weigh the pros and cons of an issue," McWilliams says. "Instead, arguments about anything take on a kind of religious fervor. So when I see conventional wisdom forming around an idea, I like to poke holes in it. I think any idea with legitimacy is going to withstand having holes poked in it and will actually be stronger as a result."
Farmers know better than anyone that change is the only sure thing. Food and eating habits are going to change dramatically in a generation or two — for a variety of reasons — and nothing will change that.