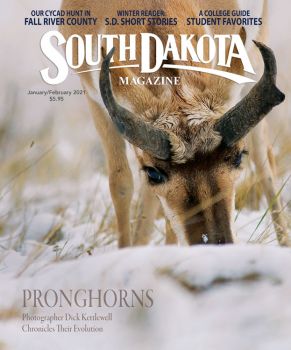 Subscriptions to South Dakota Magazine make great gifts!
Subscribe today — 1 year (6 issues) is just $25!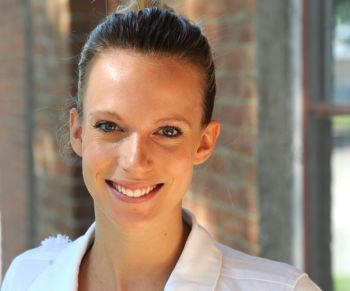 Meet Our New Yote
May 22, 2015
Our publishing house is once again in harmony now that we've brought on USD alum Ashley Wagner to lead efforts in circulation and marketing. A Jackrabbit/Coyote balance (previously a two-to-one ratio) is essential to a happy workplace at South Dakota Magazine.
Ashley, a Wisconsin native, recently married a local farmer and high school teacher. She and her husband Brandon live on the family farm near Utica. Here's how she answered some of our tough questions.
What's on the top of your "South Dakota To-Do" list?
I would love to take a helicopter ride over Mount Rushmore!
What's your favorite trail?
Lewis and Clark trail by Spirit Mound (just outside Vermillion). I was on the track team while attending the University of South Dakota and we would go to Spirit Mound to do hill workouts. Let's just say you get very close with your teammates during hill workouts.
If you could meet one character from South Dakota history, who would that person be?
I would love to meet Wild Bill Hickok. But then again, who wouldn't want to meet that troublemaker.
What is your favorite South Dakota eatery?
My husband's family has introduced me to Marv's Bar in Utica. It's a small bar with "regulars" and everyone knows you. I love it because it is so different from anything I have ever seen or grown up with.
As a transplant to farm life, what advice do you have for other new farm wives?
Don't sweat the little stuff (something I am still working on). And check pockets before washing clothes. I don't know how many times I have temporarily broken my washing machine because of a loose nail or fence wire being stuck in the machine.