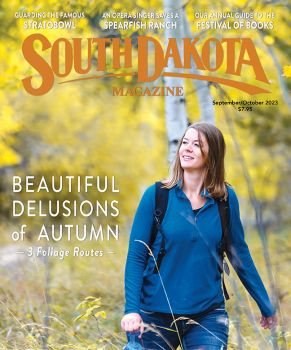 Subscriptions to South Dakota Magazine make great gifts!
Subscribe today — 1 year (6 issues) is just $29!

A Renewed Energy
By John Andrews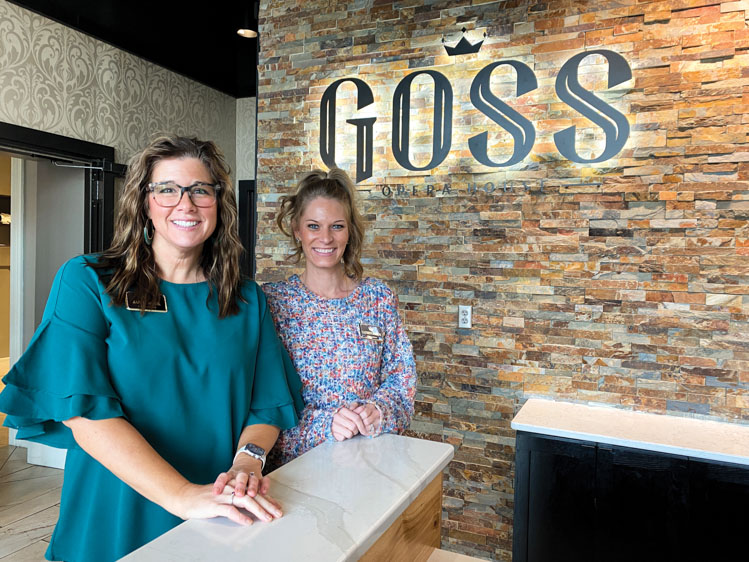 Executive Director Jamie Mack and Events Coordinator Kathryn Jurrens help oversee daily activities at Watertown's Goss Opera House.
TEN YEARS AGO, Watertown's Goss Opera House was abuzz with activity. Comedy shows and concerts were being staged in its grand, second-floor theater. Diners raved about the steaks at Charley's Restaurant and the delicious coffee brewed in a little shop called Common Ground. Local artist Josh Spies displayed his oil paintings and exotic wildlife mounts taken during African safaris. Retired high school speech teacher Donus Roberts sold books in a main floor shop and other local artisans offered silk scarves, purses and jewelry in the emporium.
David Berry led downtown Watertown's renaissance. The South Carolina attorney and then-husband of Watertown lawyer Nancy Turbak had toured the Goss in 2007 and bought it for $150,000. He initially envisioned a renovated theater that could be used as an entertainment venue, but there were challenges in bringing a 19th century building into compliance with 21st century standards. Berry bought the neighboring building to help address accessibility issues and built a commercial kitchen and meeting room. When the Second City Comedy Tour performed in October 2009, it was the first ticketed event held in the Goss in more than 70 years. The applause at the end of the night was as much for Berry's vision as it was for the show. "At the time, Watertown was an epicenter for arts and culture in the state," Berry said of the city in 1889, the year Charles Goss finished his grand building at the corner of Kemp and Maple. "That's really what our vision is here: the renaissance of arts and culture in South Dakota."
But completely renovating a building as historically significant and as large as the Goss is difficult for any group, and potentially impossible for an individual. After several years the burdens were growing too much, and in 2017 Berry reached out to Brad Johnson, a local businessman and real estate appraiser, for help. Johnson had worked with Berry on the Goss project almost from the beginning and began contacting local businesses and organizations to keep the Goss alive. Johnson and Doug Sharp, owner of Sharp Automotive, took over the restaurant and established a nonprofit organization called Friends of the Goss. As they worked to transfer ownership, structural engineers who had been hired to inspect the 128-year-old building brought bad news. Two major beams in the roof had broken and begun settling into the opera house's superstructure, causing its walls to crack. The entire building was in danger of collapse.
Johnson, Sharp and the original Friends of the Goss board agreed with Berry on a purchase price of $300,000. The group secured $150,000 from the Watertown Area Community Foundation and approached the City of Watertown for a match. The council voted against it on April 17, 2018. The next day the Goss went dark, its future as murky as the black plastic that now shrouded its windows and doors.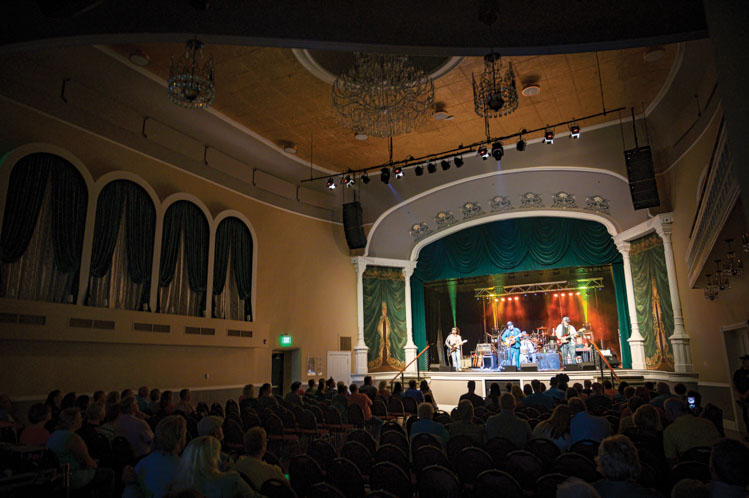 The Goss' lighter and brighter theater features a state-of-the-art sound system that allows bands to "plug in and play."
"To him as much as to any other man is due Watertown's present prosperity and financial strength," the Watertown Public Opinion said about Charles Goss the year he ran for alderman. Goss was an Englishman, born in Buckinghamshire in 1833. He emigrated with his parents at age 11 and lived in New York and Wisconsin, where he farmed and spent time in various trades, including carpentry, barbering and the restaurant business.
Goss moved to Watertown in 1879, bringing lumber with him from Wisconsin to build a general store. The next year he constructed four additional buildings, one of which housed an opera hall on the second floor. But early one morning in April 1888, passers-by reported fire in the rooms above Goss' main floor drugstore. By the time firefighters arrived, they could only work to save the adjoining structure. The Goss building was destroyed.
Goss almost immediately decided to rebuild. In June, he began laying the foundation for a building that included 65 feet of frontage on Kemp Avenue and 125 feet on Maple. The Public Opinion reported that it would likely include a public hall for entertainment, but its editor was not impressed. "He will certainly make a mistake in his whole scheme," the paper said. "Watertown is already well supplied with facilities of this kind. There is a possibility of a hotel proving a paying investment, but another public hall would be a dead load."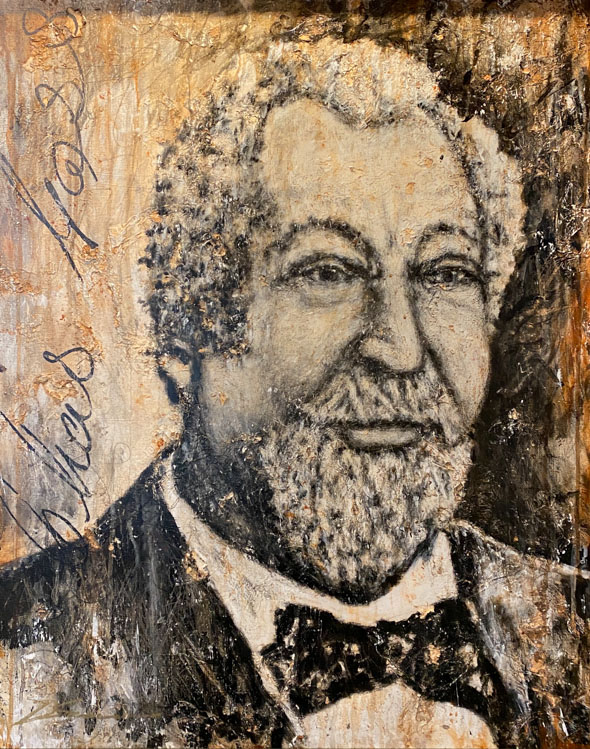 Charles Goss
True, the Grand Opera House stood directly across the street and there was another opera house just a block away, but Goss was insistent. As the bigger and better Goss Opera House slowly took shape, opinions began to change. Plans were mostly finalized by August. The building would include seven storerooms on the first level and an opera house on the second and third. Office spaces would be located along both the Kemp and Maple sides. "When completed it will be one of the handsomest among our many handsome blocks," the Public Opinion said.
Goss held a grand opening in December 1889 with events prepared by the ladies of the Congregational Church. There was also a Merchant's Carnival, which featured 60 "banner girls," local ladies dressed to represent Watertown businesses and paraded through the opera house. It proved so successful that it was staged again the following night.
And so the Goss Opera House began a several decade run as a focal point of downtown Watertown. Goss continued to run a drug and crockery store on the first level, as well as manage the rest of the building, until his death in January 1905. "He was of peculiar make up," read the Public Opinion's obituary. "He was firm and strong in his convictions, forceful, outspoken, cynical and absolutely independent. He cared but little for the opinion of his fellow man but suited his life to the conditions of the world according to the view which he obtained through his own eyes. There was nothing conventional about 'Fodder Goss.'"
The years after World War II marked the beginning of a slow and steady decline. The public hall — once the site of plays, dances and other community events — gave way to roller skating and basketball. Eventually it became a favorite spot for youth to sneak into late at night. A drug store continued to operate on the main level, but no one really paid attention to the upper levels, where pigeons had found a cozy home and water slowly leaked through, compromising the building's structural integrity.
There were those in Watertown who believed the Goss wasn't worth saving, while others desperately wanted to preserve the old building but didn't have the means to tackle such an enormous project. Then David Berry arrived in 2007. He shouldered the load for a decade, and by 2018 it was time for the community to take a page out of Charley Goss' book and breathe new life into its opera house.
*****
As negotiations continued between David Berry and the Friends of the Goss, the nonprofit organization expanded its reach, bringing in representatives from Lake Area Technical College, the Watertown Area Community Foundation and Watertown Development Company, which contributed $150,000. Milt Carter, a Watertown native and the head of CSS Farms, joined the foundation as its president and began negotiating a new deal with Berry. The Friends also hosted community feedback sessions to learn what people wanted to see in the Goss. Chris Paulson, now the entertainment director at the Goss, launched Light Up the Goss, a fundraising campaign in which bricks were sold for $100. The effort quickly raised $20,000. "That began our community rally around the building," Brad Johnson says. "People rallied to it, and then significant parts of the community and businesses invested, because they all understood a focal point of history in your downtown is a critical anchor, and they recognized the value of the Goss." With Carter leading talks and making his own donation, the Friends of the Goss finally took ownership of the building on Dec. 31, 2018.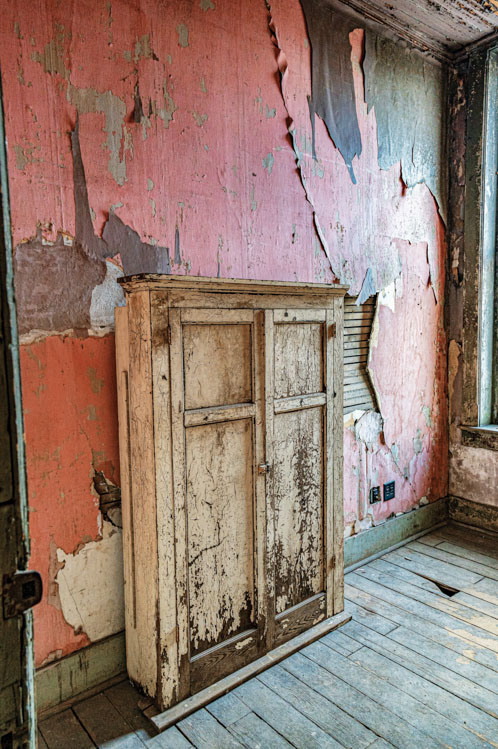 A fire damaged room on the third floor of the Goss was left untouched, a reminder of tragedy that struck in 1936.
Riding the public's enthusiasm, the Friends announced a $3 million capital campaign to address the structural issues that engineers continued to discover. Seemingly all segments of the community got involved, contributing anywhere from $10 to $1 million. "It was almost shocking to those of us on the fundraising committee how vibrant the response was," Johnson says. "We thought $3 million was very ambitious, and then we hit that relatively quickly, so we decided to fix the whole thing and get it done now, so we went for $5 million. Now there's nothing major left to do."
The Goss got a new roof, a new heating and cooling system and new windows, in part thanks to more than $250,000 worth of in-kind donations from local construction and manufacturing firms. Its lighter and brighter theater features a new chandelier, lighting and a state-of-the-art sound system that allows national touring artists to "plug in and play," as Johnson says. Maverick's Steak and Cocktails offers lunch and dinner on the main floor, and with a second commercial kitchen upstairs can cater special events in the theater or any of the meeting spaces. The Calvin Boardroom is named for local entrepreneur John Calvin, who died in 2019. His wife, Prudy, donated his granite boardroom table and leather chairs. Prairie Lakes Landing, the third floor gathering space, can accommodate 100 to 200 people.
While much of the Goss has a modern feel, some original elements have been preserved. Two murals on either side of the theatre stage date to 1889. Cracks in the paint are an indication of decades of the building settling and shifting, but the dents and divots may be from the days when celebratory gunfire indoors was common. Original wallpaper uncovered during Berry's restoration is preserved in the balcony and was recreated and stenciled around the theater's perimeter.
One room on the third floor was left untouched, as much to remember the extent of the building's deterioration as to commemorate the sad story that unfolded inside. Maud Alexander was a waitress at the Lincoln Hotel and was living in the room in 1936 when her son Orval, in an alcoholic rage, doused her in medicinal alcohol while she slept and set her on fire. Neighbors heard Maud shouting, "I'm burning up! I'm burning up!" They wrapped her in blankets to douse the fire, but she suffered burns over nearly three-quarters of her body and died the next day. Orval was sentenced to 30 years in the penitentiary, although he was released in 1953 and died in Watertown 10 years later. Many believe Maud's ghost and the spirits of others still roam the building.
Contractors worked swiftly throughout 2019, and the Goss was ready to reopen in early 2020. But in March the coronavirus pandemic brought the world to a standstill. Staff and the opera house's board of directors navigated the early months of the pandemic and were able to stage a concert in July. A grand re-opening on September 25 marked the Goss' formal return as a lynchpin in downtown Watertown.
*****
The resurrection of the Goss sent waves of energy throughout Watertown's downtown. "Now the building is what it was originally envisioned to be: a community focal point," Johnson says. "And because we did that, it sent a signal to the larger community that Watertown was serious about its downtown and preserving its history. Watertown's decision to save the Goss spurred close to $30 million in downtown investment. It's not just the renovation of the Goss, it's the renovation of the entire downtown."
Fargo developer Jesse Craig created a Watertown Downtown Plaza, which includes Parkside Place, a 36-apartment complex that also houses a quick care medical facility, pharmacy and butcher shop, and The Ruins, an apartment complex currently in design that could include 69 units on East Kemp. Between those complexes, the city of Watertown — in conjunction with a $500,000 grant from the Watertown Area Community Foundation — is building a plaza that will feature a playground, splash pad, green space and an amphitheater.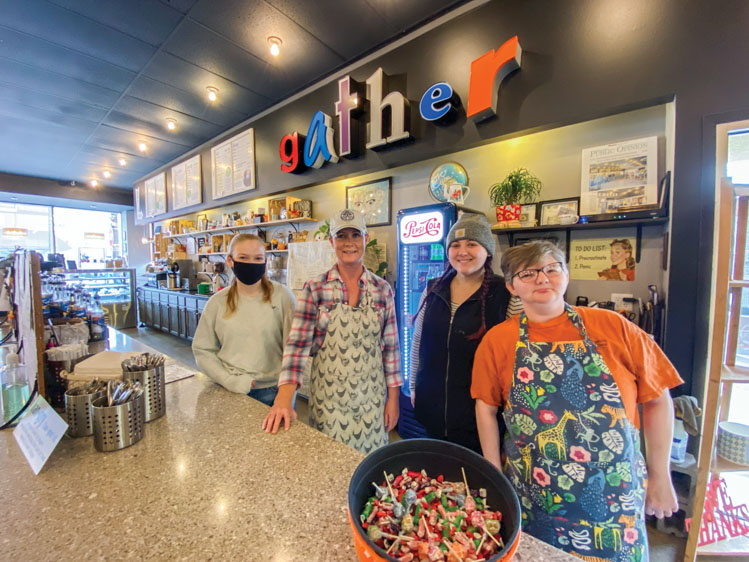 A coffee shop called Gather is part of downtown Watertown's resurgence. Staff includes (from left) Darci Biswell, Angie Reppe, Amanda Miller and Mallissa Stockwell.
Craig has also built The Lofts, a $5.5 million building that includes 39 apartments and 8,000 feet of commercial space on North Broadway and is at work on a senior living facility on First Avenue Southwest called Generations on 1st, slated to open in March 2022.
Crestone Companies, a Watertown-based building and development firm, broke ground in November on a project that will include parking, commercial space and 62 apartments on the east end of Kemp Avenue. Eric Skott, Crestone's CEO, says the downtown transformation has the feel of a domino effect. "The Goss had been in the works for 10 years and the Friends of the Goss finally took it over and funded it the way it needed to be funded. That was one big domino. The other was our Watertown Development Company and civic leaders providing TIFs (tax increment financing districts) and making it feasible for developers to come downtown. We were interested in downtown and loved the old buildings before all of that happened, but it really piqued the interest. There's just a renewed energy downtown, and I think people are wanting to be a part of that energy, whether you really know why or not. I think it's just starting to build."
Angie Reppe became part of the downtown energy 10 years ago when she and her husband bought the old brick building that once housed the city's Woolworth's department store. Four years ago, they opened a coffee house called Gather in a portion of that building. "We lost our downtown coffee shop a few years ago, and everybody needs a place to hang out," Reppe says. "It makes me happy to see people relaxing and having a good time."
Local artist Dustin Sinner sells originals in a boutique connected to the Goss. His Glacial Lakes-themed paintings are especially popular. Havilah Holzwarth, who helps manage the store, also offers her custom-made shirts and greeting cards. Along Maple, Katie Voss operates Timberbloom, a home and lifestyle store that carries only American-made products. "We wanted American-made, because if you're searching for American-made, you have to be very intentional, checking the back of everything," Voss says. "We wanted to be a place where people could trust all of the products to be true to that vision."
Inside the Goss, concerts, theater productions, meetings, receptions and other community events are packing the calendar. "We've been busier in the last year than I think anyone thought," says Jamie Mack, the Goss' executive director. "The community has wanted to use the building more than anyone anticipated, so we have people going in and out of here all the time. It's been wonderful."
Donus Roberts has watched the downtown spring back to life from his own shop, DDR Books, on Maple, just across the street from where he once sold books. "The mall opened here in 1976, and downtown appears to be the healthiest it's been since that time," Roberts says. "We have more stores, and they've changed what they're selling. Lots of things are different now. I've been coming down here at night and you can't park anywhere around here. There are cars everywhere. I have to go around the block and park and come in through my back door, and I'm absolutely exhilarated to do that."
Downtown Watertown is once again abuzz with activity, and it seems people from throughout the Glacial Lakes and beyond are eager to experience it.
Editor's Note: This story is revised from the January/February 2022 issue of South Dakota Magazine. To order a copy or to subscribe, call (800) 456-5117.