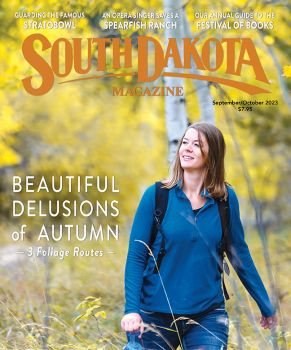 Subscriptions to South Dakota Magazine make great gifts!
Subscribe today — 1 year (6 issues) is just $29!

A Sight for Sore Eyes
Oct 11, 2018
By Fran Hill
My husband has worn glasses since he was 4 years old. Over the years, he has had the expected love/hate relationship with those spectacles. He tried contacts but rejected them. Sunglasses always had to be crafted with prescription lenses. Recently, he inquired about LASIK to surgically correct his vision. Unfortunately, the consult resulted in a diagnosis of cataracts and left him ineligible for just a laser procedure.
Cataracts? Yikes. He is too young to have cataracts. I am too young to have a husband with cataracts. This is making me feel even older than when my own vision screening resulted in bifocals. Thankfully, modern medicine makes eye surgery a pretty simple process. Hubs had the lens replaced in one eye last week, and the other completed this week. He is well on his way to experiencing the super vision he never had.
Meanwhile, I am working to preserve my own sight. Consuming carrots for better vision may be an old wives tale, but as the spouse of a cataract burdened man, maybe I am an old wife. The beta-carotene of carrots does have benefits for absorption of vitamins necessary for proper vision. And the honey and garlic that I roast with these beautiful root vegetables makes them incredibly tasty. So, fact or fiction, I don't even need my glasses to see myself eating Roasted Honey Garlic Carrots.
---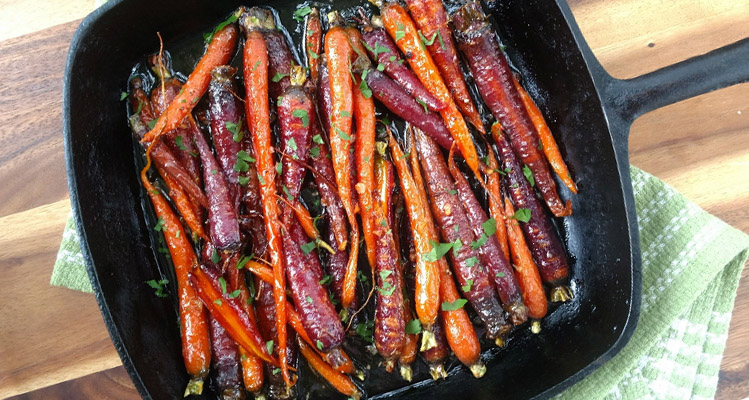 Roasted Honey Garlic Carrots are sweet, colorful, and maybe even good for your eyes.
Roasted Honey Garlic Carrots
2 pounds of carrots, trimmed to consistent size
1/2 cup unsalted butter
3 tablespoons honey
2 cloves garlic, chopped
salt and pepper
1-2 tablespoons chopped parsley
Heat oven to 425 degrees F. Meanwhile, melt butter in a medium pan. Whisk in honey and garlic. Toss carrots with sauce and spread evenly (in a single layer) on a rimmed sheet pan. Season with salt and pepper. (Coarse salt and freshly ground pepper really do magic here.) Roast for 20 minutes or until carrots are tender. (Thicker carrots will take longer than thinner. This is why consistent sizing is important.) Garnish with parsley. (Serves 6…but Hubs and I have eaten it all on our own.)
Fran Hill has been blogging about food at On My Plate since October of 2006. She, her husband and their three dogs ranch near Colome.