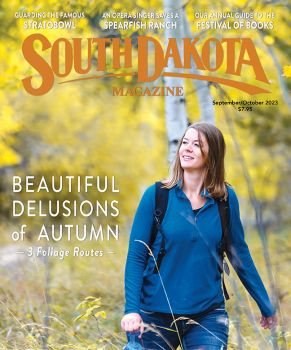 Subscriptions to South Dakota Magazine make great gifts!
Subscribe today — 1 year (6 issues) is just $29!

A South Dakota Quiz
Mar 20, 2018
By Katie Hunhoff
At South Dakota Magazine, we have spent 33 years traveling, studying and writing about our state. Along the way we've grown fond of testing our readers (and each other) with a bit of trivia. The following 14-question quiz is a little sampling. You can find more trivia in every issue of the magazine. Feel free to contact us if you think you have trivia that would stump our staff.
1. A sculpture known as "The Potato Man" (pictured) stands in tribute to the thousands of Irish immigrants who settled in South Dakota in the late 1800s. Where can you find him?
2. What town is known as the birthplace of democracy west of the Mississippi River?
3. Established in 1867, what pow wow is the oldest continual event in South Dakota?
4. Ten murals by Oscar Howe decorate what arena?
5. How many steps does it take to reach the top of South Dakota State University's Coughlin Campanile?
6. Fairways on what town's golf course also serve as airport runways?
7. Geographically, which county is South Dakota's largest?
8. Scotty Philip is known as the man who saved the buffalo, but from which South Dakota rancher did he buy his first animals?
9. What famous town founder is said to have discovered a cave filled with riches somewhere on the Pine Ridge Indian Reservation?
10. At what bar is it a tradition to smash your empty beer bottle under the dock before ordering another?
11. During their journey up the Missouri River, Lewis and Clark explored what natural feature that Indians believed was guarded by "little devils?"
12. The exact center of the United States is found northwest of what city?
13. Mildred Fiksdal O'Neill's collection of 10,000 pairs of shoes is housed in what museum?
14. Geographically, which is South Dakota's largest Indian reservation?
Click here to see the answers.