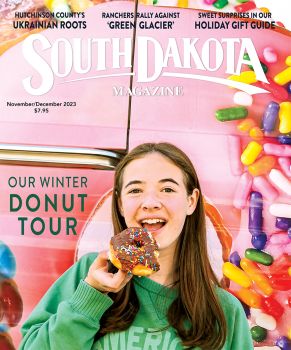 Subscriptions to South Dakota Magazine make great gifts!
Subscribe today — 1 year (6 issues) is just $29!

About South Dakota Magazine
PUBLISHED IN HISTORIC YANKTON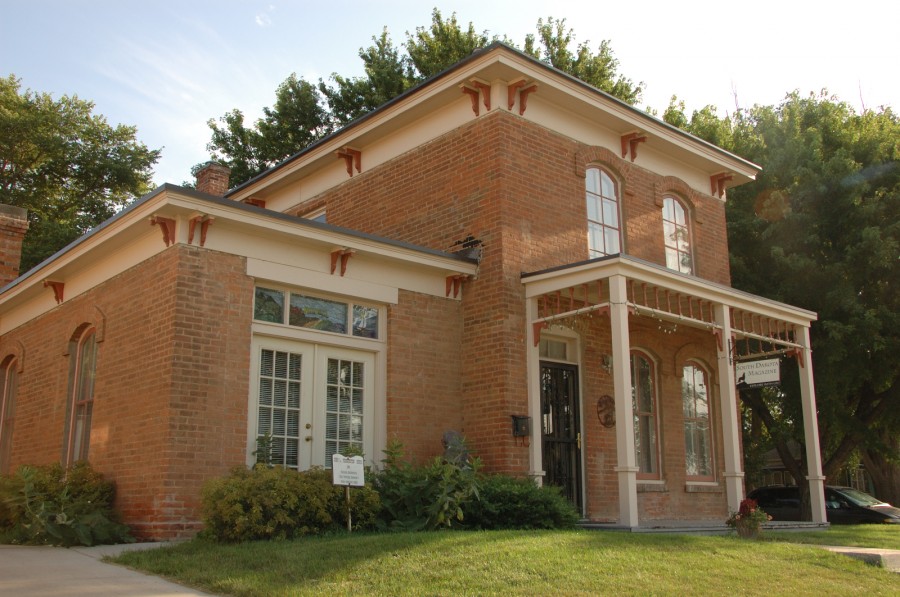 SOUTH DAKOTA MAGAZINE explores the state, looking for interesting people and places that define our culture, heritage, arts, nature and communities.
The bi-monthly (6 per year) publication is written and headquartered at Yankton, the historic Missouri River city that was once the territorial capital.
Our publishing headquarters encompasses three old brick buildings in downtown Yankton that were built in the 1870s by Territorial Governor John Pennington.
Readers interested in history and architecture are always welcome to stop for a quick tour. You'll find us at 410 E. 3rd Street, at the far east end of Yankton's main street.
Thank you for your interest in the magazine. We hope you'll join our reading family, and explore South Dakota with us on a regular basis.
---
Meet Our Staff
Bernie Hunhoff - Founder and Editor-at-Large

Bernie started the magazine in 1985 after working in the newspaper business in South Dakota. He has been stuck on gumbo trails in Lyman County, been hissed at by rattlers at Porcupine and forced to eat everything from lutefisk to roast goat. It's all part of the job of publishing South Dakota Magazine.

Katie Hunhoff - Publisher


Katie has been part of South Dakota Magazine since the first catsup-stained layouts graced the Hunhoff family kitchen table in 1985. In addition to her publishing duties, Katie coordinates our feature articles and photography, and guides the editorial process along from issue to issue.

John Andrews - Managing Editor


Our managing editor and web editor is John Andrews. John grew up in Lake Norden, attended South Dakota State University and spent three years writing for the Brookings Register. He earned a master's degree in history at the University of South Dakota before joining our staff in 2007.


Roger Holtzmann - Contributing Editor


Roger is a veteran staffer. He has been contributing since 1990, and now writes features and a humor column for the magazine.


Paul Higbee - Contributing Editor


Paul Higbee has written regularly for South Dakota Magazine since 1991, serving as our Black Hills correspondent. Paul and his wife Janet live in Spearfish.


Andrea Maibaum - Production Manager

If you like how the magazine looks, then please compliment Andrea. She's our chief designer both of the advertising and the editorial pages.


Hannah Schaefer - Photography & Editorial Assistant


If you submit a story idea or a photo to us, chances are good that Hannah will be the first one to see it. She loves farm life, faithful dogs, country roads and rodeos — all she needs now is a pickup truck.

Kendra Harrell - Circulation Director


When she isn't wrangling our 40,000-name subscriber list, Kendra keeps busy juggling the soccer and swim team schedules of her four sons: Jakob, Kieran, Aidan and Noah. But she's an old hand at such balancing acts — she attended both SDSU and USD.

Kiki Felton - Circulation


Kiki is the first person you'll see when you walk in the door of the Pennington House, and hers is the friendly voice you're most apt to hear if you give us a call. She and her two children live in Yankton.