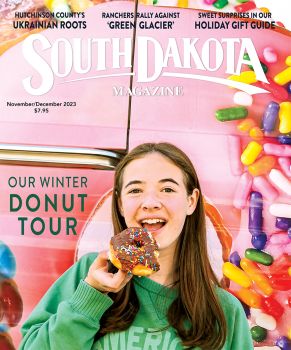 Subscriptions to South Dakota Magazine make great gifts!
Subscribe today — 1 year (6 issues) is just $29!

Nobody Yelled 'Kill the Umpire!'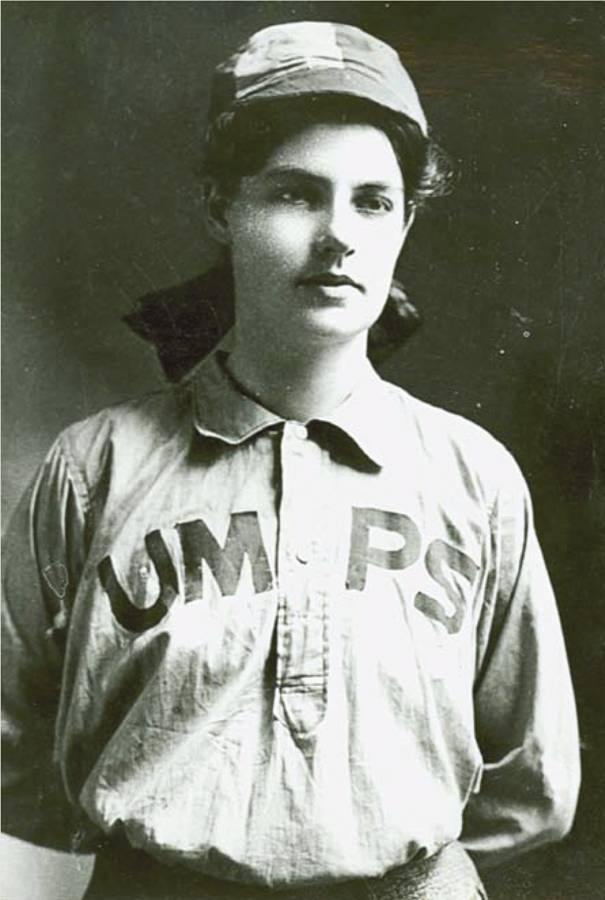 An impressive sight on the baseball diamond, umpire Amanda Clement commanded respect from the players.
One of the most fascinating sports figures ever to cross the South Dakota scene ... or for that matter, the American scene, was Amanda Clement, a lady baseball umpire at the turn of the 20th century. It was not a time when women were encouraged into sports, so the sensationalist newspapermen of the early 1900s had a field day with her exploits. She became a legend in her own time.
The Amanda Clement story began in Hudson, South Dakota, a small town on the Big Sioux River near the Iowa border. She was born March 20, 1888. Her father died at an early age, leaving her and brother Hank to be raised by their mother, Harriet Clement. Harriet was no softy, having been one of the first female settlers in the town of Eden in Dakota Territory a few years earlier.
The Clement house was next to the Hudson ballpark, and it was natural for the children to spend idle time with a baseball. Amanda was attracted to the game but, because of her gender, was relegated mostly to umpire duty. While she never advanced in ability enough to play first base on the town's semi-pro team (as some writers reported), Amanda did possess enough skill as not to embarrass herself when a shortage of players forced the boys to let her play.
Amanda, or Mandy as she was called, got her first taste of umpiring for pay at the age of 16. She and her mother had traveled across the Big Sioux River to watch her brother, Hank, pitch for Renville against Hawarden. Two local lodge teams were scheduled for a preliminary game and when the umpire failed to show on time, Mandy was drafted from the crowd. Time for the main event arrived and still there was no umpire. The players had been significantly impressed by Amanda's work in the first game and begged her to umpire their game — with pay, of course. It took more persuading of mother than daughter, but finally Mrs. Clement relented and allowed Amanda to take to the field. That Renville-Hawarden game of 1904 is the first record of a woman umpiring a baseball game for money.
A couple of interjections seem appropriate at this time so readers might appreciate the magnitude of Amanda Clement's feats. First, in those days just one umpire was used. He (or she) stood behind the pitcher, not only calling all the balls and strikes but also the plays at all four bases. Second, in the early 1900s there were no radios, no movies, few cars and little entertainment of any type. Baseball was the game of the day. You either played or watched. It was a time when the only thing ERA meant was Earned Run Average.
"She is death on balls and strikes," one reporter wrote.
Every town and hamlet had a team. Games were played between neighboring towns and spectator interest ran high. From April to October, Saturday and Sunday afternoon was set aside for baseball. As the action heated up and local pride grew, the need arose for better players. Thus was born semi-professionalism. Better players from larger towns like Sioux Falls and Sioux City were hired. Money was needed to pay the players, money was obtained from paying spectators, and thus a good attraction was needed to get more spectators.
Amanda Clement as a baseball umpire was an immediate hit. Not only was she good, but baseball promoters quickly realized that a good looking young lady calling balls and strikes might enhance the paying public. Soon every baseball team in the area was vying for her services. She was billed as the "World Champion Woman Umpire," a fact that was somewhat true since she was surely the only one.
The next few years found Amanda Clement umpiring throughout the five-state area of North and South Dakota, Minnesota, Iowa and Nebraska in the summer and going to school the remainder of the year. She attended Yankton Academy for two years, Yankton College for two years and graduated from the University of Nebraska in 1909 with a degree in physical education. Baseball earnings paid her way through school. Amanda would work 50 or so baseball games a summer, with fees ranging from $15 to $25. She was the first person contacted to umpire a game of any importance.
Amanda Clement was an impressive sight on the baseball diamond. Standing 5' 10" with her full-length blue skirt, black necktie, white blouse with UMPS stenciled across the front and peaked cap, she was described as an "inspiring sight" and ''more than just a pretty face" by local newspapers. "She is death on balls and strikes," one reporter wrote.
Amanda was dubbed "the heartless arbitrator..."
A no-nonsense Congregationalist, she often lodged with local ministers when working away from home. She refused to umpire on Sundays and once left a game after two innings because a player swore. But that kind of confrontation was rare.
A longtime friend, Janet Mills, recalled that Amanda always marveled at the players' politeness. Instead of saying "Kill the Umpire" they said, "Beg your pardon, Miss Umpire, but wasn't that one a bit high?"
Her fame as a baseball umpiress spread far and wide. Newspapermen from the East championed her. She was said to have umpired professional ball, even the big leagues were said to be seeking her. Part of the myth! One writer for the Boston Post claimed in a story that she had turned down over 60 proposals for marriage, received while umpiring baseball games. Amanda was dubbed the "heartless arbitrator" by that writer.
Adding to the Amanda Clement legend was her own athletic ability. At Yankton College, she was the star athlete of her day in such sports as basketball, track and field, and tennis. Various news reports had her setting world records in the shot put, the hurdles and the dashes in addition to being the best tennis player in America. All more of the myth! Amanda was also credited with the world record for a female throwing a baseball — 279 feet. This is fact.
Following graduation from college, Amanda gave up the life of an umpire. Once in awhile she was coaxed out of retirement for a special game of sorts. However, she did not give up her love for athletics. While teaching at Yankton College, the University of Wyoming and Jamestown, N.D., Amanda remained a strong sports supporter. She helped coach, she organized sports teams and she continued to referee high school basketball, something she started while attending Yankton College. Perhaps she was the first lady basketball referee, too!
As Amanda Clement advanced in years, her amazing story didn't diminish. Following her years in education, Amanda managed YWCAs in LaCrosse, Wis., and Keokuk, Iowa. While living in LaCrosse, she pulled a drowning man from the Mississippi River.
After Amanda returned to Hudson to care for her sick mother in 1929, she still found time to be city assessor, justice of the peace, police matron, drug store clerk and typesetter for the local newspaper. Also, she worked to get a swimming pool built and she coached kids' teams of all types. Following the death of her mother, Amanda moved to Sioux Falls in 1934. She was involved in social work and welfare until her retirement in 1966.
Amanda Clement never married. Instead, she devoted her live to enriching the lives of others and bringing enjoyment to them. She never lost her love of baseball, and rarely missed a game on the radio or television. Amanda became a follower of the Minnesota Twins, rooting for them and, no doubt, for the umps, until her death in 1971.
Amanda has been recognized in the Baseball Hall of Fame at Cooperstown, N. Y., as well as the Women's Sports Hall of Fame and the Women's Sports Foundation in San Francisco. Her exploits were also chronicled in Sports Illustrated. She was inducted into the S.D. Sports Hall of Fame in 1982, only the second female so honored and the first baseball umpire. Children can learn about Clement's accomplishments in Umpire in a Skirt: The Amanda Clement Story, a book by Yankton author Marilyn Kratz.
Editor's Note: Author Colin Kapitan is a well-known South Dakota sports official and a veteran freelance sportswriter. This story is revised from the July 1985 issue of South Dakota Magazine. To subscribe, call 800-456-5117.