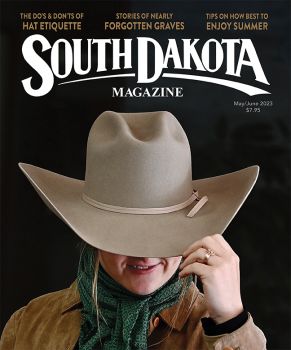 Subscriptions to South Dakota Magazine make great gifts!
Subscribe today — 1 year (6 issues) is just $29!

Angels Along the River
By Jarett C. Bies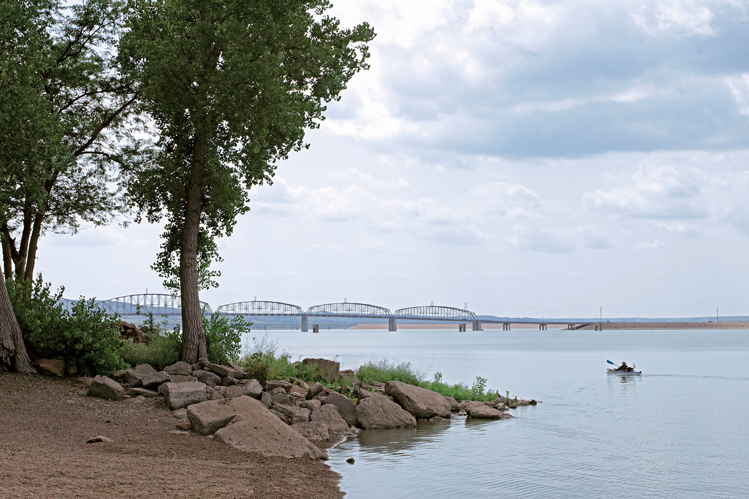 Kayakers paddling the Missouri River from source to mouth find South Dakotans willing and eager to help. Photo by Jessica Giard.
Each spring, South Dakotans who live along the Missouri River become friends to adventure hunters attempting to paddle the entire river, starting in Montana at the source and continuing to St. Louis (or sometimes all the way to the Gulf of Mexico).
The trip has allure because the Missouri is the longest river in North America at 2,341 miles. After all, would you train to scale a mountain and then fly to Alaska to climb something other than Denali?
As paddlers descend the 500 river miles in South Dakota, they experience some of the Missouri's most dynamic contrasts. On the state's northern border, they're on the inland sea that is Oahe, the "Big Bear," whose winds can make travel impossible. Lakes Sharpe, Francis Case and Lewis & Clark aren't much easier. Luckily the state's long river stretches provide a reprieve, since hundreds of miles still lie ahead for them.
Those who host, help or offer companionship give priceless assistance. Paddlers live off what they can haul, so restocking backpacks and recharging batteries is a necessity. When Mike Norder took ownership of Bridge City Marina near Mobridge, the former owner told him kayakers would be coming through from Montana. "Sure enough, we had folks in that spring, and you do scratch your head," Norder says. "It's a crazy journey. These people are taking a year, or longer for the ones doing it each summer, and it's amazing to me. The isolation out on the river. The personal journey. It's admirable."
Only a handful of paddlers came through in Norder's first year of business, then the number jumped to eight one summer. "We enjoy hosting them, and I guess it was just the way I was brought up. We'll let them take a cabin if we have one open, just so they can unwind and refresh their batteries," he says. "We can offer them a place to sleep and a shower. I think when you haven't had one for a week or longer, it's a treat."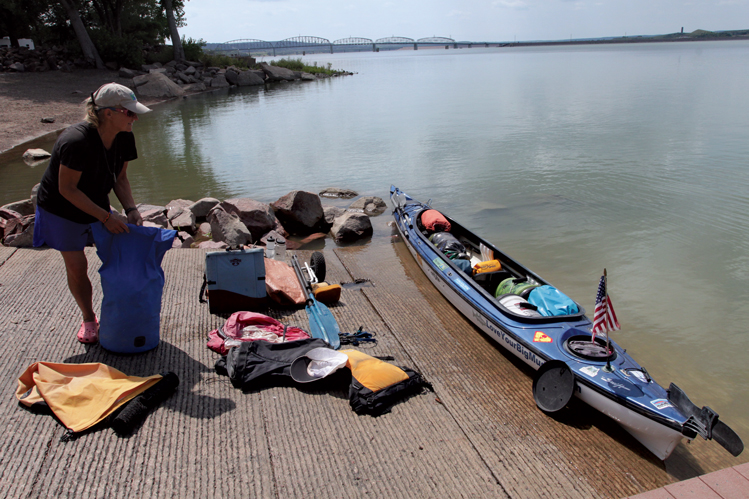 Janet Moreland paddled the Missouri River from Montana to the Gulf of Mexico, the first woman to complete the 3,800-mile water journey. Photo by Jessica Giard.
He says his family enjoys the newcomers. "We like to make a party of it. One time we did a walleye feed and then another time we did a steak cookout. We make a celebration out of what they're doing. I call them river warriors, and it's nice to pick their minds, to hear about the motivations behind their trips. Like with Janet (Moreland), she was doing it to inspire kids and to raise river awareness. We have a big family, so that's where we connected."
Moreland was the first woman and first American to finish the source to sea trip. She started May 1, 2012, and completed her descent to the Gulf of Mexico the following December.
Social media — especially a Facebook page called Missouri River Paddlers — has made a huge difference for water travelers and for South Dakotans willing to help them around a dam, or offer a place to sleep or a hot meal. Pat Wellner, a kayak racer from Pierre, thinks the uptick in paddlers doing the trip is noteworthy, but that the Facebook page, created by paddling enthusiast Norman Miller of Livingston, Mont., has made a big difference in spreading the word.
"The first time I met someone doing the trip was in 2009, and now you can keep track of the river travelers thanks to Norm's page," Wellner says. "I guess my motivation to help is our common interests: paddling and the river. It's fun for me to see how they've prepared, the boats and paddles they use, the stay-dry equipment." He also warns paddlers that the Big Bend area is tricky and that they have plenty of wind and big water yet to come.
Wellner also appreciates the motivation behind the trips. He met Dom Liboiron, a freelance writer who would paddle, stop to work, and then return to paddling. Liboiron dedicated his 2012-13 Montana to New Orleans trip to his late uncle, Mitch, and to raise awareness for heart disease. He learned to appreciate Canadian Rod Wellington's "no mechanical assistance" approach. Wellington manhandled all his gear and kayak around each of South Dakota's four dams.
"What they do is tough, especially in terms of time. Finding that much time off, and the money to cover such a trip, is not easy, and that's why it seems to be college kids or retirees doing the whole stretch," he says. "There are so many fitness levels. Some are doing it aggressively and others are going at their own pace." Wellner says many of the paddlers are engaged in "ninja camping" where they alight along any bank or slice of shore available to them.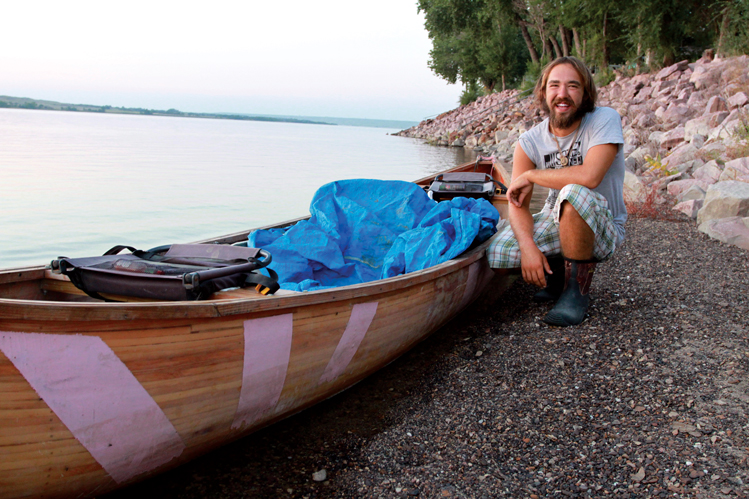 Shawn Hollingsworth paddled the Missouri River in a homemade pine canoe featuring pink ribbons for breast cancer research. Photo by Rod Wellington.
Journalist Jessica Giard has met a lot of river travelers in her decade-plus of living in Chamberlain. She said many of the source-down paddlers stop in Chamberlain in part because of geography. "There's not much between Pierre and Yankton, so it's nice to enrich their travels a bit, but they have to rely on locals, sometimes for help, sometimes for insight on local color or guidance," she says. "It might be as simple as a meal or a ride to the store."
Giard's most memorable experience with source-down travelers came when she joined a group of British adventurers for several days on the water. She says river-lovers quickly find common ground.
"They want to experience more than the terrain. They want to truly know the places they stop, and how life's lived there," Giard says. "Each has their own journey, with unique goals and methods, but they have all kept me motivated to keep seeking more adventures and to stop imposing limits on what I do or can do."
Cheryl Pruett of Platte read of river travelers on Facebook and that made it possible for her to spend time as a hostess for Janet Moreland. Pruett hosted her during a windy set of days near Snake Creek. "I took her shopping and gave her a way to get to town to replenish her supplies," Pruett says. "We ended up spending a lot of time together, and she was just so warm and truly interested in South Dakota. Janet was definitely a motivator. I was amazed by her journey, a single woman on her own. But she did it, and she made me think I need to do more new things and to never quit exploring."
A day after Moreland's departure, Pruett climbed aboard a watercraft and went down river, hoping to see her newfound friend. "We did find her and she'd stopped because she'd broken a rudder cable, so we were able to help her out," Pruett says. "She called us 'river angels,' and it felt good to hear her say that."
While most kayakers would never dream of replicating the source-down journey, there's a transitive property to the face-to-face experience. Wayne Nelson-Stastny is a U.S. Fish & Wildlife Service scientist, a Wagner native, and a huge proponent of the source-down travelers he's met. In Yankton, his family hosted Moreland and helped her depart onto the first truly moving water she'd paddled in months.
"Both of my kids had a million questions for her and we had her over, let her get some laundry done. What she's doing is amazing," he says. "She's enhancing the understanding we all have for this river system, but she's also showing women that great things are possible."
Nelson-Stastny says he and his family were out on Lake Yankton the weekend after their experience with Moreland. "I've been on the river since I was a kid, and I was out there almost every day in the 1990s when I was in graduate school, and you never saw people doing this trip," he said. "Now you'll find a dozen or more each spring. It's inspiring people, and I know it's inspired my kids. All we did was give her [Moreland] a little rest and a meal. She gave us a lot more."
Editor's Note: This story is revised from the March/April 2014 issue of South Dakota Magazine. To order a copy or to subscribe, call (800) 456-5117.