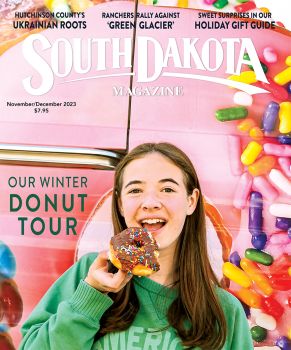 Subscriptions to South Dakota Magazine make great gifts!
Subscribe today — 1 year (6 issues) is just $29!

Welcome!
Thank you for signing up for our free e-newsletter
I hope you enjoy our monthly dose of humor, trivia, recipes, travel tips and other good stuff from the publishing office of South Dakota Magazine.

Don't worry, we value our readers and friends too much to share or sell their information. So, your email address is safe with us.

However, feel free to share South Dakota Magazine with your friends! If you think they also would enjoy the e-newsletter, direct them to www.southdakotamagazine.com/newsletter to sign up for themselves.

If you have any questions or if this is a mistake, please email newsletter@southdakotamagazine.com or call 800-456-5117.

To ensure you receive your monthly newsletter, add newsletter@southdakotamagazine.com to your contacts or safe senders list.

Thanks for exploring South Dakota with us!