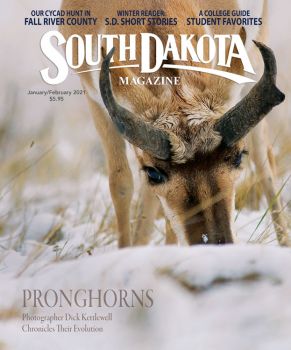 Subscriptions to South Dakota Magazine make great gifts!
Subscribe today — 1 year (6 issues) is just $25!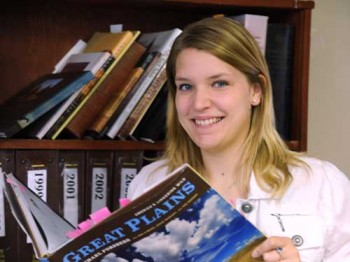 Greetings From Our New Intern
May 20, 2011
Not many can claim to have lived in the same house their entire life … but I am only two decades old. Just because I was born and raised in Yankton, South Dakota doesn't mean I haven't seen plenty of our wonderful state. Whether posing for a picture on the tail of the gigantic Apatosaurus at Dinosaur Park, pheasant hunting the corn rows of Brown County or enjoying the sunset from ATV trails along the bluffs of the Missouri River, I've developed a deeper appreciation for this state each day - just as our readers have for the past 26 years. Since working my way through the ranks of the Yankton School District, I've transitioned to college life at Dakota State University in Madison where I will enter my third year of the Digital Arts and Design program this fall. I am interning at South Dakota Magazine this summer as a part of my education

Best Place to Eat in Madison?

Unlike the typical answer for many college students, I'd say that the Country Café is my favorite place to dine. It's a quaint little place located downtown, crowded with locals. The home-cooked meals are a delicious break from cafeteria food.

What is your favorite South Dakota travel destination?

By far the Black Hills tops my list as all-time favorite travel destination. My family has driven west at least once every year since before I was born. That is definitely a tradition I plan to carry on.

What's the best part about coming home to Yankton for the summer?

Besides being most excited to return to Yankton for my internship at South Dakota Magazine, I will enjoy visiting all of the friends and family I didn't see much the past school year while I was away. Plus it's always nice to spend an afternoon at the lake!

Best memory of growing up in South Dakota?

Holidays in our family are like no other days of the year. I will never forget the countless years we all squashed around a massive communal table at Thanksgiving or when one of my uncles would dress up as Santa and distribute gifts at Christmas (Sorry guys, but I figured it was you). These truly were and are the best events of the year.

Have you learned anything new about South Dakota since becoming our intern?

I had no idea Prairie Village in Madison still had an operational carousel. That will definitely be something I'll check out when I'm back in Madison.