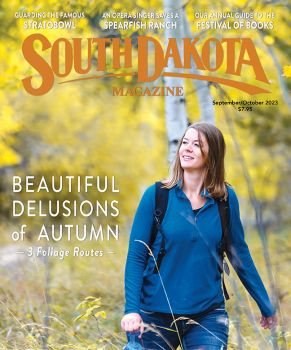 Subscriptions to South Dakota Magazine make great gifts!
Subscribe today — 1 year (6 issues) is just $29!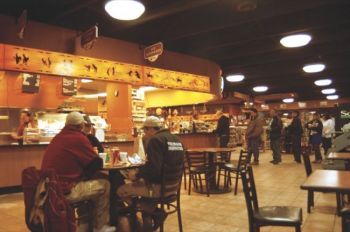 South Dakota's Grandest Convenience Store
Editor's Note: This is taken from the story "25 Unusual Man-Made Places," which appeared in the March/April 2010 issue of South Dakota Magazine. To order a copy or to subscribe, call 800-456-5117.
You can call Big Bat's in Pine Ridge a convenience store, but it's the closest thing to a mall you'll find in Indian Country. There's gas, oil and junk food — all convenience store staples — but also a huge dining room where real meals are served three times a day, with art by Lakota artists like Donald Montileaux. Murals tell important Lakota stories. There's the White Buffalo Calf Woman, ancestral twins fathered by an eagle, the acquisition of the horse and the evolution of pow wows.
Bat and Patty Pourier opened the store in 1990. Fire destroyed Bat's in 2001, but the Pouriers invested $1 million and rebuilt the grandest convenience store in South Dakota.
When Bernie Hunhoff visited with Bat and Patty in 1994, Bat mentioned how his Lakota heritage had helped him as an entrepreneur. "It can be a road map to a new end. We come from a warrior culture and I am a warrior, but I do it in my business. I am learning the concepts of business management and the economy is my battle field."
Bat and Patty have since retired, but their son Tye and other members of the Pourier family are keeping the Pine Ridge hot spot in operation. Big Bat's is located in the center of Pine Ridge at the intersection of Hwys. 18 and 407, and the Pouriers have opened other stores in Hot Springs, Chadron and Scottsbluff.