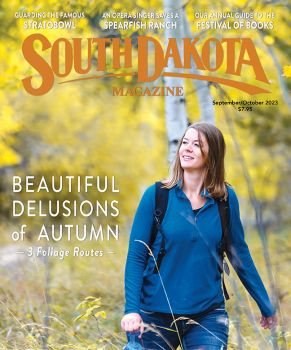 Subscriptions to South Dakota Magazine make great gifts!
Subscribe today — 1 year (6 issues) is just $29!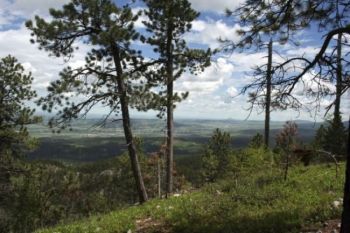 Black Hills, Mining, Land and the Lakota
Aug 22, 2012
I hear cries in the occupied wilderness this week.
The Lawrence County Commission met in Deadwood today to consider Valentine Mining's application to dig for gold in Spearfish Canyon. Some Black Hills locals spoke in favor. Some spoke against. All were white folks.
After three hours, an Oglala Sioux woman, Charmaine White Face, took the microphone. She urged the commission not to approve the permit. Among other reasons, White Face questioned the authority of any white person in the room to approve this mine. She read back to us President Grant's 1875 order to the Army to stop blocking miners from entering the Black Hills, the effective abrogation of the 1868 Fort Laramie Treaty. This treaty violation, said White Face, means no white person really owns any part of the Black Hills. No white commission can exercise any sovereignty over this stolen land.
The organization leading the fight against the 21st century miners calls itself the Spearfish Canyon Owners Association. Owners. Perhaps I project, but White Face's white allies in the room seemed to remain uncomfortably silent through her talk.
Meanwhile, an hour to the south, some of White Face's compatriots want to buy 2000 acres of grassland in the heart of the Black Hills. The Lakota call this place Pe' Sla; we call it Reynolds Prairie. Pe' Sla is as sacred to the Great Sioux Nation as Bear Butte, Harney Peak and Devil's Tower. It goes up for auction Saturday.
"The Black Hills are not for sale," the Sioux declared in 1980 when they refused a hundred-million-dollar settlement of their demand for the return of the Black Hills. But the Black Hills are for sale, say the white owners of Reynolds Prairie. To save Pe' Sla from the sacrilege of subdivision, tribal activists are raising money to bid in Saturday's auction and take back their country by the white man's rules of gold and green.
In Deadwood, a Native woman says we whites cannot own, let alone mine, the Black Hills. Just down the road, Lakota people believe that, to protect the holy land, they must buy that which is not for sale from those who do not own it.
We cannot speak of the Black Hills without contradiction.
Cory Allen Heidelberger writes the Madville Times political blog. He grew up on the shores of Lake Herman. He studied math and history at SDSU and information systems at DSU, and is currently teaching French at Spearfish High School. A longtime country dweller, Cory is enjoying "urban" living with his family in Spearfish.