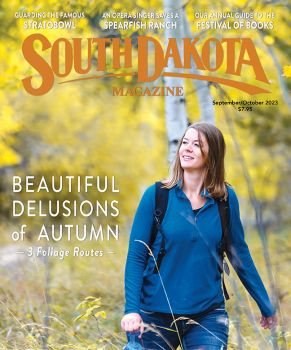 Subscriptions to South Dakota Magazine make great gifts!
Subscribe today — 1 year (6 issues) is just $29!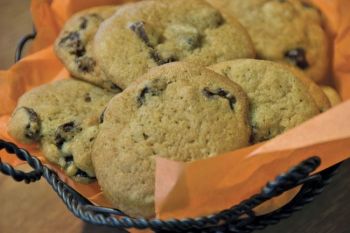 Hard-won Walnut Cookies
Black walnuts add rich flavor to baked goods, but harvesting and shelling the nuts can be a real challenge.
Try cracking your black walnuts with a hammer and you'll likely get bruised fingers and a new respect for squirrels. The little furry-tailed creatures make the laborious task of shelling black walnuts look simple. Since humans aren't equipped with a squirrel's incisors, using a nutcracker is probably the best option. Neighbors may suggest other nut-cracking methods — like crushing the nuts in a vise or splitting them with an axe or putting them in a gunny sack and driving over them. All of the aforementioned pose safety issues, since the nuts and shells can become airborne.
A nutcracker worthy of cracking a black walnut isn't any ordinary nutcracker. And it certainly doesn't look like the one you see dancing in the ballet. A real nutcracker has a long lever handle that crushes the nut between two metal plungers. "You need special equipment," said April Borders, Yankton County Extension Agent, when we spoke with her in 2007. "The nutcracker for black walnuts looks almost like a pop can crusher."
Rock-hard shells aren't the only drawback to black walnuts; juice from the hull surrounding the shell will stain. Native Americans and pioneers used it to make dye, and even today several recipes for the dye can be found on the Internet. Unless you don't mind stained hands and fingers, Borders recommended wearing gloves when working with black walnuts. Protecting clothing, tools and work surfaces is a good idea, too.
Black walnuts should be hulled before storage to retain the color and flavor of the nutmeat. It's best to throw the hull scraps in the trash. The hulls, as well as the roots, leaves and bark of the black walnut tree contain juglone, a chemical that inhibits the growth of many vegetables, fruits, landscape plants and flowers. "When you look under a black walnut tree, there's nothing growing under it, even grass has a hard time," Borders said. "It's mother nature's way of protecting the plant."
In order to beat the squirrels, look for black walnuts to ripen from August to September. "Harvest will depend on the weather," Borders said. "Watch for the husks to change color, then use your thumb to do a dent test similar to what you would do with squash." It's best to pull the nuts off the tree, according to Borders. Those too high to reach will come down with the frost.
Once you've collected the nuts, hulled them and purchased a heavy-duty nutcracker, you're probably in a hurry to shell. But wait a while — they should cure for two weeks or more. That allows the flavor to develop and prepares them for storage. It also gives you time to ask around for recipes.
Grace Linn of Brookings shared this recipe with us. She first made these cookies with black walnuts she brought home from a trip in Wisconsin when she didn't realize the nuts grew in South Dakota.
---
Black Walnut Raisin Cookies
1 cup raisins
1/2 cup water
1 cup sugar
1/2 cup shortening
1/2 teaspoon vanilla or black walnut flavoring
2 eggs
2 cups flour
1/2 teaspoon baking powder
1 teaspoon salt
1/2 teaspoon cinnamon
1/8 teaspoon nutmeg
1/8 teaspoon allspice
1/3 cup black walnuts
Mix and cook the raisins and water for a few minutes. Drain and reserve 1/4 cup liquid. Return liquid to raisins and add 1/2 teaspoon baking soda. Set aside to cool.
Cream sugar and shortening. Add eggs and flavoring then beat thoroughly. Sift together flour, baking powder, salt, nutmeg and allspice. Mix flour mixture with sugar and shortening. Fold in raisin mixture and black walnuts. Bake at 350 degrees for 10 minutes or until done.
Editor's Note: This story is revised from the September/October 2007 issue of South Dakota Magazine. To order a copy or to subscribe, call 800-456-5117.