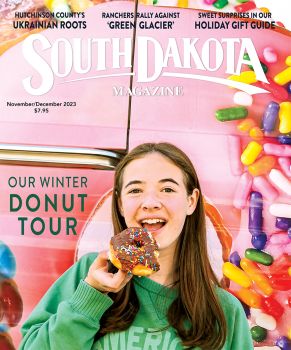 Subscriptions to South Dakota Magazine make great gifts!
Subscribe today — 1 year (6 issues) is just $29!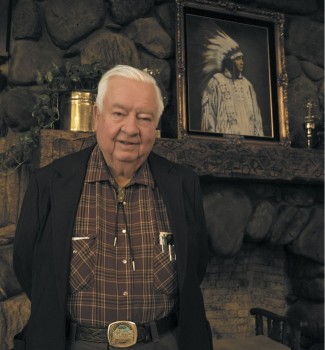 Borglum's Last Christmas
Editor's Note: The author, Bob Hayes, grew up in Keystone. He worked as a mining engineer for 40 years before retiring to his hometown, where he has been an active participant in history gatherings. This story comes from "Collected in the Alex Johnson Hotel," a group of tales gathered at the West River History Conference that appeared in the July/August 2006 issue of South Dakota Magazine. To order a copy or to subscribe, call 800-456-5117.
Sculptor Gutzon Borglum often entertained his workers at Mount Rushmore with lavish dinners in the boarding house near the mountain or at the Alex Johnson Hotel in Rapid City, or at picnics at his Hermosa ranch.
My father, Edwald Hayes, ran the tramway up and down the mountain for eight years. As part of the Mount Rushmore family, I attended many of the parties. I especially remember the Christmas of 1940 in the old studio building at Rushmore, where Dad played Santa Claus. It was a role he would play in Keystone for more than 50 years.
Mother took my four-year-old sister, Judy, and me to the party. Of course, Dad did not go with us. When we got home, Judy was excited to see Daddy. She ran jubilantly to him shouting, "We were at Rushmore and we saw Santa Claus, and he had shoes just like yours!"
That party was perhaps Borglum's last. He died the following March in a Chicago hospital.