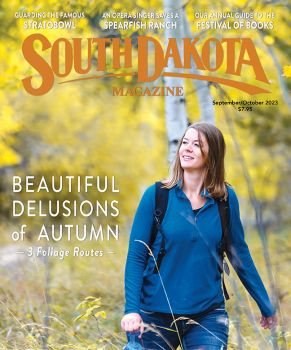 Subscriptions to South Dakota Magazine make great gifts!
Subscribe today — 1 year (6 issues) is just $29!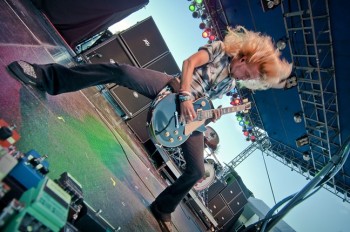 Bright Lights and Live Music
Jan 4, 2012
By Chad Coppess
If you enjoy live music performances, making photographs of concerts can be a lot of fun. Bright flashing light shows, lots of motion and spectacular stage presentations seem like they were made for photography.
Whether it's local bands playing in the city park or big name acts at the huge arenas, concert shooting can be challenging and fun.
Outdoor daytime events generally have much more even lighting, so the creativity in photography comes from choosing angles to shoot and watching for interesting expressions and poses. Not surprisingly, musicians seem to be good at expressions and poses.
Indoor and night time shows are a study in contrasty lighting and being ready for the unexpected. I usually have my camera set to automatic aperture and realize as the stage lights change quickly I am going to end up with a lot of shots that are not exposed properly. Shoot and shoot more! Not worrying about the bad shots and continuing to look for great ones is the way to go.
Some concerts specify that camera flashes are not allowed, so you'll have to go without. In most cases that's okay with me because a flash can wash out the dramatic effects of the stage lights anyway.
I realize that I usually have a press pass for better access than the typical concert-goer has, but it's still possible to shoot good photos from the audience area. Look for angles where you can take photos without people's heads and hands in the way. If you are able, move to different spots throughout the show to get a variety of shots.
Getting to know bands and artists is easier than ever these days through social media. Contacting the artists you'd like to photograph and letting them know who you are and that you are working to make them look good will go a long ways toward access. Over the years I've come to know several musicians as friends just by taking their photo and showing them later.
Some concerts will not allow professional style cameras, however those kinds of restrictions are beginning to disappear as more and more people are taking high-quality photos and video with their cell phones. Many bands encourage fans to post photos to their websites or Facebook pages.
More of my concert photography can be found at my blog Chad's Concert Pix.
Chad Coppess is the senior photographer at the South Dakota Department of Tourism. He lives in Pierre with his wife, Lisa. To view more of his work, visit www.dakotagraph.com.