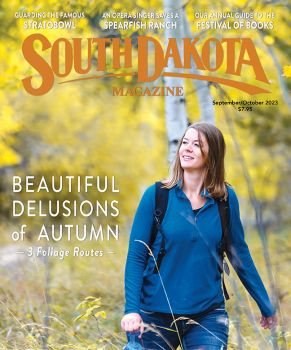 Subscriptions to South Dakota Magazine make great gifts!
Subscribe today — 1 year (6 issues) is just $29!

When Carrots Become Candy
Jan 4, 2018
By Fran Hill
It is early January, and we have all been bombarded with advertising, social media posts and probably a few conversations about dieting, resetting, detoxing and all sorts of keyword-heavy suggestions on how to improve our lives. I just say, "Ugh." Enough with the crazy vocabulary, crazier diets and mandatory hating yourself.
Of course, we could probably use a few more vegetables and a little (or a lot) more activity, but we don't need to beat ourselves up over it. Part of a healthy life is enjoying the moment, even if that moment isn't perfect. Balance those last Christmas cookies with taking the dog for a walk. Develop a new favorite salad dressing and toss it with a big bowl of greens as a side with every meal. And speaking of greens, those aren't the only healthy vegetables. There truly is something to be said for eating the rainbow.
Currently, I am stuck on all the golden hues. I am baking sweet potatoes, roasting acorn and butternut squashes, and even giving carrots top billing in my menus. If you are only dispatching raw carrots to the crudité plate, you are missing out. The high heat of roasting brings out the natural sweetness in a way that makes carrots just as delicious as candy. These tubers are also packed with nutrients, fiber and antioxidants (just in case you were missing those healthy vocabulary words).
---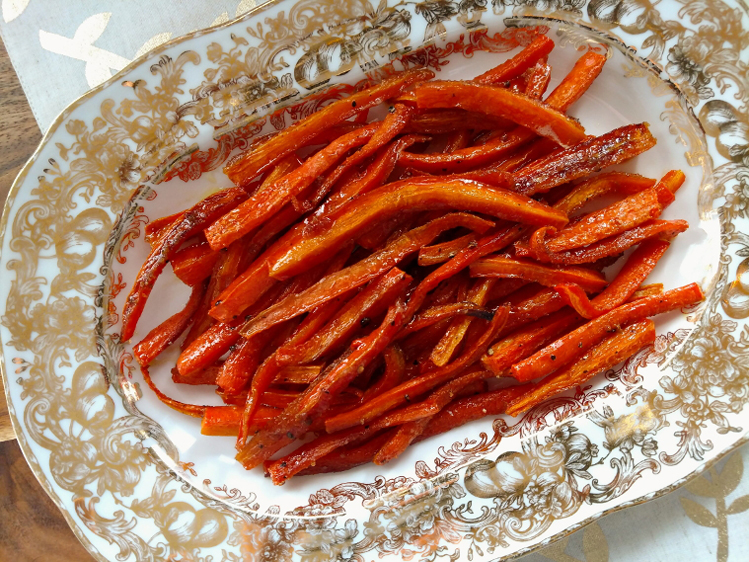 Carrots roasted in a brown sugar glaze provide a sweet treat without derailing any New Year's healthy eating resolutions.
Brown Sugar Glazed Roasted Carrots
2 pounds carrots
olive oil
kosher salt
freshly ground pepper
brown sugar
Preheat oven to 425 degrees F.
Peel carrots and chop into 3- to 4-inch lengths; cut each section lengthwise into fourths. (If some fourths seem especially thick, you may want to halve again, but don't make the carrot sections too thin or they will overcook quickly.)
On a rimmed baking sheet, toss the carrots with olive oil. (I start with about a tablespoon and then add more as needed to thoroughly coat.) Season with salt and pepper. Spread the carrots out on the pan in an even layer. Allow as much space between the carrots as possible. (If the carrots are crowded, they will steam rather than roast.)
Roast the carrots for 20 minutes, then pull the pan from the oven and stir the carrots. (The carrots should be softening, and you may see the beginning of caramelization.) Return pan to the oven and roast an additional 15-20 minutes. Again, pull the carrots from the oven and sprinkle with brown sugar. (Here, less is more. I start with about a tablespoon, and seldom need more.) Toss to coat the carrots with the sugar and return to the oven for just 2-5 minutes to melt the sugar and create a glaze. Serve immediately. (Yield: 4 servings, but I have eaten the entire pan all by myself.)
Fran Hill has been blogging about food at On My Plate since October of 2006. She, her husband and two dogs reside near Colome.