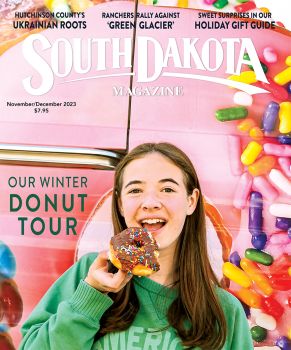 Subscriptions to South Dakota Magazine make great gifts!
Subscribe today — 1 year (6 issues) is just $29!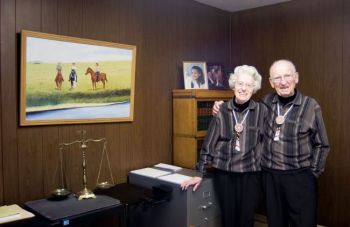 Buying a Lawyer for Your Town
May 1, 2013
In our travels around South Dakota, we love to poke around the small towns to see what makes them tick. Sadly, many of them are ticking more slowly than they did a generation ago. The population is graying; there are still some dynamic leaders in the communities, but they are busier and fewer.
That's why the South Dakota State Legislature voted last winter to fund a program that will subsidize lawyers who start a practice in a rural area. Taxpayers in the Rushmore State already do the same for nurses and doctors. Beginning farmer programs are always popular, though apparently helpless against the waves of rising land costs.
We've seen towns go to great lengths to recruit a new publisher for the weekly paper and in Howard, the entrepreneurial epicenter of farm country, they'll help you start anything short of a gang of thieves.
Lawmakers thought they were skating on thin ice when they voted to subsidize lawyers, but they recognized that it's silly to have a courthouse in every county when two-thirds of our lawyers live in four of the 66 counties. We like the new program because it reminded us of Fred and Luella Cozad of Martin, a town of 1,000 people that sits between the Rosebud and Pine Ridge reservations.
Several summers ago, we were in Martin to learn about how the community affected the life and work of Vine Deloria Jr., the town's most famous native son. Deloria, who died in 2005, ranks among the most important Native American authors and philosphers of the 20th century.
While looking for interesting folks in Martin, we knocked on Fred's law office door. He immediately stopped what he was doing and drove us around town — past the nursing home and the assisted living, around the high school and out to the golf course and swimming pool. We visited the library and drove past the SuAnne Big Crow Boys and Girls Club. We also stopped at the tribal college. What Fred didn't tell us — and we learned later — is that Fred, as the only lawyer in town, was involved in every community betterment project accomplished in Martin over the last 60 or more years. Most of the afore-mentioned institutions didn't exist when he was studying the law in Vermillion.
Fred joked that he was already in Martin when Custer came through. "My advice was 'George, don't go,'" he told us. Actually, Fred's father came to Martin in 1909. They ranched until a blizzard nearly wiped out their cow herd. Then they moved to town and ran a cream station. Fred got his law degree from USD in 1949. More importantly, he met a music major from Iowa and together they moved to Martin and hung a shingle. Then there were five other lawyers in town. He has been the lone practitioner for many years, unless you count Luella, who quit teaching music long ago because Fred was overwhelmed with office and community work.
New York Times writer Ethan Bronner had the same good fortune as we did when we went to Martin a month ago to write about South Dakota's new "subsidize a lawyer" program. Bronner met Fred and Luella. They have a tiny house just behind their humble law office. One of them leaves the office at about 11:30 to prepare lunch — usually soup. They dress alike most days. They can speak for each other (though Fred does most of the talking). They are the best argument for lawyers in small towns — or any neighborhood — that we've ever seen.
Then Bronner did a nice job of introducing the Cozads to the world with a front page feature article on April 9. It was a good day for Martin. A good day for South Dakota. A good day for the legal profession. And just another day for the Cozads because, in their late 80s, they are still too busy — as the only legal office for a hundred miles around — to spend much time fussing about having their picture in a magazine or even a newspaper like the Times.
Hopefully your tax dollars will get them some relief. They've earned it, and Martin needs another couple like them.