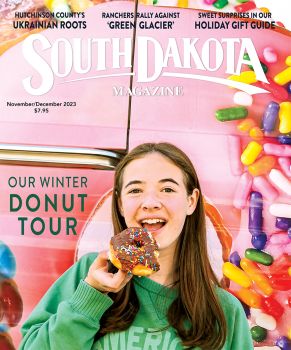 Subscriptions to South Dakota Magazine make great gifts!
Subscribe today — 1 year (6 issues) is just $29!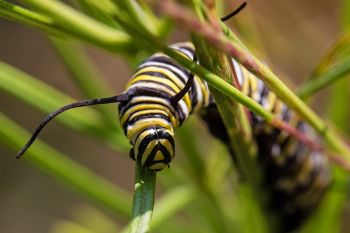 Bye Bye Butterflies
Aug 29, 2018
By Christian Begeman
Some years ago, I heard about the Dakota Skipper. This small butterfly was a candidate for inclusion on the endangered species list. It hasn't made the list yet, but is still vulnerable because of the reduction of its native prairie habitat and its unique life cycle. It only appears in its adult form for three weeks in late June and early July. The range map for the Dakota Skipper includes northeastern South Dakota, so I took it as a challenge to find and photograph this beautifully named butterfly on the first day of July.
Suffice it to say, after a very warm day of slowly walking through tall grass and much arm waving to keep the mosquitoes at bay, I failed. The good news, however, is that I did find a variety of butterflies including the regal fritillary, which is also considered a species at risk. I came across other species of skipper nectaring primarily on purple coneflowers, including long-dash, tawny-edged and Delaware. These skippers are small and brownish orange just like the Dakota, so I had to send my photos to a few experts to find out if I was successful or not.
Butterflies in general are an outdoor photographer's dream. Colorful and often found on wildflowers, they are like ornaments of the prairie. Except they move, and often away from a large, sweaty fella with a camera. All butterflies are usually quite elusive, and that is another reason I enjoy photographing them. The satisfaction of getting a decent shot is all the more rewarding — if and when it happens.
Late summer is the best time to go butterfly hunting. A 100mm macro is my preferred lens. The colorful flutter of wings seems less elusive as they focus on the last of the summer wildflowers prior to migrating south. This year, the monarch numbers seem quite high. Last year, painted ladies stole the show. I'm not smart enough to know why, though I suppose it has to do with timely rains and overall weather patterns. It also seems that more folks are aware of planting pollinator friendly flower gardens as well as keeping the remaining native prairies as healthy and intact as possible. This is a good thing.
Twice in the last few weeks, I spent a couple hours sitting cross-legged on a hillside at Lake Herman State Park near Madison attempting to get new and unique photos of monarchs on blooming prairie blazing stars, goldenrods and Maximilian sunflowers. In doing so, I came across plenty of other species — moths, skippers and garden spiders — all hoping to catch a meal from all the activity. The beauty and complexity of these small things that thrive on our hillsides and grasslands is truly a wonder to watch and contemplate.
I still plan to get that Dakota Skipper photograph. I'll have to wait for next summer, but it will be worth it to take another slow stroll or two amongst the beauty of our wild prairie hills.
Christian Begeman grew up in Isabel and now lives in Sioux Falls. When he's not working at Midcontinent Communications he is often on the road photographing South Dakota's prettiest spots. Follow Begeman on his blog.