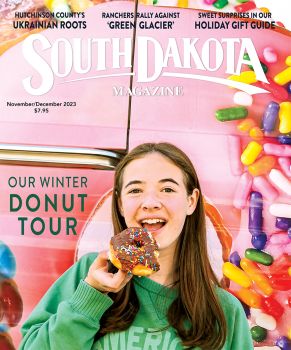 Subscriptions to South Dakota Magazine make great gifts!
Subscribe today — 1 year (6 issues) is just $29!

Carrots Among Friends
Nov 26, 2015
By Fran Hill
They claim that the beta-carotene in carrots is good for our eyesight. I know that good friends are good for my soul. Those two statements may seem unrelated, but you probably didn't have a trash bag of freshly-dug-from-the-garden carrots show up on your doorstep. I have good friends, and they make my life better. In fact, I think they make my life great.
This Thanksgiving, as always, I have so much for which to be grateful, but first and foremost, I am saying a prayer of thankfulness for my marvelous friends. Over the years, I have managed to gather an amazing tribe that looks out for each other in ways big and small. I am grateful for each and every one.
As for those carrots, I followed my friend's advice and have been storing them in my spare fridge wrapped in newspaper and tied up in a bag. They are still crisp and sweet and wonderful with dip, in salads, stir-fried, roasted, shredded into cakes and muffins and simmered in stew. But truthfully, a kitchen trash bag of carrots is A LOT of carrots, so my preserving nature has also sliced, blanched and frozen some and has plans to pressure can a few jars, as well. Last weekend, I even shredded a couple for some jars of Carrot Cake Marmalade.
This sweet preserve is delicious on toast, and I think it might make a wonderful filling for a layered cake (maybe smothered in cream cheese frosting). The jellied combination of shredded carrot, apple, pineapple, raisins and pecans has a hint of all the autumn spices of a carrot cake. I have several jars ready to share with those incredible friends of mine.
---
Carrot Cake Marmalade
1 1/2 cups carrots, grated
1 1/2 cups apple, cored, peeled and chopped
1 20-ounce can crushed pineapple, including juice
1/2 cup raisins, roughly chopped
3 tablespoons lemon juice
1 teaspoon ground cinnamon
1/2 teaspoon ground nutmeg
1/2 teaspoon ground cloves
1/2 cup pecan, chopped
1 package powdered fruit pectin
6 1/2 cups sugar
Combine carrots, apples, pineapple with juice, raisins, lemon juice, cinnamon, nutmeg and cloves in a 6- or 8-quart saucepan. Bring mixture to a boil over high heat, stirring frequently. Reduce heat, cover and simmer gently for 20 minutes, stirring occasionally. Remove from heat and whisk in pectin until dissolved. Bring mixture to a full rolling boil that cannot be stirred down, over high heat, stirring frequently.
Add sugar all at once and return to a full rolling boil, stirring constantly. Boil hard for 1 minute, stirring constantly. Remove from heat. Add pecans and stir.
Ladle hot jam into prepared jars leaving 1/4 inch headspace. Process in a boiling water canner for 10 minutes. (If you are unsure of the canning process, there are many informative sites online. I am not a canning authority.) (Makes approx. 6 half-pints.)
Fran Hill has been blogging about food at On My Plate since October of 2006. She, her husband and their two dogs ranch near Colome.