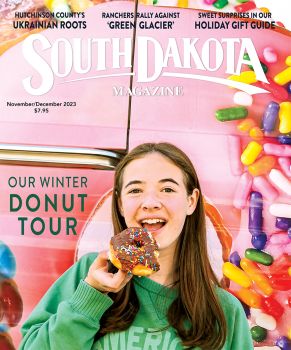 Subscriptions to South Dakota Magazine make great gifts!
Subscribe today — 1 year (6 issues) is just $29!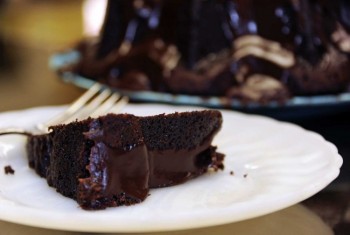 It's Always Cake-Thirty at the Pennington House
Apr 18, 2012
Long ago, when the clock struck beer-thirty at the Johnson Brothers Blacksmith Shop in Mission Hill, my great-great uncle Anton Johnson would recite a poem:
Over the crick and through the fence
I've got a bucket — who's got ten cents?
Now there are probably not many people around who remember the days before bottles, cans and open container laws, when thirsty folks could lug their beer home from the local bar in a galvanized, lidded pail. Seems like it could've been pretty messy. Would the Johnson Brothers have drunk straight from the bucket — and if so, wouldn't one of their rowdy blacksmithing buddies have been inclined to jostle the container and spill brew all over? If any of you have insights on blacksmith shop or beer bucket drinking etiquette, please enlighten me in the comments section below.
Much like blacksmithing, putting out a magazine is hot, dirty work. But times have changed in the last century or so, and drinking on the job is as frowned upon here at the Pennington House as it is elsewhere. Cake, on the other hand, is strongly encouraged. For this one, butter and a stout beer such as Guinness are simmered together, then combined with cocoa and other cakey ingredients to make a moist, dark dessert. Drizzled over the top is a chocolatey ooze that puddles irresistibly on the serving plate.
You may wonder whether a slice of cake can give as much satisfaction as a cold pint. I might've doubted too, until I brought this to work for all to sample, and heard one coworker exclaim, "Oh my gosh — this is good cake! Wowwww!" so loudly that I could hear her on the second floor.
---
Chocolate Stout Cake
1 cup stout
1 cup unsalted butter
3/4 cup cocoa powder
2 cups all-purpose flour
2 cups sugar
1 1/2 teaspoons baking soda
3/4 teaspoon salt
2 large eggs
2/3 cup sour cream

6 ounces semisweet chocolate chips
6 tablespoons heavy cream
3/4 teaspoon instant coffee granules
Cake:
Preheat oven to 350 degrees. Coat a bundt pan thoroughly with butter or cooking spray. Bring 1 cup stout and 1 cup butter to simmer in a heavy saucepan over medium heat. Add cocoa powder and whisk until mixture is smooth. Cool slightly.
Whisk flour, sugar, baking soda and 3/4 teaspoon salt in large bowl to blend. In another large bowl, beat eggs and sour cream together until blended. Add stout-chocolate mixture to the egg mixture and beat just to combine. Add flour mixture and beat briefly on slow speed. Using rubber spatula, fold batter until completely combined.
Pour batter into bundt pan. Bake cake until toothpick inserted in center comes out clean, about 35 minutes. Transfer cake pan to cooling rack. Cool completely before removing from pan.
Chocolate Ganache:
Melt chocolate chips, heavy cream and instant coffee in the top of a double boiler over simmering water until smooth and warm, stirring occasionally. Drizzle over the top of the cooled cake.