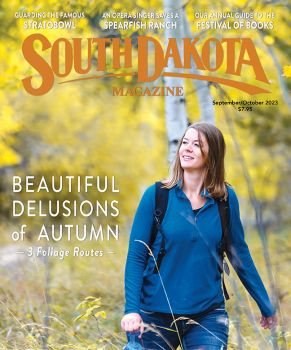 Subscriptions to South Dakota Magazine make great gifts!
Subscribe today — 1 year (6 issues) is just $29!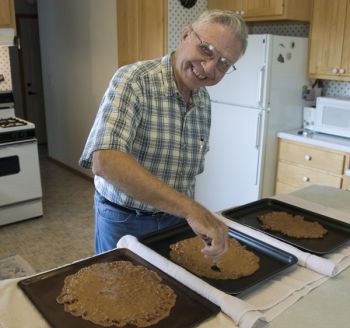 Holiday Kitchen Traditions
By Ruth Steil


Marion Kryger of Vermillion makes over 150 pounds of peanut brittle and gives it away every Christmas. His passion began 40 years ago when he came in from morning farm chores. His wife was bustling about making cookies and candy in preparation for Christmas. "You're not doing anything," she said. "You can make the peanut brittle this year."
She helped him muddle through his first batch. After that, he continued to make the crunchy confection and began taking plates to local farm stores like Meckling Fertilizer, Mark's Machinery and Vermilion Fertilizer. "They give caps away," he said. "I wanted to give them something."
Since then, it's become a holiday hobby. "Some people hunt and fish, I make peanut brittle," Marion says. "It makes me happy that people get so much enjoyment from it. I've never sold a plate of peanut brittle."
A good peanut brittle is "all in the technique" according to Marion. "First of all, a heavy pan makes all the difference when you're doing candy," he says. He also finds the best possible peanuts. He buys from Palmer Candy Company in Sioux City, makers of the Bing bar.
Marion also recommends warming the cookie sheets a little before pouring the hot brittle; then the candy cools and hardens more slowly, giving him time to stretch it on the pan. Thinness is important; his is thick-paper thin, with peanuts bulging out. "Most people make it too thick and then it gets too hard," he says. "Thinning keeps it light and crunchy. You can eat my brittle with false teeth."
One hundred fifty pounds of peanut brittle is quite an undertaking. One batch produces two pounds and takes Marion about an hour to make. "The most I've ever done in a day is seven or eight batches," he said. "I usually have the dining room table full then."
Although Marion has never sold his brittle, he donates it to fundraisers for the museum, senior center, historical society and Catholic church in Vermillion. He also makes plates of brittle for donors to his country church, Bergen Lutheran near Meckling.
He gave us some too, and we agree with Marion when he says, "There's a lot of good peanut brittle out there, but I've never tasted better." Here's his recipe:
2 cups sugar
1 cup white syrup
1/2 cup hot water
3/4 teaspoon salt
2 tablespoons butter
2 teaspoons vanilla
2 teaspoons soda
1 pounds raw peanuts
Combine water, syrup, sugar and salt in a heavy pan and bring to full boil. Add peanuts carefully to prevent splatter. Continue cooking on medium heat using a good candy thermometer, stirring occasionally until the mixture reaches 275 degrees. Add butter and vanilla. Stir frequently to prevent burning. Cook to 300 degrees, remove from heat and add soda, stirring quickly and vigorously to distribute evenly and complete foaming action. Pour mixture evenly onto 3 buttered Teflon cookie sheets one at a time using stirring spoon to spread evenly. Use a fork to gently pull the outside edges flat. As brittle begins to cool, lift and gently pull until thin.
Marion recommends wearing gloves when pouring the hot brittle onto the pans to help avoid accidents. "Be very careful with the 300 degree mixture," he says. "If you get the mixture on your skin, it just continues to burn."
---
Preheim Pepper Cookies
Arlene Preheim's family has gathered for over last 30 years to make Christmas cookies from a cherished family recipe. "I remember my granddaughter being in a playpen when we started," said Arlene. "Now she has her PhD."
The spice cookie recipe was given to Arlene by her husband's mother. She doesn't know where it originated, but the recipe is more than 100 years old. Both her mother-in-law's mother and grandmother made the cookies.
On a Saturday in early December, family members bring their favorite cookie cutters to Arlene's home in Freeman to spend the day baking the much-loved cookies. Dough must be rolled out and cut into shapes. Then, after baking, each cookie is frosted and decorated with colored sugar. An old dining room table in the basement becomes a drying station for the dozens of cookies the recipe produces. For many years, Arlene has kept a cookie count on the back of the recipe card. 2007's total was 522.
At the end of a long baking day, the tired group enjoys dinner together. "Everyone usually brings something for a potluck after we've finished," said Arlene. "But last year we got really lazy and ordered pizza."
The frosting must dry overnight, so the cookies are divided the next day. The division is made carefully so that each container holds the same number of Santas, stars, candy canes, bells, etc.
"Even after eating all the other Christmas sweets," says Arlene, "these cookies will still tempt you."
2 1/2 cups brown sugar
1 pound butter
1 quart light molasses
1 tablespoon each cinnamon, cloves, allspice, nutmeg, ginger, coriander seed (or ground coriander)
Small pinch of black pepper
1 1/2 teaspoons soda
12 cups flour
Mix and boil brown sugar, butter, spices and molasses for 5 minutes. Cool slightly and stir in soda. (Be sure to use a large enough cooking pot because when the soda is added it will foam.) When cool, stir in flour to make a stiff dough.
Dough can be kept at room temperature for months to bake whenever you wish. In fact, it should age about 2 weeks before baking. ("We have evolved," says Arlene. "We make the dough a day or two ahead and it seems to work better."
Roll dough very thin, cut out and bake at 350 degrees for 8 to 10 minutes. Watch closely, as cookies burn easily.
When cool, frost the cookies. Do not use a powdered sugar frosting as the cookies will absorb the moisture and become soft. Try this instead.
Frosting
1 cup sugar
4 tablespoons butter
1 egg white, stiffly beaten
Boil sugar and water until mixture spins a thread (230 degrees), then beat into egg white. Frosts 80-100 cookies.
---
Tillie's Plum Dumplings
Edicts from Rome caused one meal to become a holiday favorite in Tillie Varilek's family. "Growing up we didn't eat meat on Fridays since we were Catholic," she said. "Lots of times dumplings were our supper."
Tillie took her mother's dumpling recipe with her when she wed, and they were a mandatory dish at family get-togethers and reunions until she passed away in 2012. At one gathering, everyone asked if she'd brought them. "I said, 'I brought kolaches instead' and they said "Well, I guess you can stay then,'" Tillie told us in 2008.
3 cups flour
1 teaspoon salt
2 tablespoons sugar
1 egg
Lard or shortening the size of an egg
Milk to moisten, approximately 3/4 cup
6-7 plums (peaches or Italian prunes may also be used)
Work ingredients together with fingers until right consistency. Wrap dough around plums and seal. Place in boiling water. Boil 30 minutes. Before serving, cut in half and remove pit. Sprinkle with sugar. Drizzle with melted butter. Serve warm.