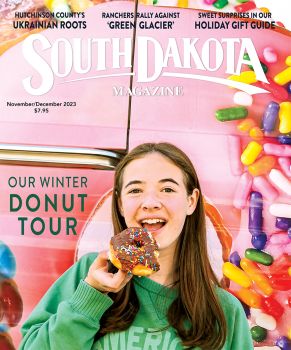 Subscriptions to South Dakota Magazine make great gifts!
Subscribe today — 1 year (6 issues) is just $29!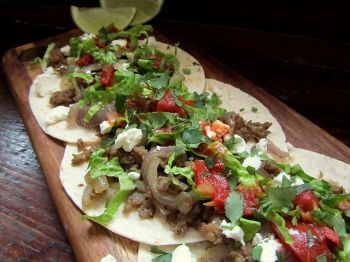 Fiesta on the Fifth
May 1, 2014
Most of us know May 5 is a Mexican holiday. Some wrongly assume it is Mexican Independence Day, but Cinco de Mayo is actually the observance of a military victory against France. But aside from Puebla, where the famous battle occurred, I am told that most of Mexico doesn't actively celebrate Cinco de Mayo. It is just another day.
Americans have never met a holiday we don't like to celebrate. Areas with a greater Mexican-American population host festivals, parades, and parties for Cinco de Mayo that honor Mexican culture and heritage. For much of rest of the nation the holiday is synonymous with "2 for 1" taco and margarita deals. While this is a more commercial and less authentic observance of the historical significance of Cinco de Mayo, tacos and margaritas are certainly delicious. I am on board.
Sausage and Feta Tacos are a super simple take on a Mexican classic. This recipe calls for hot Italian sausages, which certainly isn't authentic, but combined with sautéed red onion and cumin has huge flavor. While the seasoning is a different flavor profile, this combination reminds me of the intensity of good Mexican chorizo sausage. Crumbled feta cheese also varies from traditional queso, but adds a distinctive tang. Make your own tortillas for the best soft tacos, but there is no shame in purchased tortillas. I am always lucky enough to have stock of my home-canned Basic Salsa in my pantry for the final punch of spiciness as I load tacos on my plate in celebration of Cinco de Mayo.
---
Sausage and Feta Tacos
(adapted from Bon Appetit)
2 tablespoons olive oil
2 hot Italian sausages, casings removed
1 small red onion, thinly sliced
1 teaspoon cumin
4 small flour tortillas
1/3 cup crumbled feta cheese
1/2 cup chopped fresh cilantro
1 1/3 cups sliced romaine lettuce
bottled salsa
Heat oil in a large skillet over medium heat. Add sausage, crumble, and cook until brown. Push sausage to the side of the skillet. Add onion and cumin. Sauté until onion is tender and sausage is cooked through. Stir to combine.
Char tortillas over gas flame or electric burner until blackened in spots (about 10 seconds), turning with tongs. Wrap in foil and let stand 2 minutes. Fill each tortilla with sausage mixture, feta, cilantro, and lettuce. Serve with salsa. (Serves 4.)
Fran Hill has been blogging about food at On My Plate since October of 2006. She, her husband and their two dogs ranch near Colome.