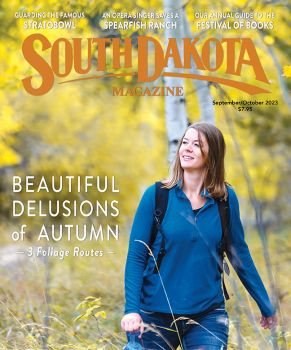 Subscriptions to South Dakota Magazine make great gifts!
Subscribe today — 1 year (6 issues) is just $29!

Civil War Mystery Solved
Aug 17, 2011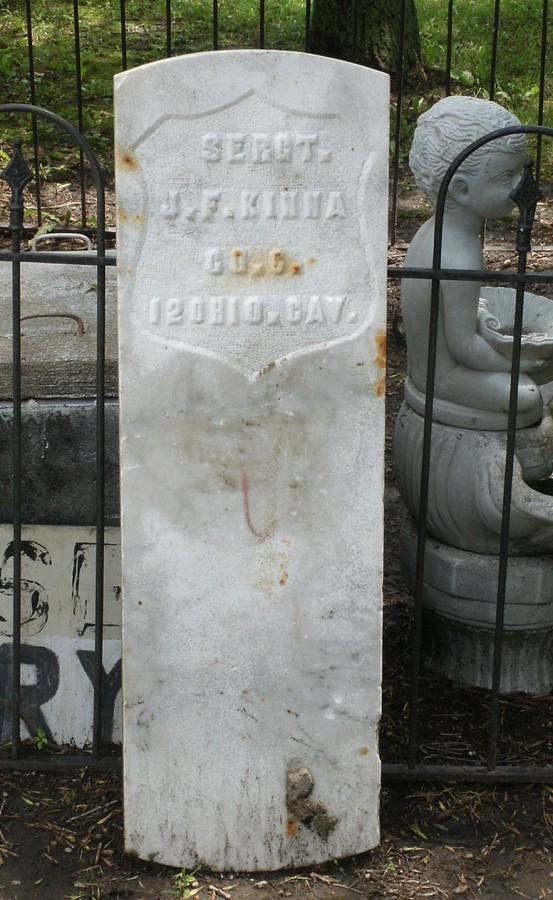 Jacob Franklin Kinna's headstone will be placed at his gravesite in Yankton after years of lying hidden under a house in Warner, south of Aberdeen. Photo by Col. Michael Herman.
Civil War veteran Jacob Franklin Kinna has lain nearly forgotten in an unmarked grave in Yankton Cemetery for 118 years. As it turns out, his tombstone has also lain forgotten in a tiny town 225 miles away. Thanks to some dogged research by genealogists at the state historical society in Pierre, the stone will finally be placed at Kinna's grave during a special ceremony at Yankton Cemetery on Saturday, Sept. 10.
The grave marker was undiscovered until 1979 when house movers found it under the front porch of Gerold Zumbaum's home in Warner, south of Aberdeen. They raised the house to work on the foundation and saw the white marble, government issued tombstone lying in dirt. There were no cemeteries nearby, and no one came forward to claim the stone, so Zumbaum stored it in his basement.
Local veterans heard about the marker and felt compelled to place it on the soldier's grave. But they couldn't find it. They searched fruitlessly in Brown County and finally sought help from staff at the state archives. Researchers Virginia Hanson and Lori Carpenter, both specialists in genealogy, immersed themselves in old newspapers and census, Civil War and land records. Soon Kinna's story emerged.
He was born in Virginia in 1840. By 1863, the third year of the Civil War, he was living in Ohio, where he enlisted in Company C, 12th Regiment of the Ohio Cavalry. After training, Kinna and his company saw action in battles at Mount Sterling, Ky., Bristol, Tenn., and Dallas, N.C. His time in the military ended in November 1865.
After the war, Kinna and his family lived in Indiana and Illinois. In 1887 he homesteaded near Ordway in Brown County and joined the Robert Anderson Post 19 Grand Army of the Republic for Civil War veterans in Aberdeen. A few years later, he moved again to Yankton, where he settled two miles west of town.
On Dec. 2, 1893, Kinna was shot in the shoulder while trying to scare a trespassing hunter off his property. The wound became infected and he died 18 days later. Veterans from Yankton's Phil Kearney Post 7 chapter of the GAR buried Kinna in an unmarked grave in the city cemetery.
But Hanson discovered a cemetery records book compiled by WPA workers in the 1930s that included detailed descriptions of every burial in certain South Dakota cemeteries. She found the entry for Kinna and was able to locate his exact burial plot.
She also located two of Kinna's direct descendants: a man living in Cheboygan, Mich., and Kinna's 80-year-old great-granddaughter in Washington state. Both have been invited to attend the Sept. 10 ceremony.
Researchers still don't know why Kinna moved to Yankton, why his grave was never marked or how the tombstone ended up under a porch in Warner. But when his marker is finally set, with military rites by the South Dakota National Guard's burial detail, we'll know he was afforded the honor he should have received in 1893.