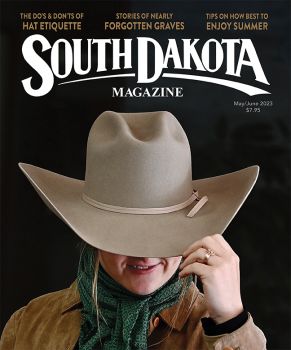 Subscriptions to South Dakota Magazine make great gifts!
Subscribe today — 1 year (6 issues) is just $29!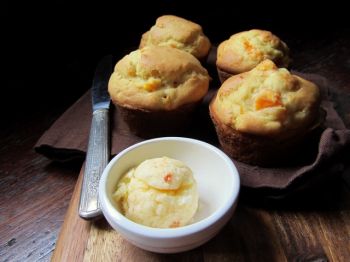 A Warm Orange Glow
Apr 18, 2013
Yesterday, out here in south central South Dakota, we had gray clouds, wind, and snow flurries that didn't amount to much of anything. However, by dusk snowfall was picking up and the sidewalks and streets were a little slippery. When I went to bed, there was some accumulation for the pups to run through during their last potty break, and this morning, I awoke to a full blanket of white covering the yard. Just shy of one month into spring, it looks a lot like a winter wonderland outside my window.
I really don't dare to complain, as we need the moisture so desperately. The fairly dry winter did nothing to alleviate last summer's drought. We are dry. The snow is wet and slow warm-ups have allowed it to soak into the pastures and fields as it melts. As much of a hassle it is to warm baby calves and bed cattle and move snow and shovel sidewalks, we appreciate the precipitation.
That isn't to say we wouldn't like to see the sun. A little warmth in the sky would be welcome. We don't want or need the scorching 90+ degrees that hit on the last day of winter in 2012, but something that would allow me to put away my gloves and boots would be nice. A pleasant, balmy day. Spring without winter. A congenial orange glow to warm our faces and souls.
Meanwhile, I will have to find comfort in the orange glow of Clementine Muffins with Orange Honey Butter. Warm from the oven and sweet with the promise of honey, these muffins are perfect for waiting out the winter of our spring.
---
Clementine Muffins with Orange Honey Butter
2 cups flour
1/2 cup sugar
2 teaspoon baking powder
1 teaspoon baking soda
1/2 teaspoon salt
1 cup plain yogurt (I actually used Greek Honey yogurt because that is what I had on hand.)
1/4 cup butter, melted
1 large egg, beaten
2 tablespoons grated clementine peel
1 1/2 cups diced clementine
Preheat oven to 400 degrees. Stir together sugar, yogurt, melted butter, egg, and grated clementine peel. Gradually add flour, baking powder, baking soda, and salt until just combined. Carefully stir in diced clementine. Spoon the batter into greased muffin tins, filling two-thirds full. Bake for 18 to 20 minutes, or until lightly browned. Cool for 5 minutes before removing to a wire rack to finish cooling.
Orange Honey Butter
1/2 cup unsalted butter, softened
3 tablespoons honey
1 tablespoon orange juice
Zest of one orange (or, in this case, about 2 or 3 clementines)
Beat all ingredients together until thoroughly combined. Chill for about 10 minutes before serving.
Fran Hill has been blogging about food at On My Plate since October of 2006. She, her husband and their three dogs ranch near Colome.