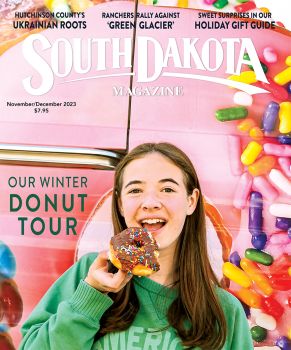 Subscriptions to South Dakota Magazine make great gifts!
Subscribe today — 1 year (6 issues) is just $29!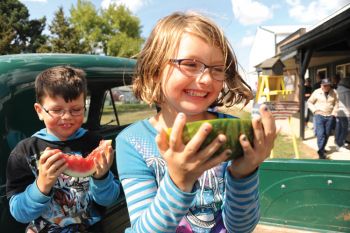 Oddities and Fun
Jul 20, 2016
By Katie Hunhoff
"I see nothing in space as promising as the view from a Ferris wheel," wrote children's author E.B. White. Colorful games and rides, people of all ages spending time together, laughing, eating, chatting with neighbors. Fairs are exhibits of our culture at its finest.
Late summer gatherings date back to the early years of our United States. Eventually the fairs evolved and became more elaborate. But they've always symbolized a last hurrah before school begins and winter comes.
One of our favorites is the Turner County Fair in Parker (Aug. 15-18). This year the fair turns 136, making it the oldest in South Dakota. Once inside the gates (free admission, by the way) you'll find a fun little pioneer town to tour known as Heritage Park. It has a general store, church, school and millinery. Each is furnished with antiques and open to the public. Outside you'll find a shaded stage which hosts non-stop music and entertainment throughout the four-day spectacle. If you're wondering about food, you're in for a treat. Local beef and pork producers run dueling booths that garner long lines at dinner, but another popular choice is a chislic booth organized by sheep farmer Bill Aeschlimann and some friends way back in 1983. Turner and Hutchinson counties are known as the home of chislic — a Russian tradition of beef, lamb or pork seasoned and grilled over an open fire. (Or, here in America, deep fat fried as we also do with Oreos and cupcakes.)
Other fairs are known for fun and games. The Potter County Fair (Aug. 6-9) in Gettysburg features Cow Patty Bingo. An open patch of grass at the fairgrounds is divided into squares, each of which is for sale. Once the squares are sold, a cow is turned loose on the grass. The owner of the square where the cow first leaves her mark wins the jackpot.
In Aberdeen, at the Brown County Fair (Aug. 15-21), a fair staffer goes out early every morning to hide a stuffed monkey named Casey. The first kid to find Casey wins carnival tickets or another fair prize.
Visit the Corson County Fair in McIntosh (Aug. 12-14) to view turtle races — prizes go to both the fastest and slowest racers. Here's a hint: painted turtles are faster than mud turtles, in case you didn't know. Here's another hint: snapping turtles can be dangerous.
Food competitions are popular attractions at our local fairs. Often attendees get to taste the results. The Custer County Fair (Aug. 11-14) in Hermosa features an ice cream crank-off. Power models are forbidden, guaranteeing an old-fashioned experience for kids who have never had an opportunity to make their own. A chili cook-off is one of the highlights of the Sully County Fair (Aug. 11-14) in Onida. The public can sample all the chili they can eat after the contest, for only $5.
Fairs are a fine way to celebrate our communities, but the food, games and exhibits aren't as meaningful if people don't show up to enjoy them. We hope you take the time to visit one of the dozens of fairs in South Dakota this summer.