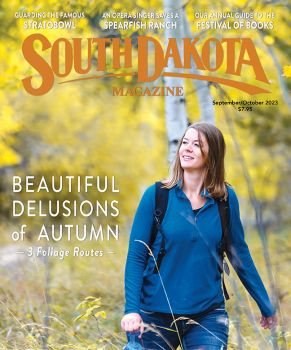 Subscriptions to South Dakota Magazine make great gifts!
Subscribe today — 1 year (6 issues) is just $29!

A Nature Hike Without Solitude
By Bernie Hunhoff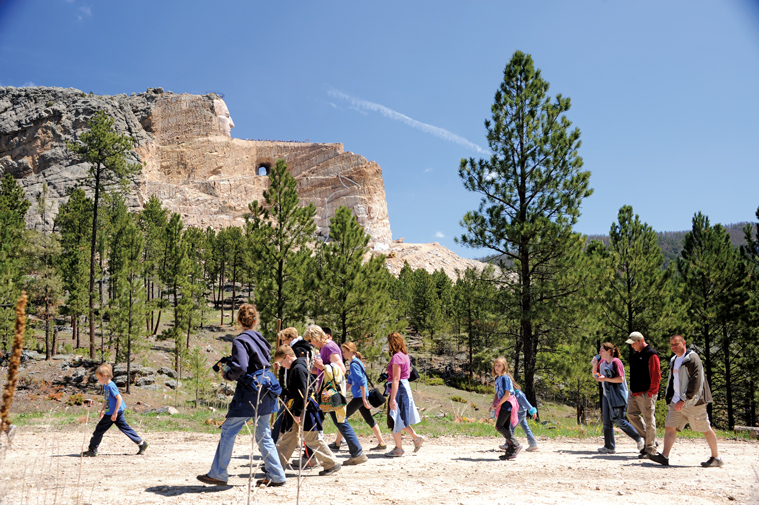 Korczak Ziolkowski envisioned the Crazy Horse carving as not just mountainous art, but as a living symbol. That's never more evident than on volksmarch weekends.
Can a man have a wilderness experience with 5,000 people on the same mountain? We sought an answer to that question by joining the multitudes of hikers at the annual Crazy Horse Volksmarch.
Traffic snarls are nearly as rare as white buffalo in the southern Black Hills, so you know you're on the right road to the Volksmarch when Highway 16 west of Custer becomes bumper-to-bumper vehicles. Follow the crowd to a flat valley in the pine-covered foothills, where volunteers on horseback provide some semblance of order since there are no yellow lines in the grass to organize the parking.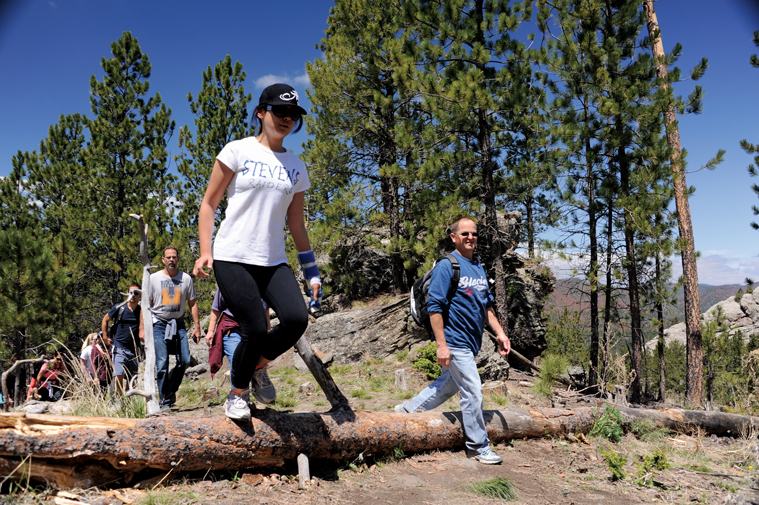 The ascent to the peak begins on logging trails in the pine forest. As you climb, the trees give way to expansive views of the forest, mountains and prairie.
A few registration preliminaries are required (entrance to Crazy Horse is free if you bring a cash donation or canned food for Feeding the Hungry, but the Black Hills Volksport Association charges a flat $3 per hiker). Within minutes you'll be walking into the forest.
We were a three-generation group, the youngest a 5-year-old with a walking stick who kept running far ahead of us and then darting back. He was taking four steps to our one.
The beginning trails are dirt or gravel work roads and deceptively easy. The morning mountain air is cool and crisp, so you congratulate yourself for wearing a jacket and bringing warm clothes for the kid.
In the clearings, you'll soon have a glimpse of the mountain sculpture that was begun in 1947 by Korczak Ziolkowski. Crazy Horse's 87-foot-tall face is now complete, and on his 263-foot outstretched arm you can see that some of the hikers got a much earlier start than you. Hikers can begin as early as 6 a.m. They must have been very cold, you think. Didn't they know better?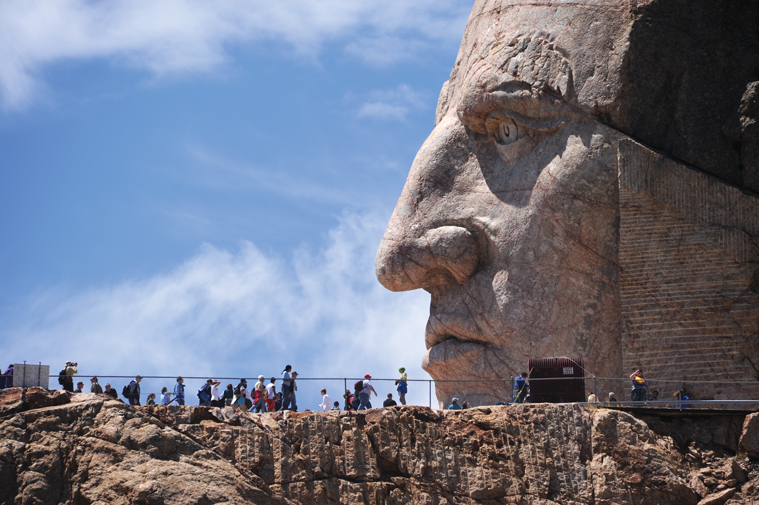 Though climbers share the mountain with thousands of fellow hikers, the only congestion is at the top and the bottom.
The first stretch of the 6.2-mile roundtrip is a pleasant stroll like you might take in some hills by the Missouri River. Jump over a fallen log, duck under a low branch. Uphill and downhill you go, happy for that jacket and your good sense to start in mid-morning. Local church and youth groups offer snacks and beverages at rest stops, and candy for the kid. Medical professionals are also near at hand.
After a mile or two, the pine trees become fewer so you lose their shade just as South Dakota summer sun shows its strength. That's also about the time that the climb becomes more vertical, although the elevation only rises about 500 feet on the entire march.
Up we went. The jacket comes off. The 5-year-old, who has probably already traveled 10 miles in his circuitous style, wants a ride on someone's back. And why did you bring the binoculars and the camera bag?
But people twice your age are climbing and talking, and passing you and the 5-year-old so you can't slow down. Well, maybe a short rest so the kid can share his licorice from the last rest stop.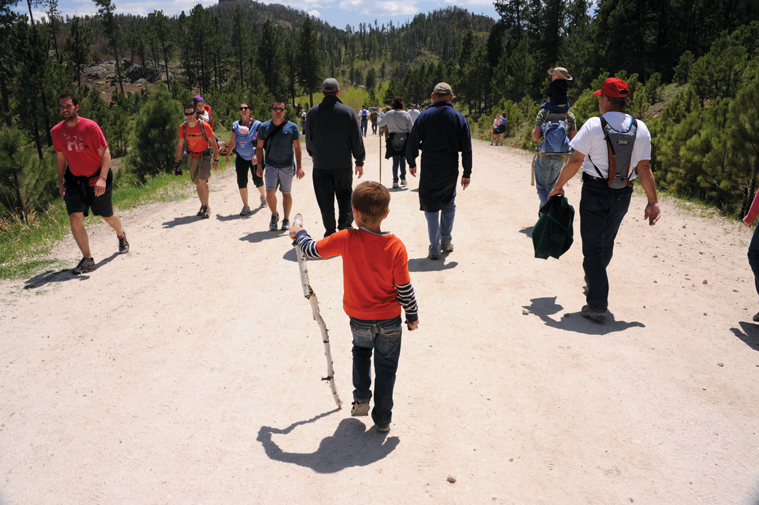 Walking sticks and canes are helpful aids to older hikers and handy toys for their youthful companions.
Your fellow travelers are mostly South Dakotans, but some have East Coast accents and a few speak a foreign tongue. The atmosphere is festive. There's much picture-taking, of course. Some hikers find friends from home, and others stumble on long-lost acquaintances. The Ziolkowskis, who are still in charge, say a few marriage proposals have even been made in the heady air of the world's largest mountain carving.
The last ascent is a steep grade but you can see the stone face now, and a thousand people ahead of you and behind you. One step after another. Stop to enjoy the expansive Black Hills landscape. A few more steps. A few hundred more. And you're there, atop Crazy Horse, 6,000 feet above sea level.
The fastest and fittest hikers make the trek in less than an hour, but most people take two hours to climb and an hour or so to descend.
While walking down the mountain you realize that a wilderness experience doesn't require solitude. Five thousand people only add variety to the Volksmarch, especially once the 5-year-old regains his stamina on the down-hill side.
Editor's Note: This story is revised from the May/June 2014 issue of South Dakota Magazine. To order a copy or to subscribe, call (800) 456-5117. The 31st Crazy Horse Volksmarch is June 4-5. An autumn volksmarch on the mountain is set for Oct. 2. It's considered the most popular organized hike in America.