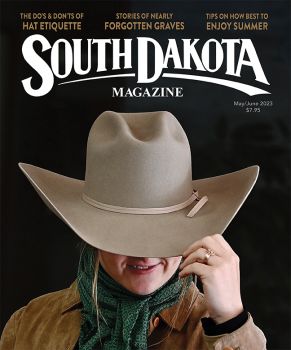 Subscriptions to South Dakota Magazine make great gifts!
Subscribe today — 1 year (6 issues) is just $29!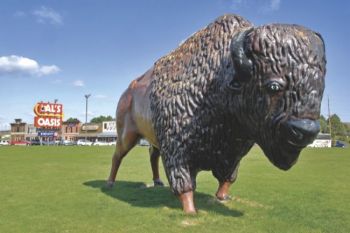 Cities at the Crossroads
Thirty-some years ago I drove across South Dakota on an autumn evening. Baseball season was over but the AM radio airwaves crackled with news about New York Yankees manager Billy Martin. He had been involved in an ugly incident or offended someone with a remark, and rumors swirled that Yankees owner George Steinbrenner was about to give him the axe — again.
I spent that night in a Chamberlain motel, heard Martin discussed some more on an early morning TV show, then drove a couple miles across the Missouri River to Oacoma for breakfast at Al's Oasis. Sitting a couple tables away was none other than Billy Martin, no worse for wear despite the public beating he was taking. He laughed with some pals, all of them dressed for hunting. I took Martin's example to heart: if the manager of the New York Yankees could escape job pressures and grant himself a respite on the prairies and river bluffs of central South Dakota now and then, so should I.
Oddly enough I wasn't that surprised to encounter Martin at Al's Oasis. South Dakotans have grown accustomed to running into most anyone there. Know how to tell the difference between a South Dakotan and, say, an Iowan or Californian at Al's? Watch the eyes. Upon entering the big dining area a South Dakotan will be scanning the room for acquaintances.
If ever there was a state crossroads, Al's is it, and by extension so are all of Chamberlain and Oacoma. No South Dakotan needs to be reminded where these twin communities lie. Perhaps no other spot on I-90's 412-mile stretch across the state grabs your attention quite like this one, where the highway drops into the Missouri River valley. Chamberlain, home to St. Joseph's Indian School and the South Dakota Hall of Fame, sits on the east bank. Oacoma on the west side is smaller, yet holds its own with Cedar Shore Resort and the iconic Al's Oasis, established in the 1950s when Al Mueller moved his family's 30-year-old Oacoma grocery business toward the highway.
Hunting and fishing trips beyond count have been planned and later critiqued at Al's. Boat trailers, as well as pickups transporting hunters, display license plates from across South Dakota and surrounding states. But unlike visitors, many of Chamberlain and Oacoma's own people see river country recreation as much more than an occasional adventure. It's central to a local lifestyle that makes leaving hard to imagine.
"I'm a river person," said Richard Kirkpatrick, who's also a National Guard recruiter living in Oacoma and working in Chamberlain. Over the years he and his wife Tina, and their three children, have hit the river in the family's boat for water skiing or just escaping summer's heat. They've fished for walleye and catfish, Kirkpatrick says, "or anything that bites. I like shore fishing, too, just sitting and enjoying the day. There's always wildlife along the river to watch if you're not catching fish."
---
Pay a Visit to Our Crossroad Cities

Visitors and residents tend to zip between Chamberlain and Oacoma in a couple minutes via the four-lane, 1970s era interstate highway bridge. Next time you're traveling down I-90, take a few minutes to enjoy the scenery, grab a piece of pie at Al's and take in some of the local attractions.
Locals never stop thinking up new ways to put their impressive stretch of water to recreational use, like River City Racin', an annual hydroplane race, and the Chamberlain-Oacoma Chamber of Commerce's ice fishing tournament.

Lewis and Clark and the Corps of Discovery made camp along the river just below the future Oacoma town site in September 1804. Chamberlain's I-90 rest stop at mile marker 264 offers museum-quality displays interpreting Lewis and Clark's visit, and sits atop a bluff with a stunning view of the river and the location of the Corps' campsite on the other side.

The pretty school grounds of St. Joseph's Indian School, site of the excellent Akta Lakota Museum and Cultural Center, are another major destination. Don't miss Our Lady of the Sioux Chapel, where Oscar Howe's powerful Indian Christ tapestry hangs.

Located on the Missouri River, Oacoma's Cedar Shore Resort was bound to be a great destination for boaters, fishermen, and hunters. What's more, it's gained popularity as a centrally located place to rendezvous for meetings and conventions, regularly drawing conferences of 1,000 or so.

The South Dakota Hall of Fame in Chamberlain honors South Dakotans who made national or international names for themselves in politics, sports, entertainment, journalism and other fields. It also includes men and women whose fame never extended much beyond their hometowns, but whose lifetime work permanently enhanced those communities and improved the lives of future generations. There's something wonderfully South Dakotan about this hall: an acknowledgement that greatness can take you far away or keep you close and devoted to home.
Editor's Note: This story is revised from the March/April 2011 issue of South Dakota Magazine. To order a copy or to subscribe, call 800-456-5117.