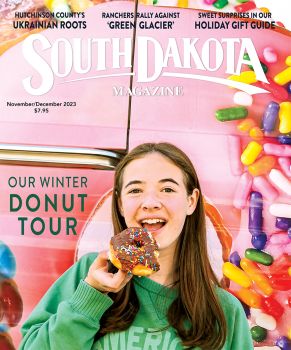 Subscriptions to South Dakota Magazine make great gifts!
Subscribe today — 1 year (6 issues) is just $29!

Crow Creek Christmas
Every community has unique holiday traditions, including the Crow Creek Reservation in central South Dakota where the first Christmas was a sorrowful occasion.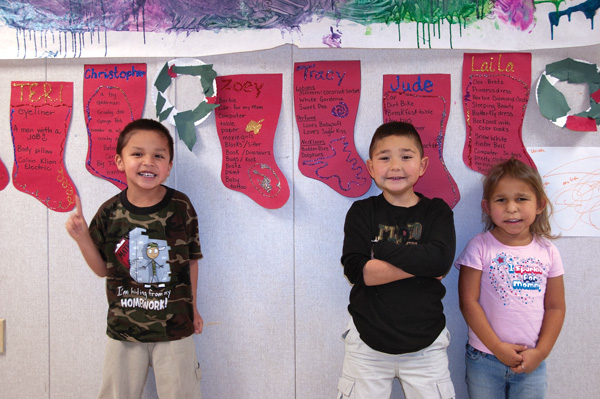 Head Start students at Stephan Mission (from left) Chris Pomani Jr., Jude Colombe and Layla Zigler made Christmas stockings.
It occurred in 1863 after 1,300 Dakota Indians were imprisoned, then banished from Minnesota following the bloody Great Sioux Uprising of a year earlier. The Dakotas were packed on barges and shipped westward on the Missouri River, escorted by U.S. Army soldiers and a Presbyterian minister named John Williamson.
Three hundred men, women and children died of disease and starvation at their new home along the river. Promised government supplies failed to materialize, but the young preacher saved hundreds of lives when he convinced the Army to allow the Indians to organize a buffalo hunt.
Williamson also attempted to nourish the Dakotas spiritually, and his compassion for their physical needs prompted them to pay some attention to his Bible lessons. As their first Christmas in Dakota Territory neared, they listened to stories about a savior born in a barn to a poor young couple far from home. One can only imagine how the story might have resonated with the displaced Dakotas.
Floyd Hand, a Pine Ridge spiritual leader who is also called Looking for Buffalo, said Pastor Williamson's Christian religion paralleled the Lakota and Dakota beliefs. Jesus was a poor man who became a leader by giving of himself to others, said Hand. He found his way while spending 40 days in the wilderness. He sacrificed himself for his people, who then prayed that he might live again. Meanwhile, his followers strove to live up to his ideals of charity.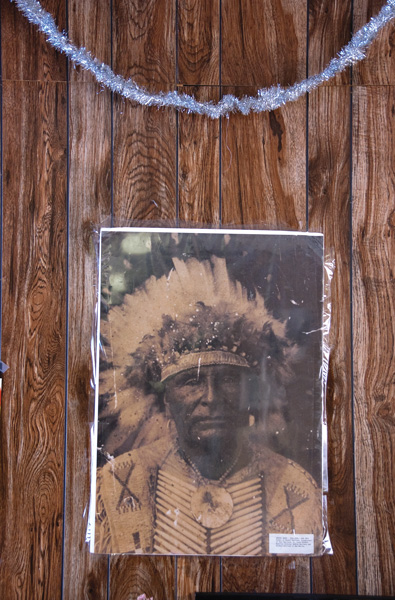 A photograph of Shoots the Enemy hangs inside the Fort Thompson Senior Center, where many of the 19th century chief's descendants now gather for socialization.
"Every day is Christmas in Indian Country," Hand said. "Daily living is centered around the spirit of giving and walking the Red Road. Walking the Red Road means making everything you do a spiritual act. If your neighbor John Running Deer needs a potato masher and you have one that you are not using, you offer him yours in the spirit of giving. It doesn't matter if it is Christmas or not."
Clark Zephier, a traditional Dakota dancer and cultural leader in Crow Creek, says Christianity still blends with Dakota spirituality. "Some white clergymen will say that Christianity is the only way to pray, but we believe that every way is right and we don't condemn anybody's prayers. We go to church at Christmas and sing the carols and I help my brother-in-law, [Pastor] Everett Harrison, who is Dakota Presbyterian."
Everett's original family name was Shoots the Enemy but when his grandfather went to school in the 1880s that name either offended or confused the teachers, so they assigned him the surname of the president, Benjamin Harrison.
Pastor Harrison's church, which sits on a hill southwest of Fort Thompson, always concludes the holidays on Jan. 6 with a ceremony known as Little Christmas. All of the community's church members join together in the non-denominational event, which has been held for as long as anyone can remember. Gifts are given to youths and adults, and everybody brings hot dishes and salads.
Little Christmas is just one of many Crow Creek gift-sharings and gatherings. The Lode Star Casino in Fort Thompson buys toys and clothes for children. St. Joseph Catholic Church provides the meat for a Christmas Day potluck at the church hall following Mass. The local Senior Center also hosts a Christmas week banquet.
Perhaps the most unusual holiday event is a chilly cookout that was started several years ago by Diamond Willow Ministries. "The children do a program, and then no matter how cold it is we have a wiener and marshmallow roast outdoors," said Gail Griner, who works at the ministry. "Two years ago it was bitterly cold but the roast went on."
Griner said youth at Diamond Willow also prepare care packages for elderly and disabled members of the community, and groups of kids go caroling and deliver treats as they visit the houses.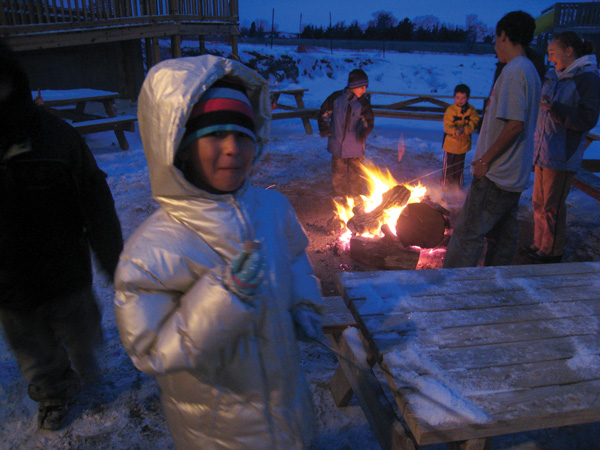 Following the annual Christmas program, everyone dons parkas and circles the fire for an outdoor cookout that is held regardless of the weather.
The Crow Creek Reservation encompasses 40 square miles of central South Dakota, but there are no stores offering Christmas trees for the living room, plastic snowmen for the front yard, or toys and sweaters for loved ones. The 2,800 tribal members travel 26 miles south to Chamberlain for the commercial aspects of Christmas that are a major part of the season elsewhere in South Dakota.
Of course, the quiet also equates to a dearth of jobs. Only 10 to 20 percent of adults get regular paychecks on the Crow Creek Reservation. A young teacher at the Head Start program wrote this Christmas wish on her stocking: "a man with a job."
Though lacking city sidewalks, busy sidewalks dressed in holiday style, there is a distinct Christmas atmosphere on the Crow Creek Reservation. The country churches and the modest houses in the community of Fort Thompson display strings of lights. Children laugh and sing with expectation and anticipation. Their elders gather for potlucks, giveaways and a Midnight Mass at St. Joseph. Christmas is a centuries-old tradition in many of the world's communities; at Crow Creek the season has been celebrated for a little more than 150 years, but it already has a nice ring to it.
Editor's Note: This story is revised from the November/December 2010 issue of South Dakota Magazine. To order a copy or to subscribe, call (800) 456-5117.