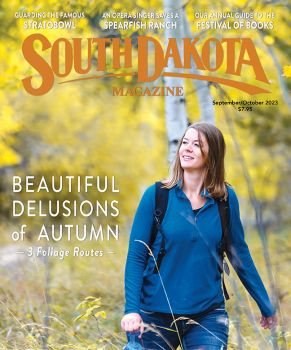 Subscriptions to South Dakota Magazine make great gifts!
Subscribe today — 1 year (6 issues) is just $29!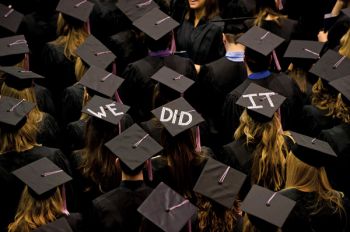 Dear Young South Dakotan
May 21, 2015
Thousands of young South Dakotans are celebrating graduations this month, and they'll hear heartfelt advice from well-qualified speakers urging them to dream big, change the world and dance like no one is watching.
In our 30 years of publishing South Dakota Magazine, we've met some interesting people who'll probably not ever be invited to give a commencement address, and so we decided to collaborate with some of them. The end result is a collection of 18 "letters to grads" published in our May/June issue. Their advice is unconventional, and perhaps more personal than what you'll hear on graduation day.
For example, one letter comes from Chol Atem, a 23-year-old from Yankton who fled from his home in Sudan at the age of 5 in 1988. He was one of the "Lost Boys of Sudan," and arrived in South Dakota 13 years later to study at Mount Marty College. His advice is to never take home for granted, a lesson he learned the hard way.
"It was as if someone took me out of my family at the young age and abandoned me on a deserted island," he says of being displaced and separated from his family. "It took 23 years before I was reunited with them in April 2011. And during that period there was no form of communication. That experience taught me that you do not know how important it is to have a home until you do not have one." Atem urges South Dakota youth to invest and build in their home state.
Demi Beautiful Bald Eagle, a member of the Cheyenne River Sioux Tribe, grew up in Dupree. She encourages youth, especially reservation youth, to ignore statistics and low expectations when they begin to carve their paths for the future. Easier said than done, but Demi is living it right now as a college student at United Tribes Technical College in Bismarck, N.D.
"Now that I'm in college, I see why so many drop out. It's not the work that's hard or being away from home. I'm weary from the expectations, the expense and the pressure. I was, and still am scared to fail. Fail in my community's eyes. Fail in mine," she writes. Demi encourages youth to keep trying. Her motivation is to carve a path for her brother and sister, and "all kids who have great minds but get overlooked and repressed." She hopes to return home to teach.
Another one of my favorite letters comes from writer Linda Hasselstrom. Linda has an enviable life. She is a well-known, well-respected author and lives on a beautiful West River ranch. But as a young lady just leaving college, she envisioned her life a bit differently. "I expected to be a wife, mother, writer, teacher, rancher and Great American novelist," she wrote. "I'd ride Arabian horses across the South Dakota range with my gorgeous husband and our three beautiful children. At night I'd write brilliant novels that would sell millions of copies. We'd vacation in Paris, but live in South Dakota."
Now her best material is what happened to her instead of the life she planned. "Like most folks, I spend much of my time doing the small routine tasks of daily life. I spend more time picking up the waste products deposited by my dogs than accepting awards, more time removing hairs from my chin than counting my money." But she also learned that what her father used to say is true: A man is about as happy as he makes up his mind to be. "I was skeptical. Now I believe," she writes. "I create my joy by something as simple as watching a sunrise or scratching a dog's ears."
Other letters were written by cowboys, teachers, poets and even a young lawyer from Lemmon. Like them, we also wish congratulations to all our high school and college graduates. Enjoy your day in the sun. Wherever life takes you, be glad you started your life's path in South Dakota.