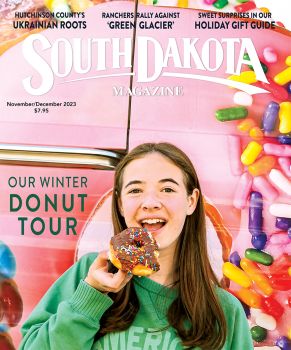 Subscriptions to South Dakota Magazine make great gifts!
Subscribe today — 1 year (6 issues) is just $29!

Deficits & Debt
Sep 24, 2012
I have seen a number of attempts to show that President Obama has been more fiscally responsible than his Republican predecessors because deficits and debt have grown more slowly under his watch than theirs. If I follow these arguments, they are not without a point but they are also blatant attempts at denying the obvious.
The argument seems to go like this: between 1982 and 1989 (the years for which Reagan produced budgets) the public debt increased by 252%. From 2010 to 2013 (estimated, obviously), the federal debt will increase by 130%. See! Obama increased the debt by a lot less than Reagan.
To see the problem with this argument, consider two businesses. One begins a four-year planning period $100 dollars in debt and ends $150 in the hole. The other begins with a debt of $100 million and ends with a debt of $125 million. Since the former saw an increase in debt of 50% and the latter an increase of only 25%, the former must be doing twice as badly, no? Of course not. The former debt can be wiped out with a successful carwash. The latter will require a lot of carwashes to erase.
In fact, you can tell little or nothing about the financial condition of these two firms by the information given. You would have to know a lot more about their assets and revenues and whether the former is growing faster than their debt. A teenager mowing lawns might be crushed by $150 in debt whereas a large firm might find $25 million in an old coat pocket, metaphorically speaking.
There is a point to the comparison, however. The best way to measure federal debt is by the percentage of the Gross Domestic Product, or GDP, it represents. Federal debt declined from a high of 122% of GDP in 1946 (there was a war on) to a low of 33% in 1981. That's a little misleading, since in the sixties and seventies government financed unfunded spending by printing money, which led of course to inflation. Reagan, to his credit, broke the inflation cycle; however, and not to his credit, under his watch the debt to GDP ratio began to grow. President Clinton, to his credit, managed to bring the ratio down from the high sixties to a low of 54% in 2001 (Bush 43's first year in office). It has climbed steadily since, from 59% in 2002 to 70% in 2008.
Now we can evaluate the Obama years. In 2009, as a result of Bush 43's efforts to combat the recession, the debt to GDP ratio jumped to 85%. In 2010, Obama's first year of budgeting, it jumped almost 10% more. In 2014, the first year of the next presidential term, the Office of Management and Budget estimates the deficit at 108% of the GDP. We are already at WWII levels of federal debt with no comparable war on.
Of course Obama is not to blame for being in a much more difficult financial position than Reagan, or the Bushes, or Clinton. Likewise, he gets no credit for sophistic statistical comparisons. A 250% increase over a $1.1 trillion debt is a lot less severe than a 130% increase over a $14 trillion debt.
In constant dollars, Obama has piled on more debt in four years than Bush 43 did in eight. As a percentage of GDP, his deficits total more two to one over those of any president from Reagan on. The federal debt to GDP ratio is twice what it was during any Reagan year. In every budget or plan that the President has submitted to scoring by the Congressional Budget Office, the deficits will climb dramatically upward only a few years from now. To suggest that President Obama has been in any conceivable way fiscally responsible is to be in deep denial about our situation.
Dr. Ken Blanchard is a professor of Political Science at Northern State University and writes for the Aberdeen American News and the blog South Dakota Politics.