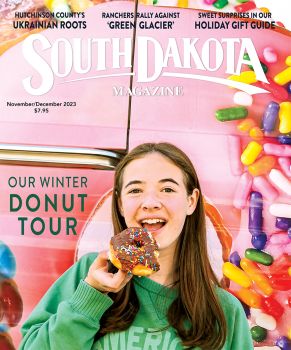 Subscriptions to South Dakota Magazine make great gifts!
Subscribe today — 1 year (6 issues) is just $29!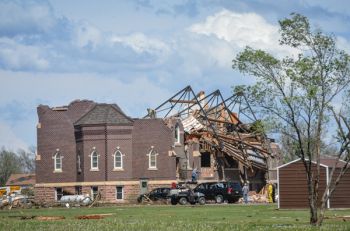 Damn Tornado
May 11, 2015
Damn the tornado. What else can you say about a soul-less storm that attacked the pastoral little town of Delmont on Mother's Day morning?
Nine people were hurt. How badly we don't know. But all of the 250 citizens of this town and all who care about it are also hurting. Not bleeding. Not bruised, perhaps. But hurting.
Here in South Dakota we like to be friends with Nature. She sustains us. Gives us sun and rain to grow and live. And yet every now and again, Nature erupts and we find that she's neither friend or foe — but rather a force.
Most of us who live in southeast South Dakota know Delmont as a quiet little place between Mitchell and Yankton. Maybe you've heard of the Delmont pickle party? Or maybe you're one of those who, while driving Highway 18 through Douglas County, turns north a mile or two to grab some of the amazing brats at the Blue Bird Locker. You check to see that the turret on the Onion House is still there. You see if anyone has done anything with the big brick grocery store with the murals. You admire the steeple on the Lutheran Church. You notice that everything is mowed and nicely tended downtown. And then you're gone until next time.
Hearing of the destruction is hard enough for those of us who are casual fans of the town.
But for the 250 people who live there every day — and for the several thousand people who care deeply about them (yes, a town of 250 is always bigger than 250) — it must be unimaginable. Something only those who have suffered and survived such storms can understand.
Our May/June issue of South Dakota Magazine has stories from the survivors of last summer's June 18 tornado in Wessington Springs. The Springs citizens were honest and frank about the experience. No sugar-coating or grandiose toughness. "I'm still going through it, it's still hard," said Donna Krueger, who lost her husband to cancer three months after the storm.
"It's pretty hard to come back from," said Ward Barber. "But what choice do we have? As long as we're alive we'll make some kind of memories."
In Delmont, the Onion House is badly damaged. The Lutheran Church is cut in half. The town is evacuated.
Nature didn't win and fortunately no one lost a life. The town is more than 125 years old. Life will go on for the town and its people, because it's the nature of things. It's going to be hard. Let's look for ways to help.
— Bernie Hunhoff