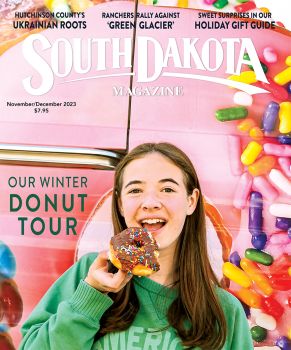 Subscriptions to South Dakota Magazine make great gifts!
Subscribe today — 1 year (6 issues) is just $29!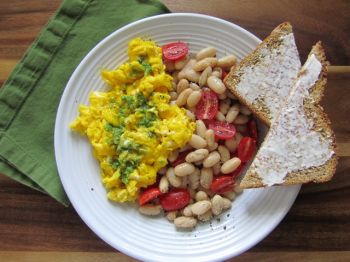 Dreaming Over Eggs
Aug 21, 2014
It seems like so much of my life is spent working to keep things the same. Every morning, I smear lotions and potions on my face to try to stay young. I tidy the kitchen, throw a load of laundry in the machine and run the Roomba around the house in an attempt to keep our home in a reasonable state of cleanliness. The yard is mowed and the flowers and garden tended to maintain a consistent state of orderliness. I make appointments with the furnace cleaner, my hairdresser, the chiropractor and the propane delivery guy. I could be described as the homestead maintenance man.
In the midst of all this maintaining, I attempt a few upgrades and updates. Renovations in our 100-year-old home could generously be described as slow and steady. Most improvements are DIY and are at the mercy of spare time and finances. With our main source of income being agriculture, both of those are often at a premium. We have big dreams for our home and are patiently working toward them while realizing that you have to start somewhere and maintenance is really just as important as upgrades.
It occurs to me that my home situation is much the same as the life of many small South Dakota towns. City councils and employees work hard to maintain a casual, friendly and comfortable environment while balancing the need for improvements. Time and money depend on limited tax revenue and must be managed creatively, but effectively. Simple maintenance projects can stretch the budgets to the brink of breaking, but that doesn't mean there aren't dreams.
Big dreams are, after all, what started every town in South Dakota. The beginnings were humble, and to those not accustomed to the hardworking but simple life of a small town, it can seem that many haven't progressed. However, attend any Monday night city council meeting across the state and you will witness residents planning for improvements while working diligently to keep up with regular maintenance. Every small town is dreaming big, but facing the reality that they have to start somewhere.
Back at home, I think I will start with breakfast; scrambled eggs, to be specific. While I have a deep abiding love for the runny yolk of an over-easy egg, there is something classic and comforting about beaten eggs slowly stirred into fluffy scrambles. Serving them with sautéed white beans and tomatoes and topping with pesto is an upgrade that takes this timeless meal into a powerhouse of protein and fiber to fuel all maintenance and dreams for the day.
---
Scrambled Eggs with Pesto and White Beans
(adapted from Real Simple)
4 eggs
kosher salt and freshly ground black pepper
olive oil
1/2 cup grape tomatoes, halved
1/2 cup canned white beans, rinsed
1/4 cup pesto
Toast
Beat the eggs with 1 tablespoon water and season to taste with salt and pepper.
Heat olive oil in a large nonstick skillet; add the tomatoes and beans; cook, stirring occasionally, until warmed through.
Heat a little more oil in the skillet; add the eggs and cook, stirring until set but still soft.
Serve the eggs with the bean mixture and topped with pesto, toast on the side. (Serves 2)
Fran Hill has been blogging about food at On My Plate since October of 2006. She, her husband and their two dogs ranch near Colome.