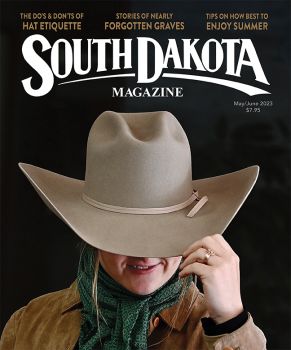 Subscriptions to South Dakota Magazine make great gifts!
Subscribe today — 1 year (6 issues) is just $29!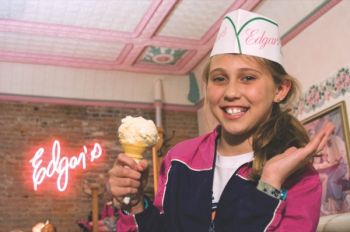 Edgar's Old Fashioned Soda Fountain
Sweet-toothed travelers on I-29 find it hard to resist the Elk Point exit, thanks to Kevin and Barb Wurtz of Elk Point. The Union County duo has been serving ice cream sodas, sundaes, phosphates and other old fashioned treats for 25 years at Edgar's Soda Fountain, located in Pioneer Drug at 107 E Main St.
Taking over a small town drugstore and opening a ice cream parlor in a fast-moving, soft-serve era were bold moves, but the Wurtzes were up to the challenge. "When we bought the store in 1977 it was kind of scary. Little towns were dying, and here we were expanding. In 1988 when we remodeled and brought the soda fountain in, the distributor advised against it. 'They're not doing that,' he told us. But we knew what we wanted to do and we did it, and it worked," Barb said.
The soda fountain first made its debut in Centerville in 1906, where it served up ice cream at the local drugstore for nearly 50 years. When pharmacist Edgar Schmiedt, Barb's grandfather, retired in the 1960s he put the old fountain in storage. He gave it to Barb and Kevin, and in appreciation they named the new store in his honor. The neon logo is Edgar's signature. "We started out to remodel as cheap as possible," Barb said of their 1988 expansion. "But when we saw how neat the historic renovation was going to be, we shifted our thinking to what was possible."
Edgar's has gained recognition in magazines from Midwest Living to Gourmet. The grand opening story in the Sioux City Journal quoted Grandpa Edgar as saying the malts were "damn good," and the next weekend the place was swamped with people demanding malts. "Why couldn't Grandpa have said the ice cream cones were damn good?" Barb wondered.
Some customers favor Edgar's Rocket, a vertical banana split. Really hungry diners do the Dirty Shoe, a brownie with vanilla ice cream, hot fudge, hot caramel, marshmallows, Oreos, coconut and cashews. Edgar's Favorite Malt is served in a glass, and you get the overflow in the mixing tin.
Editor's Note: This story is revised from the July/August 2000 issue of South Dakota Magazine. To order a copy or to subscribe, call 800-456-5117.