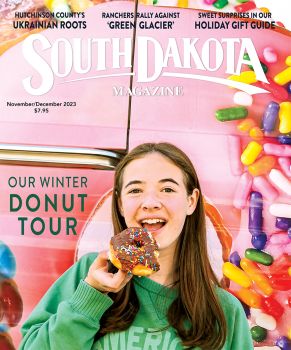 Subscriptions to South Dakota Magazine make great gifts!
Subscribe today — 1 year (6 issues) is just $29!

We Gave One the Chair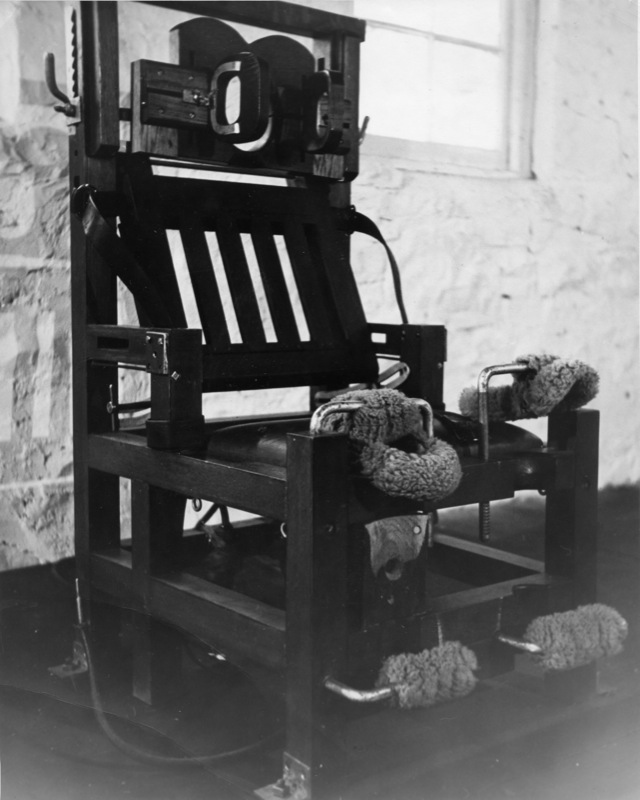 South Dakota borrowed this electric chair from Statesville, Illinois 67 years ago. Photo by Gail E. Myers.
Editor's Note: This story is revised from the March/April 2009 issue of South Dakota Magazine. To order a back issue or to subscribe, call 800-456-5117.
When murderer Clifford Hayes faced electrocution under South Dakota's three-year-old capital punishment law, it posed a problem for Warden G. Norton Jameson because South Dakota didn't have an electric chair.
Hayes was convicted of murdering Grant County Sheriff Melbourne Lewis in the summer of 1941. Thirty-year-old Hayes had just been released from prison for good behavior and intended to ride the rails to the West Coast. He waited in Aberdeen for a westbound train, but when none came, Hayes sneaked on a boxcar going east and got off in Milbank. He stole a .22 rifle and ammunition and later shot the gun to scare some kids. A report of a man shooting a rifle on the Milbank streets brought out Sheriff Lewis. Hayes reportedly hid in a shed and opened fire on him.
Hayes brazenly announced as he pleaded guilty that he'd already spent too much "bad time in jail" and wasn't going to spend the rest of his life there. He'd die first.
The 1939 state legislature passed a highly controversial return of capital punishment, illegal since 1915, and mandated electrocution. However, they made no provision or appropriation for the chair nor the extensive wiring, power sources, switches and high-voltage transformers needed to carry out an execution.
Warden Jameson solved the problem using the creative management skills that made him a legend in penal administration. He borrowed an electric chair for Statesville Penitentiary in Joliet, Illinois. Statesville was notorious for electrocuting three men in one day in 1928.
He might also have been aware of some power-play Illinois politics. A confusing mandate said that only counties with a population over one million could maintain an electric chair, conveniently moving all Illinois executions to Cook County and leaving electric chairs across the state out of commission.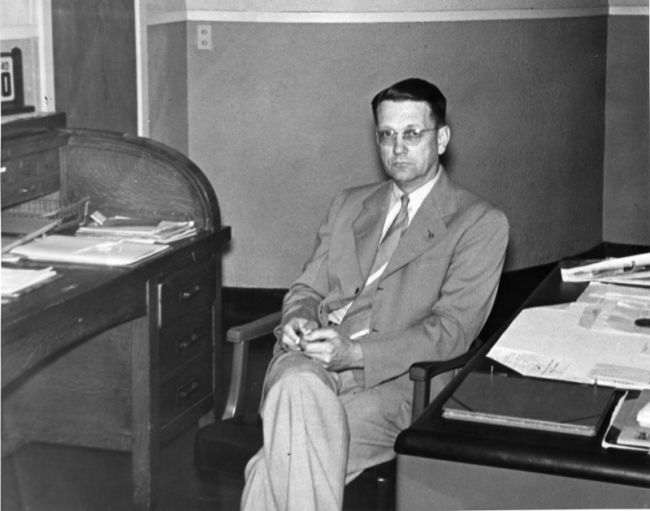 Jameson oversaw a prison revolt in 1942 and the 1947 execution of George Sitts during his 25-year tenure are penitentiary warden.
In a letter dated Sept. 11, 1942, Warden Jameson wrote about the chair's expense to the state of South Dakota. "I do not have the exact figures on the cost of the chair, but to date it would not exceed $250 which includes transportation and installation."
He also described how it was installed. "The chair was set up by a man from Illinois who does not desire any publicity, and our own men here. It was transported out here by him in a truck."
The borrowed chair occupied a room near the penitentiary's high-ceilinged and cavernous jute mill. The mill was full of noise, brown dust, and clusters of men feeding rope-making machinery. Outside the execution room stood a closeted and locked high bank of electrical transformers, throw switches, and heavy cables. Through windows in an adjacent stone wall, the switch operator could see both the chair and the victim.
Finding the electric chair was just the beginning of the warden's responsibilities. Jameson needed to set the execution time and announce it to the public 48 hours in advance. He also had authority over assembling witnesses and notifying attendees required through statute, such as the attorney general, the states attorney and the trial judge. The inmate could request two clergy of any denomination and up to five relatives or friends.
Everything was ready in 1942, but the Joliet chair would be used only when the defendant's lawyers exhausted their appeals and the condemned man declined commutation from death to life in prison.
The electrocution never took place. On Dec. 7, 1942, Hayes changed his mind and asked to have his sentence commuted to life without parole. He died in 1993 at the state penitentiary. There is no published record of what happened to the borrowed chair.
Before the electric chair was banned in South Dakota, one man died in its clasp. Thirty-three-year-old George Sitts was executed on April 8, 1947 in Sioux Falls. Sitts had escaped from a Minnesota jail where he was serving a life sentence for killing a liquor store clerk. He killed Butte County Sheriff Dave Malcolm and State Criminal Agent Thomas Matthews near Spearfish in 1946 while resisting arrest.
Sitts was the fourth man sentenced to electrocution in South Dakota, but the only one whose sentence wasn't commuted. He was executed at 12:15 a.m. with 41 witnesses. His last words reportedly were, "This is the first time authorities helped me escaped prison."
The chair used that night is now kept at the Cultural Heritage Center in Pierre. It is almost identical to the borrowed Illinois electric chair. Collections Curator Dan Brosz carefully compared photos of the Joliet model with the museum's and concluded the two look similar but are not the same. Those differences suggest that inmates constructed a second chair using the borrowed chair as a model.
Thirty-three states in the nation have capital punishment, but only six states still employ an electric chair as an option. In 1984 South Dakota followed other states and mandated lethal injection, believed to be more civilized.