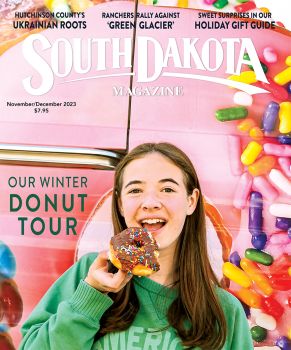 Subscriptions to South Dakota Magazine make great gifts!
Subscribe today — 1 year (6 issues) is just $29!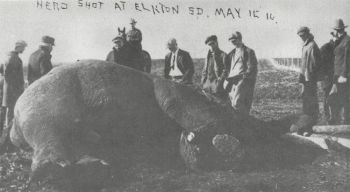 Elephant Rebellion in Elkton
Jul 18, 2018
By Katie Hunhoff
Elkton had a rollicking start. In 1893, during a national depression, the local businesses printed their own aluminum money and a federal agent came to town and confiscated $15,000 worth of the coins. Three years later — seven years before the Wright brothers took flight — resident Henry Heintz got a patent for what may have been the United States' first airship. Built by Frank Woulf in Aurora, the contraption rose in the air but didn't move. Elkton's biggest adventure happened May 15, 1916 when a large elephant named Hero escaped from the Orton Family Circus.
As the legend goes, a circus worker was drinking heavily and began to abuse the elephant while they were pulling up the stakes. Hero, who stood 9.5 feet and weighed 9,500 pounds according to Criley Orton, knocked the man to the ground and began a rampage. No matter where the trainer tried to hide, Hero followed, tipping over equipment and leaving a trail of debris. Eventually the elephant made his way to the business district. He poked his head through the milliner's window, then charged through the pool hall. He then ran east of town, ripping out fence posts as he went.
Criley Orton later said that 100 men joined the chase. Many had guns, and the big pachyderm's tough hide was riddled with holes before Paul Hohnke finally killed him with a shot from his Savage big-game rifle. An autopsy showed that Hero had 200 small bullets and 100 large bullets in his hide.
According to historical reports, the Elkton hotel took some of the meat, and the bones were transported to the college at nearby Brookings for study. However, they were forgotten until the 1960s, when nursing dean Inez Hinsvark found them while searching for classroom space. The bones were dusted off and moved to the W.H. Over Museum on the University of South Dakota campus in Vermillion.
Hohnke's rifle is in the Elkton museum, along with other memorabilia from the circus.
Hero was killed in Elkton and forgotten in Brookings. It's not likely he would want to travel north if he had his choice.