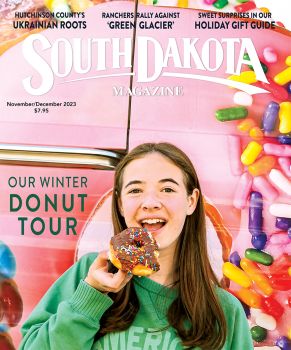 Subscriptions to South Dakota Magazine make great gifts!
Subscribe today — 1 year (6 issues) is just $29!

Fast Football
Nov 15, 2011

I have always been fascinated by time-lapse films. I remember watching PBS NOVA episodes in science class that showed flowers blooming in a matter of seconds or a perfectly blue sky being filled with storm clouds in mere moments. This technique of looking at a scene or scientific process from a different perspective was a great learning tool. I also remember the first time I really noticed the technique used in popular film with great effectiveness. One of my favorite movies of all time is the Academy Award winning film "Gladiator." Director Ridley Scott used time-lapse scenes to bring the hero in and out of consciousness when he was injured as well as moving the viewer along in the storyline. I still love watching those scenes.
A few years ago, I discovered via the internet how to create fairly high-end time-lapse scenes using my Canon DSLR camera. In a nutshell, all you need to do is set your camera on a tripod and take multiple images of the location in a sequence. Then, using a computer, turn those individual photos into frames of video. I use the fairly inexpensive QuickTime Pro from Apple to convert the image sequences into video, but Adobe's After Effects will also do the trick.
A typical second of finished video runs about 30 frames per second. If you shoot a photo of a particular scene once every second then convert each photo into a video frame you can then "speed up" time and play back 30 seconds of time in one second of video. It takes some brushing up on math skills but the possibilities are endless.
This fall, I had an idea to do a time-lapse of the Dakota Marker football game between NDSU and SDSU. The game would be played in Brookings in late October during the day, so I figured I'd have a good chance at good weather and a great chance at a full crowd during the game. The good folks at SDSU also granted me full access to the stadium just before sunrise as well as letting me place a camera on top of the scoreboard throughout the day. I also shot some video clips with my Canon 7D and slowed them down in editing to really juxtapose the high speed of time-lapse photography with super slow motion video. The result is this two-minute video piece, all shot with modern "photo" cameras with the exception of two scenes captured with the GoPro Hero Cam. Pretty amazing what modern technology can accomplish as well as the amount of fun a simple photographer can have with the "relatively" inexpensive new cameras available today! Enjoy:


Christian Begeman grew up in Isabel and now lives in Sioux Falls. When he's not working at Midcontinent Communications he is often on the road photographing our prettiest spots around the state. Follow Begeman on his blog.