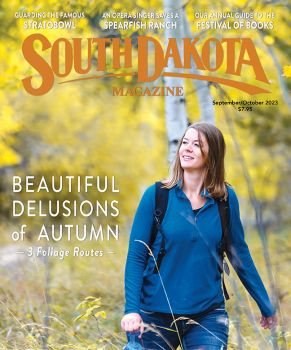 Subscriptions to South Dakota Magazine make great gifts!
Subscribe today — 1 year (6 issues) is just $29!

Faulk County's Heroes
Nov 17, 2015
By John Andrews
U.S. Highway 212 probably brings more travelers into Faulk County than any other road, but we might suggest the lesser-traveled state Highway 20. It's named after Cecil Harris, a World War II legend who grew up a stone's throw from its pavement. He's just one of several heroes who have called Faulk County home — despite the roguish reputation of the county's namesake.
Faulk County was created in 1873 and named for Andrew Faulk, third governor of Dakota Territory. Faulk was a native of Pennsylvania, where he studied law, edited a newspaper and became involved with the Democratic Party. He switched allegiances because of the slave issue and supported Abraham Lincoln in the 1860 presidential election.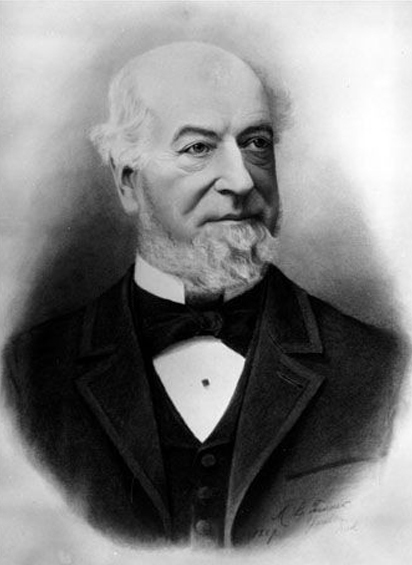 Andrew Faulk, Faulk County's namesake and third governor of Dakota Territory.
The following year, Lincoln appointed Walter Burleigh to be the Indian Agent for the Yankton Sioux in Dakota Territory. Burleigh used the position to line his own pockets and made graft a family affair. He appointed Faulk, his father-in-law, chief clerk of the Yankton Agency. Burleigh's daughter was kept on the payroll as a teacher, even though there was no school on the reservation, and paid his 13-year-old son $80 a month as a clerk.
When Gov. Newton Edmunds investigated Burleigh's tenure as Indian Agent, Burleigh brought his own fraud charges against Edmunds and asked President Andrew Johnson to replace the governor with Faulk. Johnson complied, and Faulk became governor in August 1866.
During his three years as governor, Faulk became increasingly interested in the potential wealth hidden in the Black Hills. Although his official position remained that the Hills belonged to the Lakota, he privately advocated opening the area to settlement.
After Faulk's time as governor, he remained in Yankton, where he served as mayor and stayed involved in territorial politics, including the push toward statehood. He died in 1898.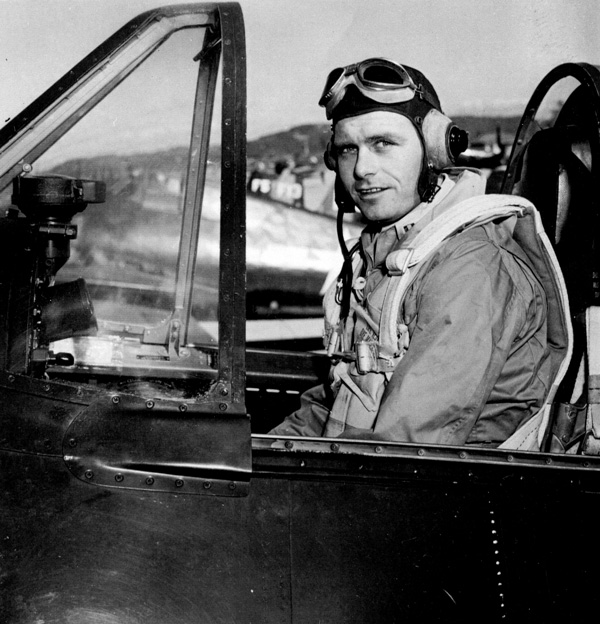 Cresbard native Cecil Harris become one of the Navy's most decorated pilots during World War II.
Fortunately Faulk's reputation hasn't influenced the Faulk County citizenry, including its famed Naval pilot. Harris grew up in Cresbard and was a student at Northern State Teachers' College in Aberdeen in 1941. He joined the Navy before the Japanese attack on Pearl Harbor and embarked upon a long and distinguished military career. His most memorable mission came on Oct. 12, 1944, when he shot down four enemy aircraft and saved two of his Fighting Squadron 18 teammates at Formosa. His heroics earned him the Silver Star. On two more occasions he shot down four enemy planes without taking a bullet. By November 25 he had earned a total of 24 and a new nickname — Speedball. After the war, Harris served as a teacher and high school principal in Cresbard. He returned to active duty during the Korean War and became a career Navy officer, retiring in 1967. He died in 1981 and is buried at Arlington National Cemetery in Washington, D.C. In 2009, the state renamed Highway 20 through Faulk County the Cecil Harris Memorial Highway.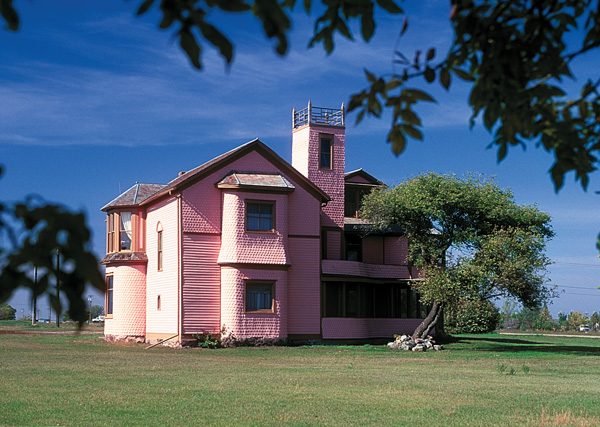 Congressman Pickler's home is known as the Pink Castle because of its unusual color.
The county's seat and largest city is Faulkton, home to another politician whose political views are seen as heroic. Major John Pickler was a Civil War veteran who moved to Faulkton in 1882. He became South Dakota's first Congressman upon statehood in 1889. While in Washington, he championed causes such as women's rights, rural free delivery and fair treatment of Native Americans. Susan B. Anthony and Theodore Roosevelt were among the many famous guests to visit Pickler's home, known locally as the Pink Castle because of its unusual color. Visitors can still tour the home today.
Another Faulkton hero was Abbie Ann Jarvis. She grew up in Faulkton and became frustrated because there was no doctor in town. Jarvis went away to medical school in Chicago and became a physician at age 38 so she could move home and help her neighbors. She was the first woman licensed as a physician in South Dakota. Over 30 years of service, she delivered 650 babies that came to be known as "Jarvis babies."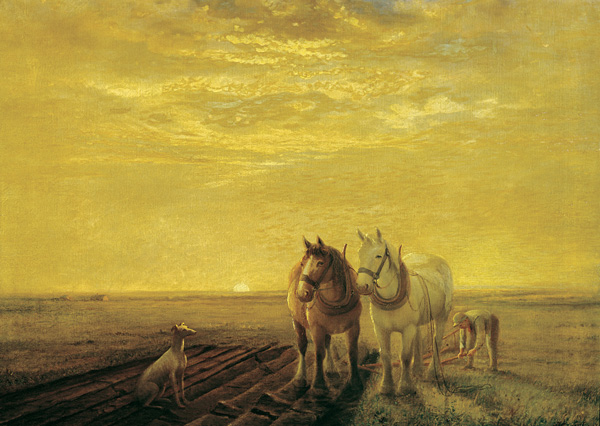 An Early Start, painted by Charles Greener in 1913.
Faulkton was also home to one of South Dakota's best-kept artistic secrets. Locals know Charles Greener well because many of them have an original Greener oil painting hanging on their wall. Outside of Faulk County, few people know about the landscape painter who captured Snake Creek, the Orient Hills and other local landmarks so realistically.
Greener was a Wisconsin native who moved with his family to Dakota Territory in 1883. The family settled in Faulkton after statehood, just before Greener went east to study art. He was back in Faulkton by the early 1900s, running a photo shop, helping in his family's grocery store and painting on the side. He did murals for the Faulk County courthouse and a special commission for President Calvin Coolidge to commemorate his summer in the Black Hills. One of Greener's untitled works hangs in the South Dakota Magazine office.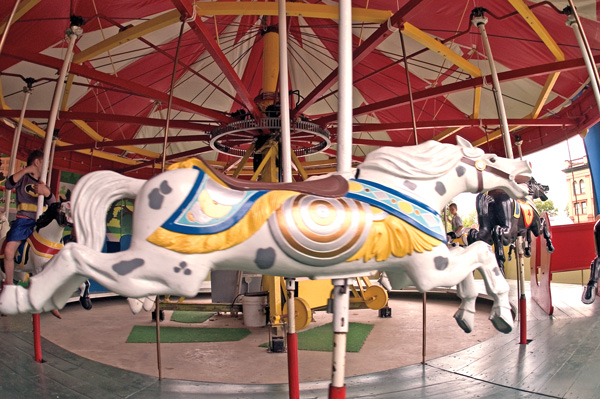 Faulkton's historic carousel still offers rides on certain days. Photo by Mike Gussiaas
Summertime visitors to the Pink Castle or the courthouse might take a ride on Faulkton's historic carousel. It was built in 1925 and has 19 of its original horses. Bob Ketterling bought the carousel at auction in 1981 and brought it to Faulkton. The city offers rides on Wednesday nights and weekend afternoons.
An unheralded Faulk County hero was Rosalia Schmidt, the matriarch of Onaka. When we last wrote about the tiny town in 2004, there were about 25 souls there. Schmidt was a storehouse of information about Onaka. When anyone had a question about the town's history, she was the person to see. People like Schmidt are important to the fabric of small towns, especially those that are slowly unraveling. In the last decade, Onaka's population has dwindled to 15. And the matriarch is no longer there. Schmidt passed away last summer at age 100.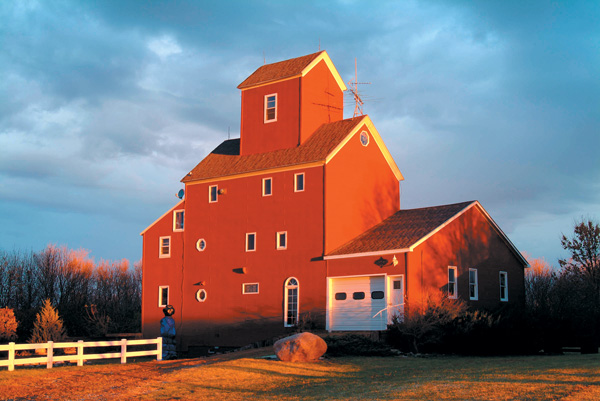 Curtis and Shirley Wik turned a century-old grain elevator at Norbeck into a summer home. Photo by Bruce Selyem
You could call Curtis and Shirley Wik heroes for preserving a part of South Dakota history, but they probably wouldn't have agreed. Their unique home at Norbeck – a renovated grain elevator built in 1900 – attracted hundreds of visitors and even appeared on HGTV. The elevator held the family's wheat harvest when Wik was a child. In 1974, when he bought the homestead and inherited the elevator, he began using a portion of it to work on old tractors. Then he built a bathroom inside, and the idea of creating a summer home blossomed. Spiral staircases connected its five stories, and the third floor housed an antique soda fountain from Jones Drug Store in Miller. "Everybody knows a grain elevator is no good without a decent soda fountain!" Wik told us in 2005.
It seems heroes come in all shapes and sizes in Faulk County.
Editor's Note: This is the 15th installment in an ongoing series featuring South Dakota's 66 counties. Click here for previous articles.