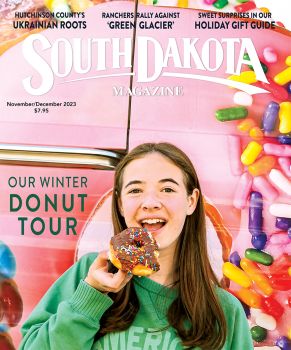 Subscriptions to South Dakota Magazine make great gifts!
Subscribe today — 1 year (6 issues) is just $29!

Football Revolutionaries
Jan 11, 2017
By Paul Higbee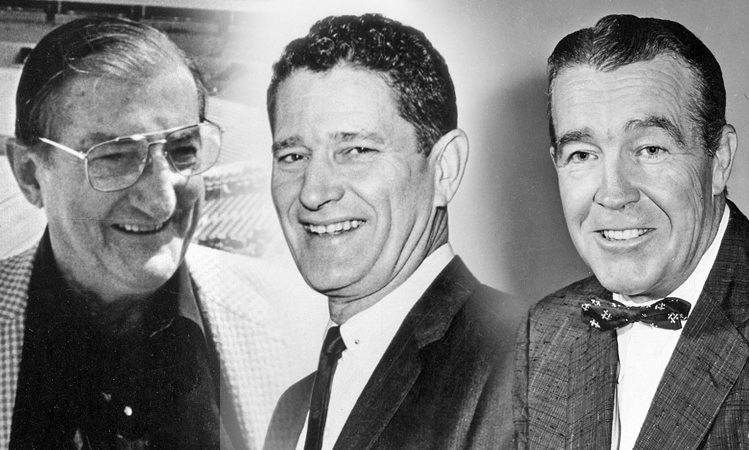 South Dakotans (from left) Joe Robbie, Joe Foss and Frank Leahy all played roles in professional football.
South Dakota's connections to the Super Bowl are huge. I consider the start of Super Bowl history to be late 1963, when former South Dakota governor and then American Football League commissioner Joe Foss sent a letter to National Football League commissioner Pete Rozelle. Foss wrote, "The overriding fact is the establishment of a World Series of professional football is necessary for the progress of our game if we're to be true sportsmen and not merely businessmen in sports."
Rozelle said no, understanding the contest that Foss envisioned would pit the upstart AFL against the NFL, suggesting to the public that the two leagues were somewhat equal. But I suspect Rozelle knew he couldn't say "no" for many more seasons. For starters, Foss was an affable yet intimidating adversary, a look-you-in-the-eye South Dakota sportsman as likely to be found hunting pheasants west of Sioux Falls as sitting in his New York office. Sportswriters coast to coast loved Foss. Rozelle, by contrast, was more like a ... well ... businessman in sports.
In 1963, had Foss and Rozelle publicly debated the merits of a championship game, Americans would have demanded the big game be played immediately ... like the very next Sunday.
More important than personalities, though, was the fact that Foss was building the most successful rival sports league in history, with the help of a couple South Dakota cronies. The day was quickly coming when fans would no longer assume the NFL's top team was the best in professional football.
Frank Leahy of Winner, the former Notre Dame coaching legend, built the first edition of the Chargers. And as Foss argued for the big game's development, Sisseton's Joe Robbie was in Florida preparing to unveil his Dolphins, who would play in three consecutive Super Bowls in the 1970s and win two of them. By then AFL teams had been merged into the NFL. It was a classic case of, "If you can't beat 'em, join 'em." Or from the NFL perspective, "let 'em join us."
Half a century later professional football could use a leader with Foss-like vision, natural leadership and a sense of ethics. But rather than bashing the NFL, which has been a fad the past several months, I want to focus in a positive way on the Super Bowl. Beloved as it is, it would be easy to improve the big game in ways Foss likely would have appreciated.
First, let's give the game a real name. I only met Foss once, so I could be wrong, but he didn't strike me as a purveyor of puns. And the name Super Bowl is a 1960s pun, a takeoff on Super Ball, which was a synthetic rubber bouncy toy. Why not call the contest something no-nonsense and to the point, like World Championship Game. Wow! Did I just make that up? Nope. A little research tells me that was the big game's original moniker in 1967.
Second, lose the Roman numerals. In Joe Foss's home state, the only people who think in terms of Roman numerals are those who refurbish antique watches and grandfather clocks.
Third, retire the over-the-top halftime shows. This is a sore topic in South Dakota because of what happened in 2004 (whoops, I mean Super Bowl XXXVIII). Yankton-born and Rapid City-raised Adam Vinatieri kicked a game-winning field goal in the final seconds, but afterward all anyone talked about was Janet Jackson's "wardrobe malfunction" during the halftime show.
Fourth, as all South Dakotans know, some of the best football happens outdoors in the snow and cold. We need those kinds of championship contests now and then. The NFL should schedule more, like every other year or so. Or maybe a system should be devised so that one team is granted home field advantage and snow could fall where it may. Even in Green Bay in February.
Finally, sign a TV contract with a network that understands a football game can stand on its own merits. Americans are football savvy and don't need hours of pre-game analysis and reminders to stay tuned for clever commercials should the big game fall flat. They're also media savvy and can see that everything that distracts from the game is supported by more commercials, the work of "merely businessmen in sports," to use Foss's words.
Anyway, I hope readers enjoy the game on Feb. 5. Consider turning down your TV's volume during one of the commercial breaks. Then raise a toast to Joe Foss and his South Dakota team of football revolutionaries.
Editor's Note: This column is revised from the January/February 2015 issue of South Dakota Magazine. To order a copy or to subscribe, call (800) 456-5117.