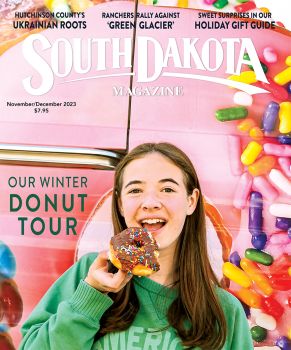 Subscriptions to South Dakota Magazine make great gifts!
Subscribe today — 1 year (6 issues) is just $29!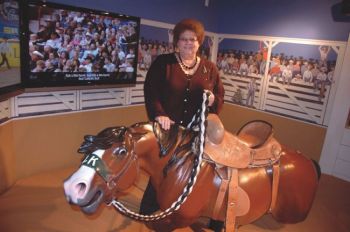 Central South Dakota's Playground
Mar 13, 2013
"Fort Pierre has become central South Dakota's playground," says attorney John Duffy. "I don't want to say that nothing fun ever happens in Pierre, but it's hard compete with everything we have here."
The town has the Stanley County fairgrounds, a youth center, a hockey rink and gymnasium. Horse races, rodeos, bucking matches, circuses, concerts and numerous other events are held there. The Missouri River draws boaters and fishermen.
Fort Pierre's nightspots enjoy a reputation for being the scene of late-night political hijinks and compromises during Pierre's annual legislative sessions. Since Fort Pierre operates on Mountain Time, it was once a tradition for some lawmakers and staffers to cross the river at 1 a.m. to continue their revelry. Mountain Time is still observed in the city after midnight, but earlier in the day townspeople generally set their watches to Central Time to stay in step with Pierre.
A less rowdy gathering spot is the Casey Tibbs Rodeo Center. It includes the Mattie Goff Newcombe Conference Center, a hilltop meeting facility that offers an expansive view of the Missouri River and the capital city of Pierre.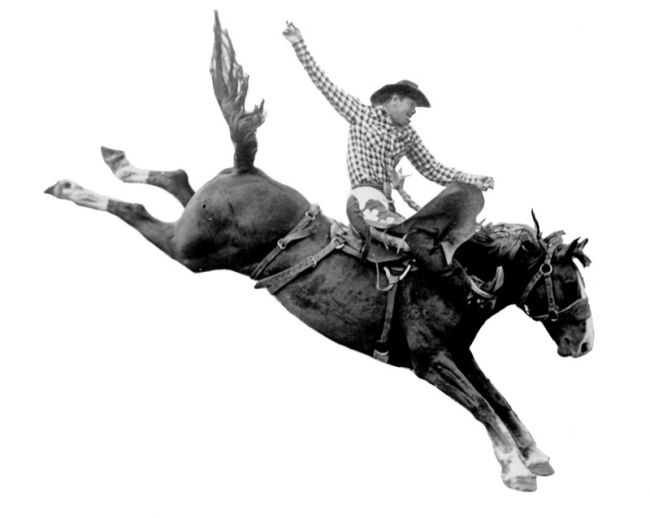 Rodeo legend Casey Tibbs in action.
Tibbs is still regarded as one of the top rodeo stars of all time. Much of his memorabilia is on exhibit at the center, along with exhibits from South Dakota's other national champs as well as other rodeo characters.
Mattie Goff Newcombe was a famous trick rider in the 1920s. She perfected the Back Drag, a dangerous stunt in which she placed her feet in loops on either side of the saddle and then bent over backwards until her hands dragged on the ground.
She and her husband, Maynard, ranched for many years along the Cheyenne River. After she died in 2005 at age 98, a bequest from her estate made it possible for the Tibbs museum to finally become reality after 20 years of planning.
"Casey's the reason it got started," says Dayle Tibbs Angyal, Casey's niece and a longtime board member, "and Mattie's the reason it got finished."
For information on the rodeo museum, call 605-494-1094. To learn more about Fort Pierre's attractions, contact the Pierre/Fort Pierre Chamber of Commerce at 605-224-7361.
Editor's Note: This story is revised from the March/April 2010 issue of South Dakota Magazine. To order a copy or to subscribe, call 800-456-5117.