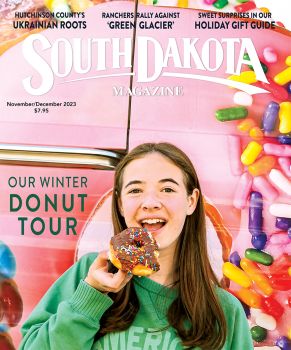 Subscriptions to South Dakota Magazine make great gifts!
Subscribe today — 1 year (6 issues) is just $29!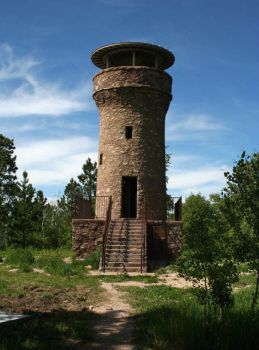 Friendship Tower
Jun 22, 2012
When my husband and I visited Mount Moriah Cemetery in Deadwood last summer, we climbed the steep path to Seth Bullock's plot facing Mount Roosevelt. I found the story of his grave intriguing. Bullock met Theodore Roosevelt during Roosevelt's years on a North Dakota ranch. The two remained friends during his presidency and Roosevelt appointed Bullock U.S. Marshall. Shortly after Roosevelt's death in 1919, Bullock and the Society of the Black Hills Pioneers built Friendship Tower on the mount as a memorial to his friend. Bullock died a few months after the tower dedication and, at his request, was buried 750 feet above the main portion of the cemetery with a view of Mount Roosevelt across the gulch.
Jeremy and I were in Deadwood again a few weeks ago and looking for an easy hike when we remembered Mount Roosevelt. There aren't a lot of signs promoting its trail, but it is easy to find. You head north a little ways out of Deadwood on Highway 85, take a left on Mount Roosevelt Road and follow it for about 2 ½ miles until you reach the trailhead/parking lot. Josh from howtoenjoytheblackhills.com has even posted a video showing the route.
A well-maintained picnic area marks the trailhead to the castle-like tower. We hiked the half-mile path through oak and pine, skirting scree slopes and boulders. Raspberries even ripen along the trail in season. The trail and 31-foot tower atop the 5,690-foot summit are maintained by the Black Hills National Forest. New stone steps on the outside of the tower and a steep spiral staircase on the inside were added to allow an expansive view. There is also a little viewing deck just northwest of the tower for those who don't want to scale the stairs.
It's not strenuous, but I highly recommend this hike if you want to stretch your legs during a day in Deadwood. Bullock chose the location for its overlook of the plains beyond Belle Fourche and on into North Dakota where Roosevelt had his ranch. We could also just make out Bear Butte and Harney Peak. It's cheap entertainment for your visit to the gambling town!