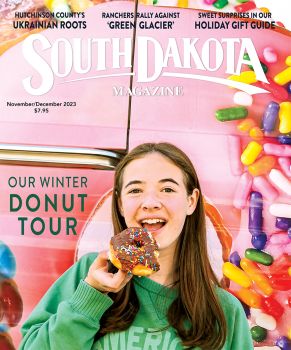 Subscriptions to South Dakota Magazine make great gifts!
Subscribe today — 1 year (6 issues) is just $29!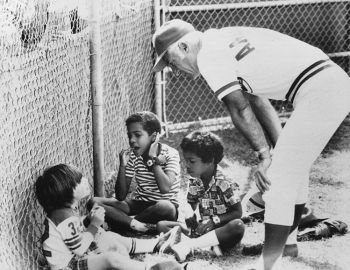 From Bridgewater to Cooperstown
Aug 8, 2017
By Paul Higbee
When Sparky Anderson was inducted into the National Baseball Hall of Fame at Cooperstown, New York, during the summer of 2000, he became the first South Dakotan to reach the sport's most famous shrine.
The Bridgewater native certainly belongs there. Anderson ranks sixth all-time among major league managers in wins, with 2,194. He managed the Cincinnati Reds and then the Detroit Tigers, winning the World Series with both teams (twice in Cincinnati), becoming the only manager to bag world championships in both the National and American Leagues. Because there's no question Anderson belongs in Cooperstown, the only topic for debate among sportswriters and commentators was whether he should be remembered chiefly as a Red or a Tiger. Anderson chose to be depicted on his Hall of Fame plaque wearing a Reds cap, because the Cincinnati club gave him a chance when he was unknown.
Knowing Anderson's love of his home state, though, I'm guessing he wouldn't have minded being the only Hall of Famer to wear a feed-and-seed cap.
"I remember more about South Dakota than any part of my life," Anderson told Dan Ewald, who helped him write an autobiography. "I remember all the sights, the sounds, the smells, the people. Maybe I remember Bridgewater so well because I was so happy there."
He was born George Lee Anderson in 1934, when the Depression and dust storms were ravaging South Dakota. His family had next to nothing in material wealth. Neither did their friends and neighbors in Bridgewater. That, Anderson noted, isn't a bad way to start life, because you expect to work hard for everything, and you never take anything that comes your way for granted.
One comical image of Depression-era South Dakota stood out in Anderson's mind. Kids used to hijack outhouses in Bridgewater on Halloween. So Anderson's grandfather sat in the family's privy on Halloween night with a shotgun.
"We didn't have much, but nobody was going to get our outhouse," Anderson recalled.
So how was a man affected by moving from that humble life to the very pinnacle of pro sports? In Anderson's case, not much. "He's the same as he was 45 or 50 years ago," baseball broadcaster Vin Scully told the Detroit Free Press shortly before Anderson's induction. "He hasn't changed. I think the greatest thing about Sparky is that he really does feel that he was blessed. He is as modest as anyone who will ever reach the Hall of Fame."
Anyone who met Sparky Anderson remembers two characteristics — the firm handshake, the kind that seals business deals on the prairies, and the natural warmth directed toward anyone: a marginal player whose time in the big leagues would be short, a sportswriter who needed extra insight so his story wouldn't read like every other, a wayfaring South Dakotan who dropped by the ballpark to say hello.
Anderson credited both his handshake and his manner to his father, Lee Roy Anderson. The elder Anderson painted barns, worked for the postal service and played semi-pro baseball. He was "lead-pipe tough," Sparky told Ewald. He walked with a self-assurance that let him treat everyone with dignity. Powerfully shaped by the Depression in South Dakota, Lee Roy Anderson taught his son that kindness is a valuable gift that doesn't cost anyone a cent.
It will be a long while before another South Dakotan makes Cooperstown. Even if one stepped onto a major league field tomorrow, it takes a decade or two to craft Hall of Fame credentials (longer for a manager), and then there's a five year waiting period before eligibility.
So, for the next few decades, and maybe forever, Sparky Anderson is our lone Cooperstown representative. It's another South Dakota story of low quantity but high quality.
Editor's Note: This column is revised from the July/August 2000 issue of South Dakota Magazine. To order a copy or to subscribe, call (800) 456-5117.