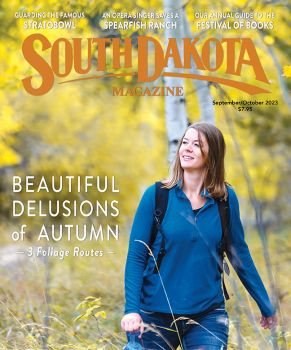 Subscriptions to South Dakota Magazine make great gifts!
Subscribe today — 1 year (6 issues) is just $29!

From Lagos to Lemmon
Jul 6, 2016
By Michael Zimny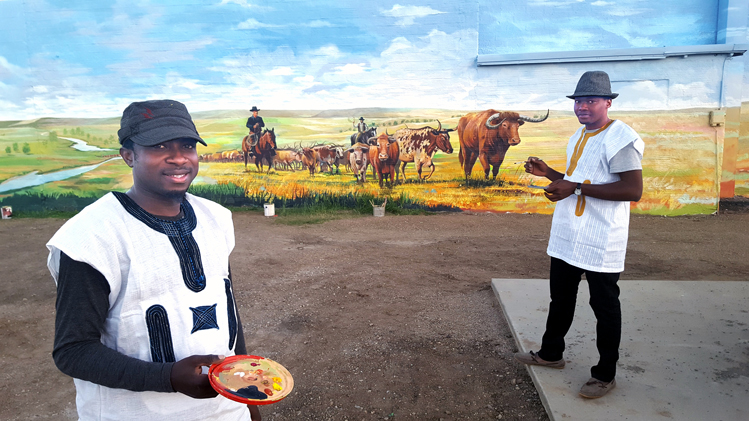 Artists Dotun Popoola (left) and Jonathan Imafidor collaborated on a mural to honor legendary cattleman Ed Lemmon.
Sculptor John Lopez is collaborating with two Nigerian artists to transform an empty lot in downtown Lemmon into a tribute to the town's founder. Boss Cowman Square will be unveiled on July 9 during this year's Boss Cowman Days Celebration and Rodeo.
The square celebrates the town's agricultural heritage and the legendary cowboy-turned-cattle baron who gave it his name. Lopez is creating a larger-than-life sculpture of Ed Lemmon, which will sit on a pedestal in the square. Artists Dotun Popoola and Jonathan Imafidor have painted a mural that depicts Lemmon leading cattle across the Missouri River.
Popoola is a curator for the National Gallery of Arts, Nigeria. Imafidor is an artist and instructor at Obafemi Awolowo University.
Dotun Popoola came across John Lopez's work on the internet. Trained as a painter, he was experimenting with sculpture. The work intrigued him. He sent Lopez an email and received a quick response. Before he knew it, he was on a plane from Lagos to Minneapolis, then a bus to Bismarck where Lopez picked him up.
Popoola had exhibited in Miami, but had never seen a Perkins County sunset or so much wide-open space. "Where I was coming from, you could have 20, 30 people in a flat," he says. "So populated. Everything was strange."
But he soaked in the local culture, riding horses and branding. He found similarities between Yoruba and Lakota cultures, as well as between the cowboy culture of the American West and Nigerian herdsmen.
Popoola is a practitioner of the Araism art movement, an indigenous Nigerian/Yoruba painting technique — originated by artist Mufu Onifade — that involves layering mosaics of color on a canvas painted black. The name is derived from the Yoruba word for "wonder" — ara. Though the movement was developed as an authentic African painting technique, Popoola has explored depicting South Dakota through the eyes of Araism as well as through other techniques. (The mural at Boss Cowman Square is not an example of Araism.)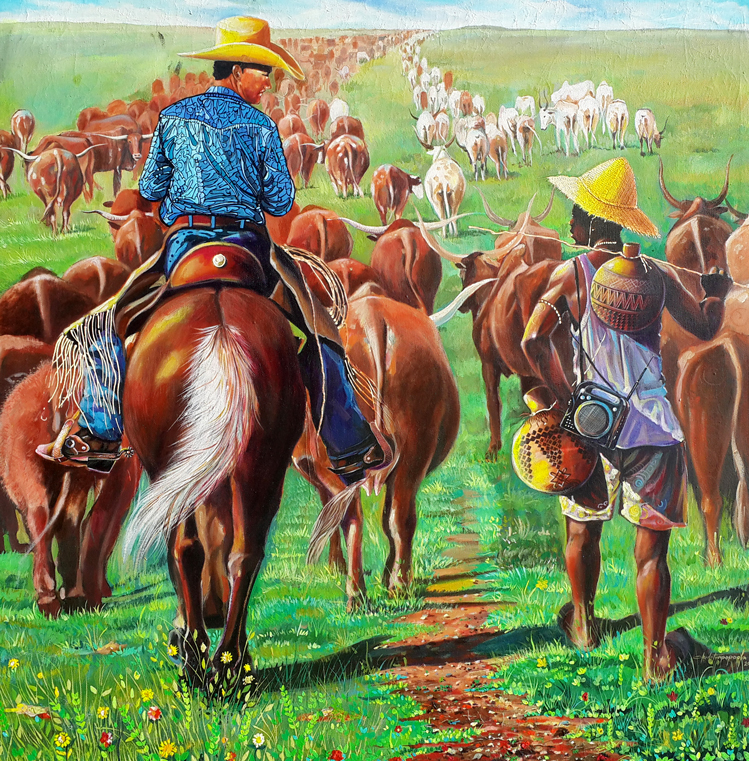 Heads Men juxtaposes an American cowboy with a Nigerian herdsman.
When some Lemmon locals began to envision the idea of Boss Cowman Square, John Lopez invited Dotun to come back and create a mural as a backdrop for his sculpture of Ed Lemmon. This time Popoola enlisted the help of friend and fellow artist Jonathan Imafidor.
Together the two artists explored intersections of American and Nigerian art and culture. Some of their work is on display in an exhibit at the John Lopez studio.
Their mural depicts Ed Lemmon and another cowboy leading longhorn cattle across the Missouri River and a vast expanse of prairie. The mural will serve as a backdrop for a larger-than-life sculpture of Ed Lemmon seated on a horse. True to the Lopez style, the sculpture is a hybrid of cast bronze, plasma cut steel and found elements that represent the regional agricultural heritage — pieces cut from an old roller mill used in grain elevators to separate rocks from grain add texture among the smoother surfaces.
Lemmon, known alternately as "Dad Lemmon" and "Boss Cowman" was a legendary cowboy who rose through the ranks from ordinary cowhand to cattle baron, running the Sheidley Cattle Company, then the L7 operation that ran cattle from Texas to Canada. One of the feats that made him famous was one of the largest cattle roundups in history.
"The open range cattle industry was just coming to a close," says Nathan Sanderson — a historian, Gov. Dennis Daugaard's Director of Policy and Operations and author of Controlled Recklessness: Ed Lemmon and the Open Range. "There were still some really large cattle operations out there — 40, 50, 60 thousand head or larger. And in the spring of 1902, he bossed one of the largest cattle roundups on the Northern Great Plains — probably 50,000 head, several dozen roundup wagons, hundreds of cowboys — and he did it in only a few days."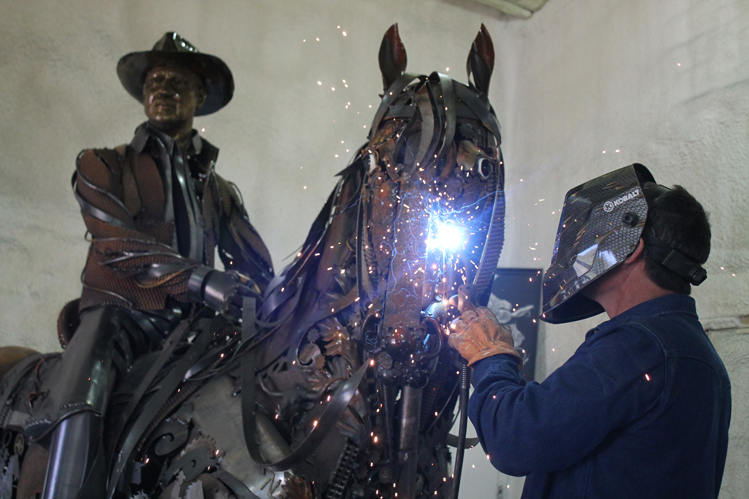 John Lopez's scrap iron depiction of Ed Lemmon atop a horse will be the centerpiece of the town's artistic tribute to its founder.
Thanks to his knowledge of the range, and of the Missouri River, Lemmon played an instrumental role in the first railroad crossing, by the Chicago, Milwaukee and St. Paul Railroad (or Milwaukee Road) of the Mighty Mo in 1907. Through his close relationship with the Milwaukee Road, he had an insider's information on where new railroad towns would be platted, and bought some land in Lemmon. But unlike many railroad town founders, Lemmon put down roots.
"He was one of the few town builders who lived in the town of his name after the town sale," says Sanderson. "As the community built up, he was an active participant in that. The citizens of Lemmon started calling him 'Dad' because he was the father of the town, and also because he was really good with kids. Lemmon's annual Boss Cowman Celebration and Rodeo, and all of the various things in the community that are named after him testify to Ed Lemmon's value to that particular region and to western South Dakota as a whole."
If Ed Lemmon, literally, put Lemmon on the map, he also helped grow the cattle industry, and the legend of the American cowboy, into international exports. Now artists from his town and the other side of the world have come together to celebrate the Boss.
Michael Zimny is the social media engagement specialist for South Dakota Public Broadcasting in Vermillion. He blogs for SDPB and contributes arts columns to the South Dakota Magazine website.