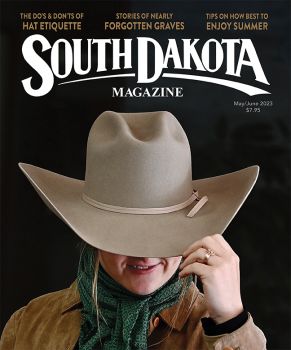 Subscriptions to South Dakota Magazine make great gifts!
Subscribe today — 1 year (6 issues) is just $29!

The Best of Two Seasons
Sep 28, 2017
By Fran Hill
Oh, hey there, Autumn. You snuck up on me. Sunny summer days with high humidity hung around so long that when the cool chill of fall air hit, it shocked me. Of course, I knew that the calendar had registered both the unofficial end of summer, Labor Day, and the official start of fall. I wasn't blind to stores filling with Halloween and Thanksgiving decor. Restaurants have been rotating to fall menus full of love-it-or-hate-it pumpkin spice. Still, I was caught up in summer, blissfully ignoring all autumnal hints.
I blame the garden. Truly, the best time for the garden is near the end. The harvests can be so glorious and bountiful. Who wants to think about fall when there are buckets of tomatoes, baskets of peppers, zucchini, some late sweet corn, beans, carrots, beets and a host of other garden-fresh vegetables? Whether it is your own home grown produce or a farmers market haul, end of the season meals can be so amazingly delicious.
I have been tossing together a quick and light version of one of our cozy winter favorites. Garden Chicken Parmesan forgoes the heavy tomato sauce in favor of a fresh sauté of garden vegetables. The chicken is breaded simply with a flavorful herbed mix, and the cutlets cook quickly to stay moist. I used fresh mozzarella because I always keep that on hand when garden tomatoes are rolling in (Caprese, anyone?), but shredded mozzarella is perfectly fine. Garden Chicken Parmesan bridges the seasons and allows me to hang on to summer a bit longer as I enjoy the garden harvest.
---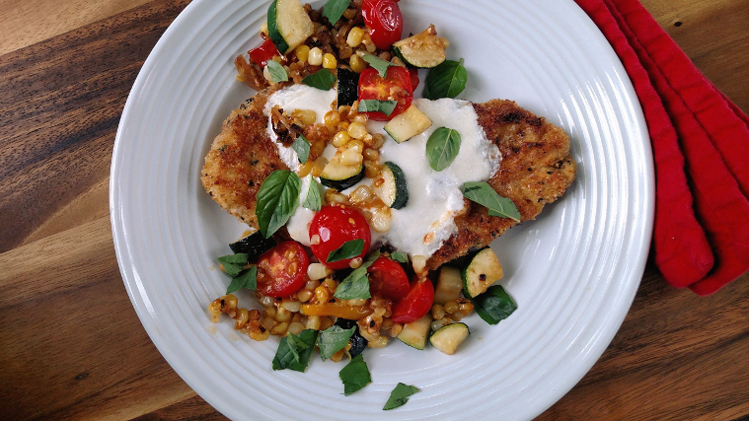 Combine the fruits of summer and fall in Garden Chicken Parmesan.
Garden Chicken Parmesan
(adapted from Cooking Light)
1/4 cup flour
1 egg, beaten
2/3 cup dried bread crumbs
1/2 teaspoon dried basil
1/4 teaspoon dried oregano
1/2 teaspoon garlic powder
salt and pepper, to taste
olive oil
3/4 cup mozzarella, fresh or shredded
1 ear sweet corn, kernels cut from cob
1 medium zucchini, chopped
2 garlic cloves, thinly sliced
1 1/2 cups cherry tomatoes, halved
1/4 cup fresh basil, chopped
Preheat broiler.
Place flour in a shallow bowl and season with salt and pepper. Beat egg in a second shallow bowl. Combine bread crumbs with dried basil, oregano and garlic powder in a third bowl. Dredge chicken in flour; dip in egg; and coat with bread crumbs.
Heat oil in a large skillet. Add the cutlets, two at a time, and cook approximately 1-2 minutes on each side, until browned. Place on a baking sheet that is coated with cooking spray. (I line with foil for easy cleanup.) Top cutlets with cheese and broil 1-2 minutes.
Meanwhile, add a bit more oil to skillet and sauté the corn. Add zucchini and cook until starting to become tender. Add garlic and tomatoes. Season with salt and pepper. Sauté until tomatoes are softened.
To serve, divide sautéed vegetables over each chicken cutlet and top with basil. (Serves 4.)
Fran Hill has been blogging about food at On My Plate since October of 2006. She, her husband and their three dogs ranch near Colome.