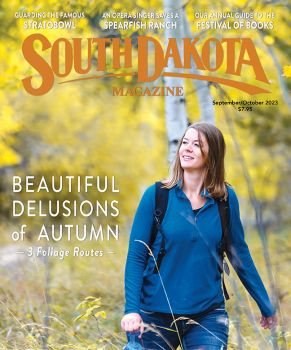 Subscriptions to South Dakota Magazine make great gifts!
Subscribe today — 1 year (6 issues) is just $29!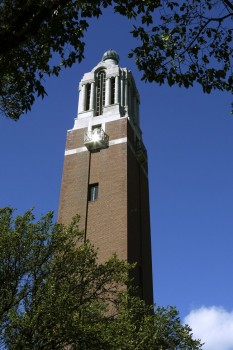 2011: Our Summer of Geocaching
Oct 26, 2011
After spending the summer atop the Coughlin Campanile in Brookings, South Dakota Magazine's strategically placed geocache is now back at the magazine's headquarters in Yankton.
We're fairly new to geocaching, but it seems our maiden voyage was successful. Between Memorial Day weekend and mid-October, 111 people (plus the SDSU track team) signed our notebook. Some just walked across town. Others came from faraway places, like Honduras and Australia.
Many left little notes. Will and Shirley Dangler ascended the 180 steps on July 7. "Whew!" Shirley said. "AC not working!" Will added. For that we apologize, but perhaps a donation to the SDSU Foundation would solve the problem. Air conditioners are probably on sale now. Maybe a large box fan would suffice.
Chad Coppess, David Anderson and Jolee Thurn visited two days later and discovered the elevator was out of order. Of course, there is no elevator in the Campanile. That would take all the fun out of getting to the top, especially on a hot, humid summer day. Again, feel free to mention it to the Foundation, though they'll probably think the box fan solution is more cost effective.
Most visitors commented on the view, which is the most spectacular in Brookings. The Campanile, built in 1929, is 165 feet tall, and provides a view of the entire city and surrounding farmsteads. We're glad you enjoyed it. And we're certain you'll enjoy the scenery around next summer's location.