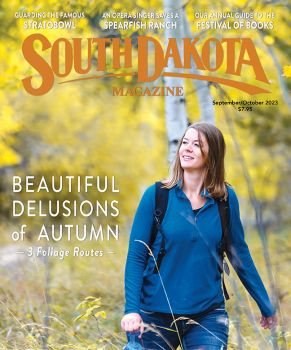 Subscriptions to South Dakota Magazine make great gifts!
Subscribe today — 1 year (6 issues) is just $29!

Here Comes the Goosemobile
Editor's Note: This article is revised from the story "25 Years of Foods," which appeared in the September/October 2010 issue of South Dakota Magazine. To order a copy or to subscribe, call 800-456-5117.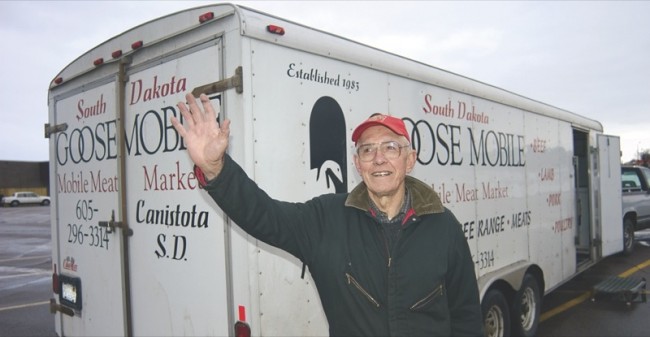 Tom Neuberger and the South Dakota Goosemobile will be crisscrossing the state again this summer.
A brown cardboard box is nearly the same color as a fine pumpkin pie, but it doesn't taste the same. So it is with meat and poultry, according to Tom Neuberger, creator of the Goosemobile. He believes that a bird that roams free, dirt-scratching and insect-pecking on the open range, will taste better than one raised in a 12-inch-square wire pen with antibiotics, hormones and other chemicals.
That theory got a severe test in 1984 when Tom and his wife, Ruth, fattened 3,500 geese the natural way and found themselves without a market. They processed the geese and hit the road in a refrigerated bus. The Goosemobile was such a success that they've been traveling South Dakota ever since.
Now they offer geese along with natural organic beef, pork, lamb, chicken, duck, flax, down comforters and feather pillows.
If Goosemobile meats didn't taste better than store-bought, the Neubergers would be home by the fireplace at night. Instead, they're crisscrossing South Dakota, greeting customers by their first names and proving that there is more than one way to survive on a farm.
---
Where is the Goosemobile?
This "Mobile Meat Market" may be coming to a town near you. Watch for Tom & Ruth at the Falls Park Farmers Market in Sioux Falls on Saturdays starting May 7, and at locations in the Black Hills August 31st. They'll also be delivering CSA shares to Mitchell and South Dakota Local Food Co-op orders to members in Brookings this summer.
The Neubergers recommend calling ahead to place your order. Email them at goosedown@unitelsd.com or call 605-296-3314. You're also welcome to visit them at their farm near Canistota — but call first to make sure they're home.