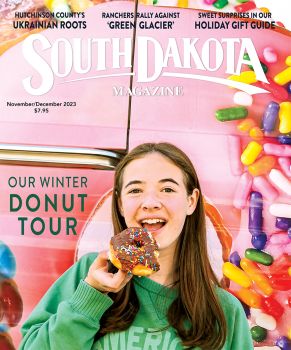 Subscriptions to South Dakota Magazine make great gifts!
Subscribe today — 1 year (6 issues) is just $29!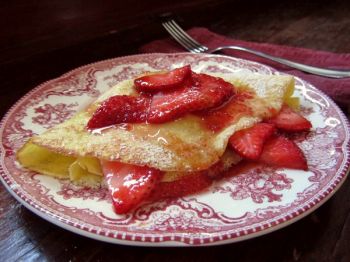 Confessions of a First Generation South Dakotan
Jul 9, 2015
By Fran Hill
My husband and I are both first generation South Dakotans. Our parents (separately) migrated to South Dakota in the '50s and '60s, mine from Oklahoma and his from Colorado. Still, I was born, raised and currently reside all within a 30-mile radius of my home in Colome. Hubs was born in Colorado, but grew up on the farm that he has dedicated his life to operating.
Kuchen, lutefisk, chislic, lefse and foods traditionally considered South Dakotan didn't grace our childhood tables. My mother-in-law baked bread and cinnamon rolls weekly, raised and butchered her own chickens and made miles and miles of homemade noodles. Her garden rounded out the meals, and she and her neighbors and church groups often tried new recipes and ideas found in the popular ladies' magazines of the time.
My mother also tended to a large garden, canned a lot of produce and mixed cookie dough by the gallon for baking. I fondly remember (and often recreate) her freshly dug new potatoes, creamed with green beans and bacon. There were also pans of cornbread served with ham and beans, and milk gravy was poured over our plates at least weekly. My father wasn't an adventurous eater, but that didn't stop my mother from collecting cookbooks and recipes and trying new things for the church potlucks.
Growing up, I didn't give heritage a lot of consideration in our meals. That cornbread and ham and beans had roots in the South, but I simply considered it my family's home cooking. Hubs' family has strong German roots that produced cabbage burgers (kraut bierocks), punskies (a fried bread), potato pancakes, peppernuts (pfeffernusse, but theirs included beets and were a bright pink color with a bread-like consistency) and Grandma's Pancakes.
Grandma's Pancakes are actually crepes. These very thin, eggy pancakes were sometimes served with syrup, but often spread with butter, sprinkled with sugar and rolled up for a simple supper. There were times that the family even filled them with sausage gravy. With my strawberries ripening in the garden, I have a craving for Grandma's Pancakes filled with fresh fruit and homemade fruit syrup.
Maybe Grandma's Pancakes aren't a traditional South Dakota dish, but they are a part of this South Dakotan's heritage.
---
Grandma's Pancakes (aka Crepes)
1/2 cup flour
1/2 cup milk
2 eggs
salt and sugar to taste
Beat all ingredients together. Heat a griddle to medium heat and brush with oil. Spread the batter thinly. Cook for about a minute or two, until the crepe loosens from the griddle. Flip and cook for 30 seconds or so more. Serve warm. (Makes about 6 large pancakes.)
Fran Hill has been blogging about food at On My Plate since October of 2006. She, her husband and their two dogs ranch near Colome.