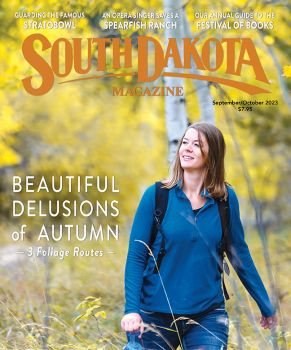 Subscriptions to South Dakota Magazine make great gifts!
Subscribe today — 1 year (6 issues) is just $29!

When the Stars Align
Oct 20, 2015
By John Andrews
Some people are born in Grant County and stay there all their lives. For others, settling in this county in northeastern South Dakota is a matter of fate.
Such was the case with the Benedictine monks who established Blue Cloud Abbey near Marvin. St. Meinrad Abbey in Indiana wanted to establish a new monastery in the Dakotas, so they sent a team to scout for land. The men found a spot they liked along the Missouri River near Yankton, but WNAX's tall radio towers east of town obstructed the view of the river valley. They decided to try North Dakota, but along the way they were taken with the rolling hills of the Coteau des Prairies and Whetstone River valley. The delegation stopped to inquire about available land, and the banker told them that a property had been listed for sale just 30 minutes earlier. They bought 300 acres at $22 an acre. The deal seemed too good to be true, but when they learned the banker's name — Effner Benedict — they knew Grant County was the place for them.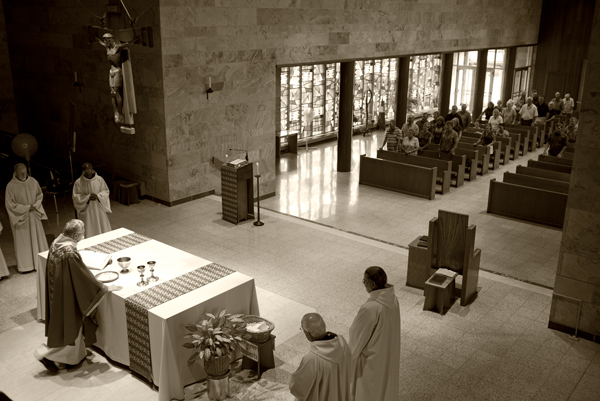 Blue Cloud Abbey was a place of worship and reflection for more than 60 years.
Monks worked and prayed at Blue Cloud Abbey until its closure in the summer of 2012. The facility has since been reopened as Abbey of the Hills, an inn and retreat center that also includes an organic farm.
Who knows what other forces were at play when Clarence Justice responded to a "Help Wanted" ad in the Minneapolis Tribune. Justice, a regular reader of the paper, was working as a printer in Miller when he saw the ad seeking a printer to work at the Grant County Review in Milbank. He called and the publisher, Bill Dolan, hired him over the phone without even asking his name (a small oversight in the world of journalism).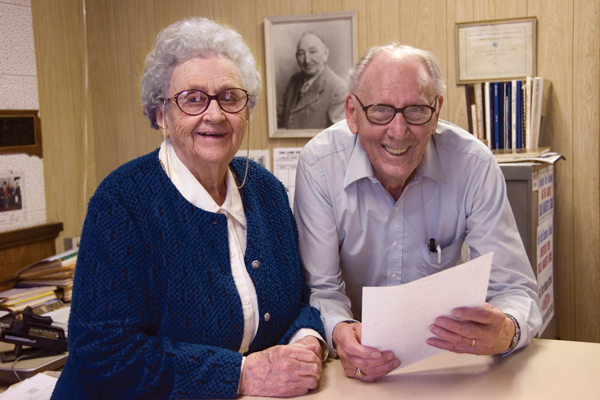 The Grant County Review remained in the same family for a century. Phyllis and Clarence Justice published the newspaper for several of those decades.
Justice went to work at the Review in 1952 and three years later, he and the publisher's daughter, Phyllis, were married. They ran the paper together for more than 50 years, becoming South Dakota's First Couple of newspapering.
Grant County was officially created in 1873 and organized five years later. It's named after President Ulysses S. Grant. Among the county's early settlers was Henry Holland, an immigrant from England. Holland built a 44-foot-tall windmill to grind wheat for local farmers. The mill was abandoned and moved to the city park in 1912. It was moved again in 1978 and underwent a total restoration in the early 2000s. Holland's Mill remains a landmark along Highway 12 on the west side of Milbank.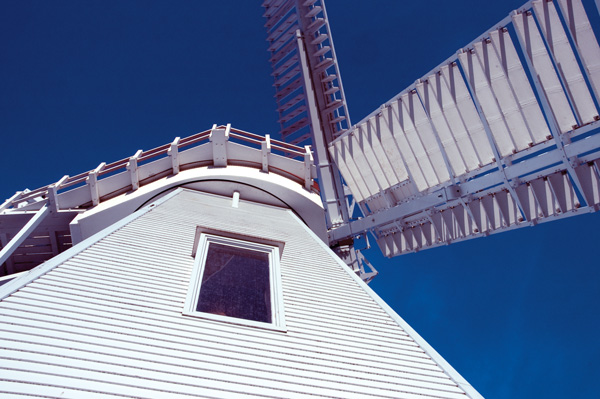 Holland's Mill is a Grant County landmark along Highway 12.
With 3,300 people, Milbank is the Grant County seat. It's also known nationally for Legion baseball and high quality granite. American Legion baseball has its roots in Milbank. The program started there in July of 1925 when a group of World War I veterans thought American boys were losing interest in the national pastime. Tens of thousands of teenagers play Legion ball across the country today.
Milbank's granite caught the eye of designers as they created the Franklin Delano Roosevelt Memorial in Washington, D.C., in the 1990s. More than 200 truckloads were hauled halfway across the country during construction. The granite around Milbank is thought to be 4 billion years old. It's popular because of its high quartz content, which accounts for its hardness and light red color.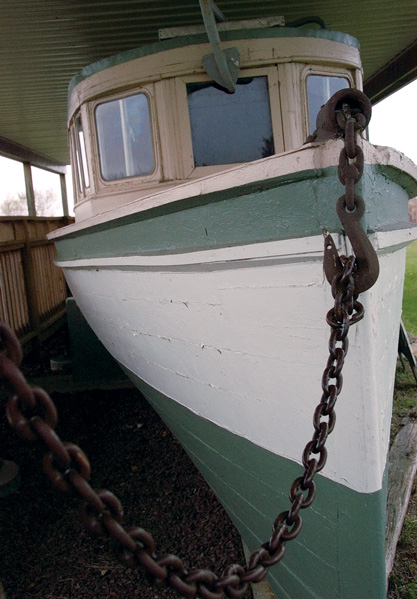 The Muskegon is dry docked in a local museum.
Several other small towns are scattered throughout Grant County. Big Stone City lies on the southern shore of Big Stone Lake, which serves as the very northeastern border of the county. The lake is a popular recreation spot, but it was also the site of South Dakota's worst nautical tragedy.
An excursion boat called the Muskegon departed for a pleasure cruise in July of 1917 and never returned. A tornadic storm caused it to capsize, killing seven of the nine people aboard. The boat was pulled shore and eventually resurrected as The Golden Bantam, which plied the waters of Big Stone Lake for another 30 years. In 1960, the boat was placed in dry dock north of Big Stone City and was used as a lake cabin. In 1985, it was donated to the Big Stone County Historical Society and Museum just across the state line in Ortonville, Minn., where it remains today.
Just west of Milbank, Twin Brooks is known for its big annual threshing show the second weekend in August. But there's also a unique restaurant in town called the Bird Feeder. Carol Kilde runs the café in the back of the town's post office. It's open May through December and there's no menu. You choose your meal when you call for reservations.
Several years ago, while driving through Stockholm, we met Steve Misener on Main Street. Misener began tuning pianos more than 30 years ago and became an avid collector. His shop holds about 75 pianos and boxes stuffed with parts. Misener often exhibits his collection around northeastern South Dakota.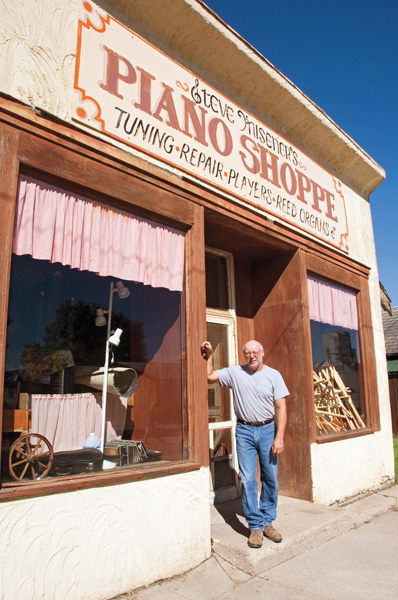 Steve Misener's shop in Stockholm holds many piano treasures.
Misener told us he worried about the future of music because younger generations seem to be occupied with other things. But music seems to be in the blood of Delaney Johnston, who released her first country music CD before reaching middle school.
The youngster from Summit got her break when renowned South Dakota singer Sherwin Linton was performing at a benefit concert in LaBolt. Johnston requested that Linton sing Johnny Cash's "Jackson" for her grandmother. Linton asked if Johnston would like to sing along, and she agreed. Linton recognized that she had talent and helped produce her CD. Now Johnston balances summertime performance at county fairs along with being a kid.
Who knows if young Delaney will stay, but Grant County is richer because of her and others — natives and transplants — who chose to make a home in the county on the Coteau.
Editor's Note: This is the 13th installment in an ongoing series featuring South Dakota's 66 counties. Click here for previous articles.