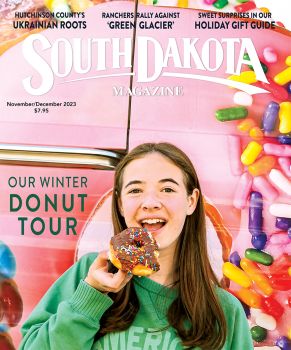 Subscriptions to South Dakota Magazine make great gifts!
Subscribe today — 1 year (6 issues) is just $29!

Group Gift Giving
The best gift for business friends, clients and employees
A subscription to South Dakota Magazine is a great gift for employees, clients and business friends! We'll deliver a full year of beautiful issues for less than the cost of a business lunch — that's six issues exploring the art, food, outdoors, people and places of our great state. Here are more reasons why you should consider giving South Dakota Magazine subscriptions:
1. It's one-of-a-kind! No other magazine covers South Dakota like we do.
2. It educates and inspires pride in our home state ... thus helping with recruitment and retention.
3. It lasts all year, reminding them of your generosity every time a new issue arrives.
Best of all, it's simple to start the subscription program. Call us at 800-456-5117 or email marketing@southdakotamagazine.com and we will customize a program that fits your needs.