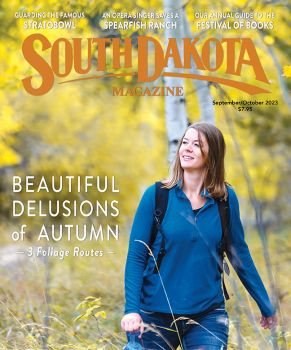 Subscriptions to South Dakota Magazine make great gifts!
Subscribe today — 1 year (6 issues) is just $29!

A Very Fair Poll
Sep 30, 2015
Good news! Only three percent of South Dakotans want to head for the border. That's what we learned in our South Dakota Happiness Poll, a quick one-question quiz that we handed out to fairgoers during our 30th anniversary Fair Tour.
Our circulation director, Ashley Wagner, crunched the numbers for us. Here's how attendees of the Turner County Fair in Parker, Central State Fair in Rapid City and South Dakota State Fair answered the question, "How do you rate life in South Dakota?"
44 percent marked "paradise"
47 percent said it's "plenty good"
6 percent voted for "satisfactory"
3 percent said "where's the border, I'm leaving."
Katie Hunhoff, our magazine's editor and publisher, said that the Happiness Poll could become a regular feature of our fair visits. "Ninety-one percent said life is plenty good or paradise. We think it might be interesting to see if that number goes up or down in the years ahead."
"There's also a valid question of whether fair-goers are happier than people who don't eat SDSU ice cream and pork sandwiches," she said, "but the people we talked to seemed like a good cross-section of South Dakotans — except that country music fans might be over-represented. Our state fair booth was right next to Sherwin Linton's stage."
She said the poll also might be tainted by the philosophy of one respondent who said, "It's paradise but let's not tell anybody."