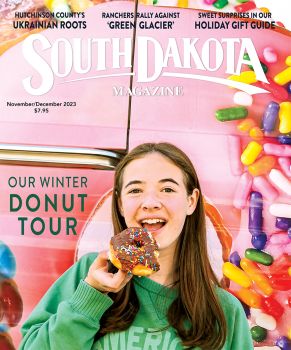 Subscriptions to South Dakota Magazine make great gifts!
Subscribe today — 1 year (6 issues) is just $29!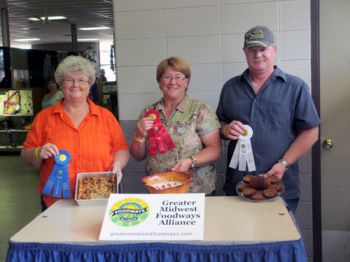 Don't Judge Too Harshly
Oct 13, 2012
"The best-laid schemes o' mice an' men gang aft agley," as my husband and Scottish poet Robert Burns are fond of saying.
I was so pleased to take part in the Heirloom Recipes Contest at the State Fair back on September 2. Seven contestants brought favorite family recipes and stories to share. Many of them were things I'd never tried before: cornstarch pudding, brazil nut fudge cake, nut pudding and date nut bread; the others were delicious renditions of familiar foods: sour cream raisin pie, bread pudding and sugar cookies. I loved sampling them, reading the stories and learning more about South Dakota's food history.
It was a really good time, with just one sour note amidst all the sweetness. Someone walked off with a couple of the recipes...and a few of the family histories.
It's awfully hard to judge fairly when you are missing crucial pieces of information. The event organizer, Catherine Lambrecht, and I did the best we could. (
Click here to see the contest results
.) Then we discussed the day and Midwestern food traditions over Indian tacos, chislic and kuchen. I came home with a renewed sense of pride and enthusiasm for exploring our food history.
But I felt bad for not being able to give all the entries equal attention. The sugar cookies in particular seemed quite familiar, similar to a recipe that my family sometimes used. All I could remember about them was that the recipe contained oil and that we used a cookie stamp to flatten the balls of dough and imprint a fuzzy design on the top of each cookie. They were somewhat sandy, thicker and more crumbly than the crisp, wafer-thin sugar cookies that were Christmastime favorites. Nothing fancy — just simple, tasty cookies.
It occured to me that perhaps I might share our version here, and envisioned a riveting conversation unfolding with our readers about sugar cookie preferences, techniques and tricks. Unfortunately, our recipe was elusive. I checked my boxes and books. Nothing. I asked my mother for help. She moved recently, and her recipes were still in storage. I consulted an aunt, who holds part of my late grandmother's cooking archives. No luck.
I finally unearthed an oil-based sugar cookie recipe from the 1985 Vangen Lutheran Church cookbook and hurriedly mixed up the dough. But something seemed off. Was it the oil? It seemed a little on the rancid side. And wait a minute....did I add baking powder instead of cream of tartar? My husband tried to reassure me. "Dough tastes fine to me. And so what if you switched ingredients? Might turn out even better."
He had a nice idea, but the results were not quite right. Since we live in a no-waste household, we'll be eating the mistakes for some time.
Don't make my mistakes. If you pay attention, read the recipe carefully and think about what you're doing, you should have a tasty little snack on your hands.
And if you're Barb Peterson of Huron, please share your recipe and story with us again! We're sorry for the mix-up.
---

Sugar Cookies
By Alice Magorien
From Mission Hill's Vangen Heritage Cookbook
1 cup oil
1 cup margarine
1 cup powdered sugar
1 cup granulated sugar
2 eggs
1 teaspoon vanilla
4 cups flour
1 teaspoon baking soda
1 teaspoon cream of tartar
Dash of salt
Cream oil, margarine and sugars together until fluffy. Add eggs and vanilla. Sift dry ingredients and add, mixing well. Refrigerate. Roll in balls and coat with sugar. Press down with glass; bake on ungreased cookie sheets at 350 degrees until light brown.